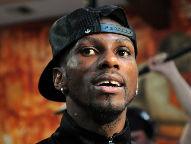 (Photo © German Villasenor)



The road to glory and riches in boxing is always hard and very often unusual. The road IBF Junior Featherweight Champion Jeffrey Mathebula has taken has been both of those things. But the struggles along the way are what brings out and solidifies a man's character. Saturday night at the Home Depot Center in Carson, CA live on HBO Mathebula will take on WBO junior featherweight champion Nonito "The Filipino Flash" Donaire, 28-1 with 18 knockouts, in a unification bout. The moment is significant for two reasons. One, that Donaire is the biggest name Mathebula has faced.

"Nonito is a big shot for me," Mathebula, 26-3-2 with 14 knockouts, agreed.

The fight is also historic because it represents an opportunity to become South Africa's first unified champion in boxing history. Getting here has been the result of a lifetime of hard work, perseverance and not so much a belief as a slow realization that Mathebula could do this. He could be a world champion.

"Cassius Baloyi, who used to IBF [super featherweight] champion of the world, his father loved boxing," Mathebula told me at the media day for the fight this past Tuesday. "He took me off the street and said 'Come and train in boxing.' So I started boxing. It made my dream come true. Once I grew up, I started to think 'Maybe I can do this. Maybe I can make money at boxing.' Now this is my career and my life."

Mathebula went on to amass 119 amateur wins against 6 losses including regional and national titles along with a 2000 Olympic Games berth. He lost in the second round and turned pro with Durandt in February of 2001.

"125 amateur fights with 119 wins. He went to the Olympics. He's been around," said Durandt. "He's got a couple of split decisions that should have been wins on his record. He is a seasoned professional. He is not a world champion because we're given a belt. We fought for it. And we beat Celestino Caballero as well."

Durandt pulls no punches while remaining a gentleman of the sport. He is the perfect corner general; Confident in his well-prepared fighter but not cocky. The confidence he and Mathebula exude is borne of true hard work. Something Durandt introduced Mathebula to once they turned pro.

"Probably the training regime; I don't believe any amateur fighter trains as hard as a professional," answered Durandt when I asked him what had changed most about Mathebula since he turned pro. "The intensity of the pro ranks; Amateurs you can win a fight, lose a fight, win a fight, lose a fight. But when you get into the professional ranks, when you start losing you become a journeyman, a stepping stone for the younger crew that are coming through. You become a bum. It's not like a football team that can win this week and lose next week. It's a harder game than that. People don't come out for losers. They come out for winners. And you know what? When you start losing, the pay gets a lot different. And when the pay is a lot different, how much harder do you work? So it doesn't motivate you anymore."

Mathebula has had much to be motivated about in recent years. In April of 2009, he lost his first world title bid, dropping a close split decision to Celestino Caballero that many felt he had won. Had he been awarded the decision, that fight would have made him the first unified South African champion. But it was not to be.

The next September, Mathebula lost another razor thin split decision to Takalani Ndlovu. Perseverance paid off when Mathebula got a rematch with Ndlovu this past March. This time, the split decision went his way.

"You know how when you are winning and they take your hand and they raise it up? It's a nice feeling. A very nice feeling," answered Mathebula when I asked him what he loved about boxing.

"Is there any feeling like it?" I asked.

Matheubula's face lit up and he shook his head side to side, bending forward slightly at the pure joy of remembering the feeling.

"Nothing. Nothing. Nothing," he answered emphatically. "It's the best thing ever to hear them say 'And the winner . . . Jeff Mathebula.' I love that."

While some may ask why take on a fighter like Nonito Donaire in his first title defense, Durandt believes the timing is just right.

"I have always said to my guys, to my world champions I have had in the past, the belt mustn't change you as a person. It can only change your bank balance," explained Durandt. "That is what Jeffrey has stuck to. He has remained the same guy. I think this fight has come at the right time. We won the championship in March of this year and he is still riding a high. He is still motivated. It is a good time to get in with a man like Nonito and see where we are; where we are really at."

In his last two fights, his first at 122 pounds, Donaire has not been the explosive "Filipino Flash" that took out Fernando Montiel with one punch. Facing larger men, Donaire has struggled at times while winning decisively. Like most fighters who move up through several divisions, they reach a point where the size advantage once enjoyed at the lower weights disappears. Once concussive power levels off, the strength factor evens out and suddenly you're in tougher than expected fights.

"I am prepared for the explosive one. The one that used to fight at [super] flyweight," said Mathebula. "If he comes like that, hopefully I will be the better one. I have studied Nonito. He is very short. I think he was supposed to stay at [super] flyweight. He will regret it Saturday. That is the true story."

While Mathebula has prepared for the "Filipino Flash," he does expect to be the bigger man. After all, he is nearly 6' while Donaire is 5'5" ½. This is Donaire's third weight class. Mathebula has been a super feather for eleven years and feels he can stay here for another five. At the media day, when the two men squared off, Durandt playfully lifted up Donaire so he could see eye to eye with Mathebula. Donaire laughed it off good-naturedly that day. Come Saturday, with a long jab in his face and a tall frame in front of him and a head too high up to hit cleanly, he may not be so happy.

"It is a simple thing. The shorter man is going to come forward and try to attack me," said Mathebula. "But I am used to that. I am tall in my weight [division]. Let him try to come and I will do my thing. Jab him, pick off his punches, counter, that's it."

If there was going to be a concern for what is essentially the visiting team, (Mathebula has never fought in the US), it is the judges. Fair decisions have become a hot topic these days in boxing. But Durandt gave co-promoters Branco and Top Rank respect rather than pre-emptively whining like some in the game do.

"This is a unification fight and there will be neutral officials in the corner," Durandt said. "There will be two champions in the ring. There's no challengers. So both fighters will go into this fight with neutrality and hopefully the judges will give a fair decision. That is all I want to say about the judges. We've done our homework for Nonito and whatever he brings, we will be prepared for."

"You're not concerned at all about the judging?" I asked.

"Not in the least. We've got to get in the ring and fight," answered Durandt. "There's two guys in the ring. We're not worried about who's outside the ring. We've got to worry about who is in front of us on the night."

"The judges must watch it perfectly clear because it's not all about aggression alone," said Mathebula. "It is about counter punching. It is all about catching the guy on the right spot at the right time."

Added Durandt "It's all about who is smartest on the night."

"Yes," agreed Mathebula.

The two, in that moment, showed how connected they are. Two men in concert with each other joined by a common goal.

"The guy who has prepared the best for the event and the guy who wants it the most on the night [will win]," said Durandt. "These are both professional fighters. Both champions. Nonito has a bit more exposure in his favor because he fights out of The States. We've got no smack to talk about the guy. He is a good professional athlete. So are we. We are here for an event where [Mathebula] could become history and become the first unified champion in the history of boxing in South Africa. So we are on a mission, you know? We didn't come to Los Angeles to look at the Hollywood sign or to come shopping. We're here to win a fight. The best man is going to win on the night."

No one comes 32 hours by plane to put their belt on the line if they didn't absolutely believe they can win. Life is about taking the right chances at the right time. Durandt and Mathebula believe that time is now.

"This opportunity may never come again," said Durandt. "A lot of people were saying that me as his manager and his trainer, 'Why Nonito Donaire?' Why not? The opportunity is there to win another belt, the opportunity is there to win another belt and go to bigger fights? Boxing is all about the timing: When you get that guy. And no disrespect to Nonito but how great has he looked at 122?"

"He is going to feel the weight," said Mathebula. "He had power at flyweight and bantamweight. But Junior featherweight? I don't think so."

No one ever became great playing it safe.