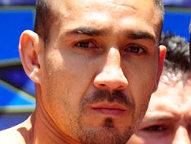 (Photo © German Villasenor)


The coastal town of Los Mochis in northern Mexico is known as "Champions Town" due to the inordinate amount of boxing world champions it has produced including one of its current leading lights, Humberto Soto. The 32-year-old is a working class warrior employed by the city when he's not training for upcoming fights, so "La Zorrita" has never forgotten his routes despite his many ring accolades. A 15-year pro career, in which he has never been given anything the easy way, bears testament to a tough upbringing unlike many of his counterparts across the Rio Grande. Like many Mexicans, Soto, 58-7-2 (34), had to come through the tough local circuit before graduating. Though he lost a few on the way up, he adds further credence that a loss isn't the end of the road for any fighter. The tough love approach never harmed Soto as he went on to win WBC straps at featherweight, super featherweight and lightweight (all three were vacated to move up in weight, not lost inside the ring) and, last year, he moved up to 140. Soto meets heavy-handed Argentinean Lucas Matthysse in a title eliminator in the chief support to tonight's Victor Ortiz vs. Josesito Lopez main event at the Staples Center, Los Angeles live on Showtime.

Anson Wainwright - You meet Lucas Matthysse on the 23 June in Los Angeles. What are your thoughts on him and what are you expecting from him?
Humberto Soto - I think that Matthysse is one of the best 140-pounders at the moment. He's a strong one and I expect a complicated fight because he's a hard puncher but I know that we're going to match well because of our styles. I'm pretty sure that will be the fight of the night, the fight for the fans.
AW - Last time out, you beat Claudinei Lacerda. Can you give us your thoughts on that fight? How happy were you with how you performed?
HS - The Lacerda fight wasn't at my weight. It was a last moment fight because my fight date with Matthysse changed and my team did not want me to be standing still. They wanted me in rhythm; I fought on welterweight with 10-ounce gloves, so it was kind of complicated mostly because of the weight and the glove dimension. But in the end, I was clean, not hurt at all and I made 10 rounds, which was one of the ideas- make rounds.
AW -

Could you tell us about the key members of Team Soto? Also where do you regularly train?
HS - My working team is headed, first of all, by my manager-promoter Antonio Lozada, my trainer, Bobby Quirarte and, for this time, we had a physical trainer, Carlos Valdez. The team doctor is Roman Cruz and David Ayala from my company, Baja Boxing, also from this training camp. The sparring was Edgar Puerta, Arturo Lopez, Pavel Miranda and Adan Mares. Our gym was the Pablo Collin on Cuautitlan Izcalli Mexico, Agustin Zorrita Luna (the Cejas brothers' trainer) is in charge if the gym.
AW -

You were promoted by Top Rank previously and now you're promoted by Golden Boy. Can you tell us why you decided to leave Top Rank?
HS - Well our TR contract expired and we just looked for better deal.
AW -

What are your thoughts on the light welterweight division and the champions, the WBC's Danny Garcia, the WBA and IBF's Lamont Peterson and the WBO's Tim Bradley? How do you think the Garcia-Amir Khan fight will go? What do you think of what happened ahead of the Peterson's scrapped rematch with Khan?
HS – Well, it seems [WBC president] Mr. Jose Sulaiman told us that if everything went good in Matthysse's fight, we're going against the winner of Khan-Garcia but the winner must decide which title he wants to keep. If they drop the WBC title, we're going against [Ajose] Olusegun but the only thing in mind by now is Matthysse. Regarding Peterson, well, he's a great boxer. I was surprised at what happened but for these cases, there's regarding the authorities. About Bradley, well, there's not much to say. I think we all watched the [Manny Pacquiao] fight. Meanwhile, if [Bradley] won or not, he had an upcoming [rematch] fight on November 10.
AW -

Did you have a hard upbringing as a child? How did you first get into boxing?
HS - When I was seven years old, I was at an amateur show with my "Tata," my grandpa. He actually was the president of the amateur commission, so one of the kids didn't show up and I told my Tata that I wanted to fight. He obviously told me not to fight; he told me that the opponent was tough and he could hurt me because I had never trained before but I was persistent and insisted until he let me fight and, well, they were wise words. The kid beat me up. So I was angry and I started training. After some months came the revenge and I won. I made my pro debut at 17.
AW -

Many fighters have to also work a day job. Is this something you have ever had to do? Is there a job you will look to do when you retire from boxing?
HS - I'm dedicated to boxing. I own some buses and taxis, so some days, I take a bus or a taxi and hit the road. I work for the Los Mochis, Sinaloa government; I work as an alderman (an elected member of a municipal council) for the city in the sports department, so I support all sports and people who need my help.
AW -

You were born in Los Mochis, Mexico. It is a hotbed of fighters at the moment with Fernando Montiel, Jorge Arce, Hugo Cazares, etc. Can you tell us about the boxing scene down there?
HS - Yes I'm from Los Mochis, "Champions Land." There's a bunch of kids in this little town. I can't explain why there's so many champions. I think that the necessity for a better future make us train harder and also seeing may champions, that's motivating. In my case, I had a hard childhood so I didn't want my kids and family to live like I did. They were my best motivation for everything I've done.
AW -

Not many people know that your cousin is Antonio DeMarco; he won the vacant WBC lightweight title after you vacated it. Could you tell us a little about the relationship the two of you share?
HS - Not only DeMarco, Hugo Cazares as well. I have a great relation with both. DeMarco and I train in the same gym in Tijuana; we have the same teamwork. Cazares trains in Los Mochis with the Montiels; we have a good relationship his dad's nephew.
AW -

You're a two-division WBC champion, three if you include the interim title at featherweight. What is the proudest moment of your career to date? Who was the best fighter you have fought? Who hit the hardest?
HS - Yes, well, I have to tell you, the interim title that I won became absolute because the current champion at that moment was In-Jin Chi from Korea. He had a fracture; he couldn't defend anymore so I became the absolute champion. All three titles are important to me but I think that the featherweight was a little bit more satisfactory for me because at that time, Rocky Juarez was the best United States fighter of the time, [member of the] Olympic [team], undefeated. In fact, the referee [Timothy Adams] took two points off me and after all, I beat him out. The first time that I fought in the U.S.A., I fought against Mark Burse; I think he was the hardest puncher that I fought.
AW - Could you tell us about yourself as a person and what you like to do away from boxing?
Do you have any hobbies or interests?
HS - Definitely being with my kids; I try to spend the most of the time with them. Last year, I spent like eight months training for fights so when I'm resting, I give them all my time.
AW -
Your nicknames are "La Zorrita" and "The Crafty Little Fox." How did you get those names?
HS - Well at the beginning I mentioned my "Tata," my grandpa. When I was next to get in the ring, someone asked, "How will we name him" and my grandpa said, "Call him 'Zorrita.'" Juan Angulo, my grandpa, rest in peace.
AW –
Finally, do you hav
e a message for the light welterweight division ahead the Matthysse fight?
HS – Well, for now, we're focused on Matthysse's fight. He's someone that I respect and after this fight, I can talk of other boxers.