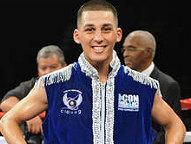 --


Boxing has been a part of junior middleweight prospect Hugo Centeno's life since day one. The son of a boxer who never had a chance to turn pro, Hugo now lives a shared dream. Tonight, he moves a step deeper into the reality of that dream when he takes on Ayi Bruce on Showtime Extreme, the televised undercard to the Robert Guerrero vs. Selcuk Aydin card in San Jose, CA. Showtime Extreme allows boxing fans to see up an coming talent they would normally only see if they attended live. It's a welcome addition from Showtime's new boxing regime.

"I first started when I was like 7. When I was a little kid, my dad would take me like to the laundromat and he would put me on top of the table and we'd mess around and (box). As a little kid I just loved throwing punches," Centeno, whose nickname is "The Boss" told Maxboxing.com in a phone interview leading up to the bout.

Hugo, Sr, who trains his son, was a promising amateur boxer who never turned pro for health reasons. But he never stopped loving the sport and he passed that on to his son.

"My dad used to box when he was younger. He was an amateur. He was pretty good. A motorcycle accident prevented him from boxing," explained Hugo. "So when I was little kid, we would watch Tuesday night fights, Friday night fights. And I just loved it and when I got old enough I told my dad I wanted to go to the gym and train. And he did. After I put on my first pair of gloves I completely fell in love with boxing."

I asked Hugo, Jr what specifically about boxing did he love.

"It feels great. I wouldn't be doing anything else. I love it. There is nothing else that gives me that thrill. There's no team. There's no one if something happens to you. There's just you," he said.

Centeno had a solid amateur career going 90-9 and winning or placing in the National Silver Gloves, National PALs, Junior Olympics, state PALs among other awards. Timing in boxing is everything and unfortunately for Centeno, his timing was off for the Olympic trials.

"I actually did think of the Olympics but when the trials came around I had just turned 17 and I had no points built up to enter the trials," he explained. Rather than wait around for the next Olympics, Centeno went the harder route of turning pro on his own. A couple managers and ten wins later, he signed with manager Joel De La Hoya. The two have done four fights together with tonight's action being their fifth.

Despite the multiple managers, Centeno has managed to stay very active. He fought six times last year and this is his fourth fight of 2012.

"I just like staying consistent. I don't like any time for ring rust or tightness in the ring where you want to do something but you can't because you haven't been doing it for a while," explained Centeno of his activity. "I love to be in the gym. I am a gym rat. I am in there all day, every day."

All those fights also give Centeno valuable experience. He pointed to his fight with Hector Orozco last November as a particular fight he gained knowledge in.

"[Hector] Orozco, my fifth fight, especially after that fight, it gave me a wake-up call. He was a little craftier. A little dirtier. It felt like that fight helped me grow a lot," said Centeno. "It helped to open my eyes to what is out there so I am I not a one-dimensional fighter. It helped me grow a lot. I feel like I've been advancing ever since."

As he moves up the ranks, Centeno, 14-0 with 8 knockouts, will be handed more experienced fighters to deal with. IN a way he welcomes that. Facing fighters with less experience can actually be tougher, in his opinion.

"I feel like sometimes fighters who are a little more experienced are easier to fight than people who aren't. I feel a wild fighter kind of brings you down to that level. I feel like sometimes, someone with more experience, it is easier to fight because the inexperienced guy is all over the place. You don't know what to expect. Someone with more experience, it's a little easier to time them," Centeno explained. "You just don't know where they're at. They come in with their shoulder or their head first or whatever it is, it's like 'What are you doing?"

Another thing he noticed is that the defense of the pros differs from the amateurs. The amateur game is almost like fencing. The fighters position their hands to land first but not necessarily worry about incoming. With giant gloves and headgear, few guys are going to get cold-cocked. It's more fencing than anything at times. Not so in the pros where the gloves are small, the men are fully mature and everyone can crack for the most part.

"The older mature guys have a stronger guard than the amateurs. They do it different in the amateurs with the point system. It's more speed based in the amateurs," said Centeno, "where they are straight up trying to knock your head off in the pros. In the amateurs, you can just catch a punch with your glove and the guy moves out. In the pros, they'll take six punches and then land one to knock you out."

Now Centeno gets Ayi "Bruce Lee" Bruce, 22-7 with 14 knockouts. A rugged fighter out of Ghana by way of Albany, New York. This is still a fight Centeno should win but likely he will go rounds doing it.

"All I know is he is a decent puncher. He has a good knockout ratio. Strong guard, strong fighter and he is durable. He is very durable," said Centeno.

The fight will be at 154 pounds where the 6'1" Centeno plans to campaign. With his 78" reach and wiry frame, the 21 year old obviously has room to grow.

"I feel a lot more comfortable than at 147," said Centeno. "My body is still growing and maturing so I am going to stay at 154."

Father and son trainer/fighter relationships are touchy territory. Some work out great (Think Felix Trinidad Sr and Jr through thick and thin). Others are a little rockier (Shane and Jack Mosley). Hugo's situation is a little expansive than just who is working the corner.

"Well, actually it's more like a family affair," said Centeno. "My mom handles my sponsorships. My younger brother has been in the gym since he was a little kid. He can do everything. Box and spar. Whatever. Just as a little kid he didn't really like the dieting part. He was always like 'I'm not going to give up food for a sport. So he was always right there working with me and my dad.

"As far as working with my dad, a lot of people will say 'Oh that must be tough' because we might have problems in the gym or whatever they think," continued Centeno. "Just working with my dad, if we have problems at home, we don't take them to the gym. We always say 'Whatever happens here, we don't take it to the gym." It's a good relationship and we are at where we are at because of him."

The future continues to be bright for this young man. The reason why he loves boxing is it's just him in there with his destiny in his hands. But as you can see, he's not alone. With his family in his corner, Joel De La Hoya, who also has a boxing in his family, the sky can be the limit for this young man.