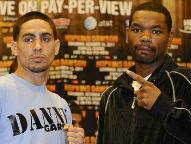 Photo © Gene Blevins - Hoganphotos/Golden Boy Promotions


In what is perhaps the best pure match-up of the "Believe It or Not" pay-per-view bill from the

Staples Center

in

Los Angeles

this Saturday night

, junior welterweights Kendall Holt and Danny Garcia square off in a pivotal fight. For Garcia, this truly is a step-up bout. He has just begun the process of moving up the ranks and after facing the likes of Ashley Theophane, Mike Arnaoutis and most recently, Nate Campbell, Garcia now faces his most dangerous threat thus far in a career that began in 2007.
For Holt, this is old hat. He's been a pro now for a full decade, has been on the world-class level since 2005 and has won and lost a major world title during that stretch. You could say this fight for him is a step down of sorts but with the winner of this bout put in position to land a title shot in the near future, Holt simply can't afford another loss on his ledger.

"This is just as big as a big fight. There's not many fights out there that get bigger than this. This is for the number one spot in the world in one organization. It's for the number two ranking in another organization. It's for a regional championship in another organization," Holt pointed out. Say what you will about the sanctioning bodies but being ranked highly by them absolutely matters. "I mean, this actually turned into a big fight and a big opportunity. So I'm happy this came about."

Holt, who has faced the likes of David Diaz, Isaac Hlatshwayo, Arnaoutis, Ricardo Torres (twice), Demetrius Hopkins and Tim Bradley, has been in the big leagues. Garcia has more or less been developing at the Triple-A level. Did they make a mistake in accepting this assignment?
Holt laughs as he's asked that question, "I try not to think like that and at the same time, Danny Garcia, he knows he has a big task in front of him. He has a father there. Everybody is going to be pushing for him to be in shape. They're going to study and watch tape. That gives me more motivation and inspiration in my training because I know they're going to be there with their A-game and I'm going to be on the tippy-top of my A-game. But stylistically, it's going to be a nightmare for him."
Many in the boxing industry are surprised that Garcia's camp took this fight. Say what you will about "Rated R" but the guy has speed and he can swat.

"I'm getting asked that question a lot," admitted Holt, a native of Paterson, New Jersey," and I'm not surprised because it's only so much baby food you can eat before you have to have a real man's meal. [Garcia] talked about wanting to be the best in the world. He knows he has to face one of the best in the world to be the best in the world. I commend him for taking this fight but it's the wrong fight. It's the wrong opponent. It's the wrong time. It's awful."
Can Garcia go from Gerber to solid food? As Bernard Hopkins once famously said about a young, up-and-coming David Reid, as a fight between them was discussed in the late '90s- you don't feed steak to a baby. "I think he understands the leap that he's taking to a certain extent because he has a world of confidence right now. That's because Oscar De La Hoya and Al Haymon and Bernard Hopkins, they've been feeding him guys. He's grown up on baby food. He has full-grown teeth and they want to see what he can do," Holt says of Garcia, who is handled by the influential Haymon and Golden Boy Promotions.
Holt does admit Garcia has solid tools to work with, "Absolutely, he has heavy hands. He has decent speed. He's focused in there. He's determined. And with guys with heavy hands, you can't force up on 'em. You can't get lazy in there. One shot could change the fight around, so you can never count a puncher out. He's a puncher. You can never count him out but he's an inexperienced puncher."
Holt believes the road he's traveled is a huge advantage.
"I've been here before. I've done it. I've had a world title. I've been number one. I've defended it. I've lost it. I've been in rough terrain," he pointed out. Holt hit his nadir last year as he was stopped in six by Kaizer Mabuza in what was at best a token effort that February night in

Atlantic City

. Holt, who has since bounced back this year with two quick KOs (of Lenin Arroyo and Julio Diaz), says of that forgettable outing, "That's been a million miles away since my first fight back this year."
Holt turned 30 back in June, should still be in his physical prime and with names like Bradley and Amir Khan moving up to 147 pounds, sooner rather than later, a vacuum will materialize in the junior welterweight division. Holt believes he will be the guy to fill that void.
"I think I'm going to be the man at 140 again. I've been performing at the top level, top five contender since 2005 when I beat David Diaz," he stated. "I think I'm going to be the man at 140. For how long? That's the question."
Besides a chin that has been vulnerable, Holt has top flight speed, power and quickness. But for all his physical attributes, he has really been a hot-and-cold fighter who has never performed all that consistently over the long haul. Holt is the consummate boom-or-bust boxer. Can he finally become a reliable fighter?
"It's funny you ask me that because I ask myself that," he admits. "And now I have a trainer who's been in my shoes before and I've asked him that. There's a couple of things he told me that's been helping me get through that. It's basically all been on me, mentally. Sometimes I get lazy on myself. Some nights I do the bare minimum. Some nights I just want to go out there; I want to be the best. So what I've been concentrating on doing is having that mentality to be the best in my mind- everyday. Some days I get lazy in the gym or hurting, stuff like that, but those are the times I put it in my mind I want to be the best even more."
Holt's new trainer is Buddy McGirt, no stranger to world championships at 140 pounds and really, McGirt doesn't have to teach Holt how to fight. His job is really to change his fighter's approach and attitude toward his own skill set. "Because he doesn't realize how good he really is," said McGirt. "He's always done just enough. Let me tell you something; when he finds out how good he really is, when he finds himself, they're going to have trouble in the division."
Holt says of his relationship with his trainer, "I like to be able to sit down and pick his brain, be able to talk to him and pick up a lot of confidence- because he has a lot of confidence in me." Also helping out is engaging in playful banter with supreme trash talker James Toney, who he sees at the International Fight Club gym in

Van Nuys

. McGirt's job is much more than of a technical variety. In many respects, he has to be a psychologist and self-help motivator to his boxer. The goal is to match Holt's production to his potential. "You gotta do everything if you care about your job as a trainer. You gotta put everything together," McGirt says of his role. "It can't be just one thing, 'It's OK. Let's just do one thing beating these guys.' No, you don't want to do that. That's what makes guys like Bernard [Hopkins] such great fighters because they find themselves. They take it to the next level."
McGirt believes that truly great fighters don't necessarily compete with those put in front of them but really themselves. Beyond that, they have unwavering self-confidence.

"Right, and they get to the next level because they have that faith. Kendall will do a move on the bag and I'll say, 'Man, do that again' and he'll say, 'What did I do?' He don't even remember. When he's sparring, he'll do something. I'll go, 'Do that move again' and he goes, 'What did I do?' I mean, it just comes natural, so once he finds himself, puts it all together, they're going to have trouble."
Holt believes he has one last run in him, insisting the best is yet to come.
"The one thing I have going for me, I've never been beat up inside that squared circle," he pointed out. "Never been beat up and I consistently stay in the gym and I consistently want to get better and want to improve. I want to be at the top. I want to be at the top of the discussions in everyone's conversations when they talk about 140-pounders. I want to be mentioned by HBO, be mentioned in the blogs. I want people to believe in me and I'm going to give them a reason to.
"Because I'm one of the best, I'm still a bright and shining star and come

Saturday October 15th

at the

Staples Center

, I'm going to ride off worse than Kobe [Bryant] did."
FULL COURT PRESS CONFERENCE
The final press conference for "Believe It or Not" was held across the street from the Staples Center at the JW Marriott and it featured the unveiling of wax statues of Hopkins (and I have to say, they did a great job of replicating "The Executioner") and a guy who swallowed a sword and tore apart a phone book in half. Then they also spent a great deal of time focusing in on Dewey Bozella, who spent over a quarter century in prison for a crime he did not commit and is making his pro boxing debut

on Saturday night

.
But really, this presser, hosted by Oscar De La Hoya, was an affair that was much too long and drawn out for not having Don King involved. Hey, guys, in a presser for a full pay-per-view card, we really don't need to hear from every manager, trainer and adviser, whose boxers are involved in the undercard. This time took well over two-and-a-half hours. Freddie Roach, who was there with Jorge Linares, was excused early as he had to get back over to the Wild Card Boxing Club to train Manny Pacquiao. The rest of us who needed to speak to the fighters were stuck.
OK, now I don't mean to tell the publicists or promoters how to do their jobs (well, actually, I am) but let's impose a few rules. First, as it relates to undercard fights, just have the boxers speak. We don't need the whole team (although Danny Garcia's father was pretty entertaining and a few jaws dropped as he dropped a "Monkey Talk" reference at the Holt team). If you are going to run through the whole gamut, I say we institute a talk clock, like in the NBA, you get 24 seconds to say what you want and then you sit down.
Also, sponsors and networks get mentioned of course but, geez, do we really need to hear from them?
Not saying this was long but even Bozella cut out early. I don't blame him. He's been imprisoned long enough in his life already.
I mentioned last week on Twitter that someone told me they had heard the "Star Power" pay-per-view

on September 17th featuring Floyd Mayweather-Victor Ortiz did around 850,000 buys and it seems to have caused quite a stir for some reason. Again, folks, comprehending what you read is vital and stuff like this should be taken with a grain of salt.
I think it's pretty telling that no numbers have been- or will be- released by the parties involved up to this point but as Jake Donovan tweeted

last Friday night

(@JakeNDaBox): "It is strange. GBP announced 2 days after Floyd-DLH that fight broke all-time record. 4 yrs later, it takes 3 wks to count?"
It is strange to say the least. Then I got this email:
It is my understanding that HBO has been, if not complicit, less than candid/precise when it came to releasing PPV numbers in the past , especially for Mayweather. Whether it be Hayman's influence and/or Floyd's ego (or both) demanding it, HBO's executives have played along with creating the impression that Floyd's PPV numbers are larger than they actually are.
But now the jig is up and the new administration no longer plans to do the same.
Does that have anything to do with the 850,000 PPVs that you have suggested.

Perry"


Uh, all I will say is that, boy, I really have some sharp readers out there. But move along, folks; nothing to see here...

HEAT WAVE FLURRIES

Mikkel Kessler had to pull out of his

November 5th

bout with Robert Stieglitz. This "Super Six" curse extends to guys who backed out of this thing...Robert Diaz of Golden Boy Promotions told me that Erik Morales will be back fighting

on Dec. 10th. No venue or opponent has been nailed down. It also looks like "El Terrible" wants to go back down to lightweight...The

November 19th

bout between WBC middleweight champion Julio Cesar Chavez Jr. and Peter Manfredo Jr. has been officially announced and will take place at the Reliant Arena in

Houston, Texas

. Tickets go on sale

this Friday

and are priced at $300, $200, $100, $50 and $25 and can be purchased at all Ticketmaster outlets and the Reliant Park box-office...I'm not surprised that

Auburn

has been cleared of any wrong doing by the NCAA. The schools in the SEC would never, ever break the rules...Am I crazy for actually liking Skip Bayless on "First Take"? The guy is entertaining; you have to admit...
I can be reached at k9kim@yahoo.com and I tweet at www.twitter.com/stevemaxboxing. We also have a Facebook fan page at www.facebook.com/MaxBoxing.