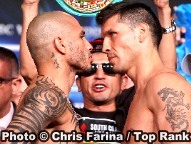 -

By Coyote Duran and Gabriel Montoya

As far as overused adages in boxing go, "crossroads fight" has to be at or near the top of the list. But I'll be damned if it doesn't fit the bill here – even if the fight in question involves two hardened ring veterans six years apart from one another in age.


How we got to this point tonight is certainly another issue you can debate to death or until your vocal cords give out. I don't care. Knock yourself out. This is as bitchen as fights get and as far as promotional rifts are concerned (fading as this one might be between Top Rank Promotions and Golden Boy Promotions at this moment), the obstinacy of the "Cold War" got one right. Hence, Sergio Martinez vs. Miguel Cotto for the lineal middleweight championship…and yes, I placed Martinez's name first because where I come from, that's how world champions get billed.

Tonight, we see how it all plays out between Argentine icon Martinez and his Puerto Rican foil, Cotto at the "Mecca of Boxing," Madison Square Garden. Here at Maxboxing, Gabriel Montoya and I play a little game we like to call "Head-to-Head." Let the jockeying for big-mouthery and wild stabs in the dark begin!
Coyote Duran:
At a time when options were less than optimal (before the promotional "Cold War" seemed to start thawing a speck with Golden Boy's Oscar De la Hoya's recent supper with Top Rank's Bob Arum and Todd duBoef), it came due time for a middleweight championship defense from a stand-up guy with model good looks and a penchant for being on the business end of drama, Sergio Martinez. Mind you, even in the coldest chapters of said "War," "Maravilla" was Switzerland through it all as he is promoted by DiBella Entertainment. Basically, there is no issue regarding defending against a mandatory your bosses won't allow you to face. And who better to place as a mandatory challenger for belt in a division in which he's never fought? That's right. Miguel Cotto. In New York. At Madison Square Garden. On the weekend of the Puerto Rican Day Parade. At a catchweight in his favor (realistically not by much). With all promotional billing first and ring walk last. You do the math. Me think math am delicious.
Gabriel Montoya: This fight makes four times the deck has been stacked against Sergio Martinez by Top Rank. The first time, he was a wet-behind-the-ears kid in his 14th

pro fight against Antonio Margarito in 2000. Martinez got stopped in the seventh

round as a result. He says the loss was the best thing to happen to him as a boxer because he learned how to be a professional. Ten years later, in his second middleweight fight, Martinez faced another Top Rank fighter, then-middleweight champ Kelly Pavlik. Despite facing Paul Williams in his previous fight at middle, Martinez was thought to be more of a natural 154-pounder. His loss to Margarito 10 years earlier had been at 147 pounds. This time, Martinez was successful in beating a Top Rank fighter with everything in his favor. The next time would be against Julio Cesar "Silver Spoon" Chavez Jr. in September of 2012. Once again, Martinez was successful in beating a Top Rank fighter who everyone was banking on beating the aging Argentine. The Top Rank machine seemed to be waiting out Martinez as he aged. Despite a 12th round that almost saw him toppled from his throne, Martinez proved them all wrong. Can he do it again? Everything says this is Cotto's decision to win. The venue, the timing of the fight, Martinez coming off his second knee surgery in as many years. The math is compelling; I'll grant that.
Coyote:
It's easy to say the champion, with all the subtle intangible odds against him, can muster up all the moxie as you like it but what are we really asking of the real, legitimate middleweight champion? To further subscribe to an obvious mind game when mental fortitude is seemingly the last thing Sergio Martinez has to tap into? As far as frustrating the man in concerned, this is all "right place, right time" strategy. In Martinez, you have a fighter whose appearances and title defenses are now spreading out due to physical hindrances. What's left to attack but the mind? And to begin conjuring up an uncomfortable acrimony (and let's face it; this tension and hostility is just plain weird and its manufactured nature comes off no more convincing than the conflict that pushes forth a popcorn film) is downright confusing to this editor's eyes. Just as well, no matter how well he plays along, it's confusing to Martinez. Cotto can be a heavy all he wants. His pissed-offedness against Antonio Margarito in their rematch was predicated on the same golem-like approach (though in that instance, genuine hatred was indeed the bedrock of Cotto's victory. A clock has more expressions on its face than the former three-division titlist. He can sell heat against Martinez. I'm not truly positive the same can be said otherwise.
Montoya: If there is any fighter that appears to be aging like wine in this fight, it is Cotto. He is an intelligent fighter who is not blessed with super speed or power. Rather, he has had to learn how to be versatile. A "tweener" who is more suited at 5'7" to 147 than anything above it, Cotto has learned how to adjust and make himself viable above welterweight. That said, Martinez is good at adjusting too. He also knows how to get off the canvas and turn it on to win. That poker face of Cotto's can't hide one distinct fact: he has no significant wins above 147. I'm wracking my brain wondering what Cotto's best win above 147 is. At that weight, his best is likely Shane Mosley, which was a tight fight, back in 2007. There are those who believe Mosley won that fight. At 154, Cotto has beaten a one-legged Yuri Foreman, struggled with Ricardo Mayorga, beat Antonio Margarito in a rematch that was stacked against "Tony" as this one is against Martinez and then lost back-to-back decisions to Floyd Mayweather and Austin Trout. From a résumé standpoint, there is nothing to suggest Cotto will show power, speed or the ability to win a big fight above 154. Let's remember, other than Foreman, Cotto has never beaten a champion for his belt. Most have been vacancy-fillers.
Coyote:
What's left other than the physical tangibles? Because that's what this all comes down to, Howlers. You have a world champion - a proud gentleman at that, a man who inspires, is active in lifting causes and doesn't duck challenges - who is on shaky ground when it comes to the vessel in which he does battle: his body. With wonky knees, Martinez's ability to move is stunted and on borrowed time. The fact that he'll need some sort of sleeve to aid at least his right knee is indicative of a man who is trying to fight himself in order to give us what we want. Martinez will also tire in the later rounds as he has been known to do. Combine that with his now-dodgy pins and he won't be able to stick and move near as well as he's been accustomed to. Cotto's newfound conditioning, trusted body attack and - if you believe trainer Freddie Roach - new anti-southpaw game plan will actually break my heart. What can I say? I'm a Sergio Martinez fan. And I also see Miguel Cotto breaking one of my favorite active fighters down in 11 for the stoppage.
Montoya:
Anyone else remember "Manila Ice"? Cotto's resurgence at 154 under Freddie Roach came against Delvin Rodriguez, who looked awful in his following fight. Rodriguez is a guy who has not exactly lit the world on fire at any weight, much less 154. While a great trainer, Roach is an offensive-minded coach. He brings out your offense, not your defense. Unless Roach has fixed Cotto's major weakness, being open for the uppercut, Cotto's screwed because Martinez loves to come underneath to set up the over-the-top attack.
I agree Martinez looks stiff. And he gets injured every fight. And he has looked vulnerable against Darren Barker, Matthew Macklin, Chavez (in the 12th) and Martin Murray. But those are middleweights with the exception of Chavez Jr., who is a super middleweight now. He may be hobbled but his punch is there. And Martinez is not a guy who needs the movement or speed to punch. He stopped Barker and Macklin and boxed Chavez's ass off while standing up to him all night. OK, against Murray, he looked no bueno but still managed to get off the canvas and close the fight fresher than Murray.
Cotto is the smallest guy Martinez has faced in years. Cotto has been stopped before. Cotto cuts and is vulnerable to speed, length and power. Martinez will definitely have two of those three strengths on fight night. Added to this, he is used to dealing with and beating larger men while Cotto is used to losing to them. Maybe Top Rank has finally gotten Martinez at the right time yet again. It would be a strange bookend to this quiet rivalry. But I say "Maravilla" has a little greatness left in him and he won't go quietly into the night. The last challenger to use his clout to impose a catchweight and other stipulations against Martinez was Paul Williams in their rematch. Martinez knocked him out cold in two rounds. I expect Martinez to be extended but do the same here. Martinez by stone-cold KO in nine in a competitive, excellent fight.
Please visit our Facebook fan page at
www.facebook.com/MaxBoxing
, where you can discuss our content with Maxboxing readers as well as chime in via our fully interactive article comments sections.