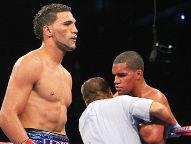 (Photo © Edward Diller - DiBella Entertainment/Star Boxing)

By Jason Gonzalez at ringside

Mashantucket, CT- Coming into this Saturday's main event between Edwin Rodriguez and Jason Escalera at the MGM Grand Theater at the Foxwoods Casino, there were many questions surrounding Escalera. One in particular involved whether he was ready to make such a big leap in facing an opponent who had more knockouts than Escalera himself had wins.

The last time we saw a similar situation was when Jaidon Codrington fought Allan Green in 2005. Codrington would be knocked out in 18 seconds. History has a way of repeating itself and guess what, mi gente? History almost repeated itself Saturday night.

Rodriguez, 166 pounds, of Worcester, Massachusetts, 22-0 (15), kept his undefeated streak intact when he stopped Escalera, 165 pounds, of Union City, New Jersey, 13-1-1 (12) at the 12-second mark of the eighth round. Referee Steve Smoger stopped the bout after Rodriguez landed three unanswered shots on Escalera.

"I was surprised he got out of the first round," said a jubilant Rodriguez. "He is definitely a strong kid; he is tough and has raw power but very easy to predict."

Rodriguez dominated the fight with all of his advantages: punching power, reach and defense. Rodriguez had Escalera hurt and almost down several times throughout the fight, specifically the first. But per the adage, "saved by the bell," Smoger stopped the bout for Escalera's safety after he continued to receive punishment.
It is suspected that Escalera may have suffered a fractured jaw; throughout the bout, Escalera repeatedly lost his mouthpiece. It didn't appear that Escalera was doing it on purpose. At the time of the stoppage, Rodriguez was ahead on all three scorecards, 70-62, twice, and 70-61.
"We want any of the top 10 guys," said Rodriguez. "Definitely [former Undisputed Middleweight Champion Kelly] Pavlik. I wanted to send a message and I think my performance speaks for itself."
In a huge upset, former three-time world champion Vic Darchinyan, 121 pounds, of Sydney, Australia, 38-5-1 (27), proved that he still has a lot left in the tank. Besides looking dominant, Darchinyan scored a clear-cut unanimous decision over the tough and gutsy Luis Orlando Del Valle, 122 pounds, of Newburgh, New York, who dropped to 16-1 (11) while winning the vacant NABF super bantamweight title in the process. At the end of the night, the scorecards read 99-91, twice, and 96-94 for the Armenian native.
"I am back," proclaimed Darchinyan, 36. "I feel good at this weight; I feel strong. I worked very hard. He's a tough kid. I just felt I was in a different class than him."

"I am disappointed," a dejected Del Valle would say."He's extremely awkward. I let him impose his style and he got confidence early. Every time I went inside, he held me. My hat's off to him. He was the better man tonight."



Throughout the contest, Darchinyan outlanded his counterpart as well as giving him trouble with his awkward southpaw style. Darchinyan was punching very hard while avoiding most of what Del Valle retaliated with.



In the opening bout of the HBO telecast, welterweight Antonin Decarie, 147 pounds, of Quebec, Canada, 27-1 (8), snatched the NABF trinket after scoring a sensational sixth round technical knockout over the previously unbeaten Alex Perez, 146 pounds, of Newark, New Jersey at 2:54 mark of the round.

"I feel awesome," rejoiced Decarie. "The right hand was something we worked on. We had a great training camp. I knew once I started landing the right hand, I knew I could hurt him."

Perez, now 16-1 (9), succumbed to Decarie's accurate aggression. Decarie found a permanent home for his right hand - on Perez's jaw - for the entire evening. Decarie would eventually land a tremendous big left hook from hell followed with a picture perfect right hand that left Perez in a drunken stupor while he was falling backward into the ropes.



Perez beat the count but Decarie closed the show with a flurry that forced referee Danny Schiavone to save Perez from himself.
"I give a lot credit to Alex for taking the fight," said Decarie. "The outcome was what was expected. I am ready for any welterweight. I can't wait to be back on HBO."
Word out of Perez's camp was that Perez got sick from something that he ate and was vomiting all day.
Welterweight Danny O'Connor, 142 pounds, of Framingham, Massachusetts unleashed a relentless attack on his foe Josh Sosa, 141 lbs. of Kansas City, Kansas prompting referee Eddie Cotton to call a halt to the bout at the :33 mark of the third round.
With the victory O'Connor improved to 19-1 (7) while Sosa dropped to 10-4 (5).

In a snoozer, Junior lightweight Ryan Kielczweski, 130 pounds, of Quincy, Massachusetts,14-0 (2), pounded out a perfunctory six-round unanimous decision over Jeremy McLaurin, 9-4 (5), 130 pounds, of Coon Rapids, Minnesota by scores of 60-54, twice, and 59-55.

Junior featherweight Luis Rosa, 122 pounds, of New Haven, CT added one more "W" to the win column, now 11-0 (6), after forcing Victor Valenzuela's corner to throw in the towel at the 1:21 mark of the sixth round.

Referee Eddie Cotton had his hands full as the two engaged in roughhouse tactics such as holding and hitting below the belt. Cotton deducted a point from both fighters in the fourth frame. The loss drops Valenzuela to 8-4 (1).



Female heavyweight Sonya Lamonakis, 237 pounds, of Turner Falls, Massachusetts, earned a six-round majority decision over Tanzee Daniel, 225 pounds, of Queens, New York by scores of 59-55, twice, and 57-57.



With the victory, Lamonakis improved to 7-0-2 (1) while Daniel fell to 4-2-1 (1).



Light heavyweight Issac Chilemba, 177 pounds, of Johannesburg, South Africa, improved to 20-1-1 (9) after dominating his counterpart, Rayco Saunders, 175 pounds, of Pittsburgh, Pennsylvania, 22-17-2 (9), over the course of eight rounds. All three judges were in agreement with the scores, 80-72 across the board for Chilemba. Chilemba would work his jab early, followed by a perfect body assault down the stretch of the fight. Originally, Chilemba was supposed to face Zsolt Erdei of Hungary before the latter pulled out of the fight with a rib injury.





Jay Gon's Ringside Tidbits





- Great night of action, hands down.

Promoter Joe DeGuardia was in the house and in great spirits. He appears to be in great health, recovering from a near-fatal car accident that left one dead two months ago. According to DeGuardia, the girl who survived has recently been released from the hospital.
We also have a Facebook fan page at www.facebook.com/MaxBoxing, where you can discuss our content with Maxboxing readers as well as chime in via our fully interactive article comments sections.