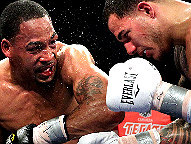 (Photo © Chris Farina / Top Rank)


After the fourth round of what was becoming more and more of a one-sided drubbing of Glen Tapia at the hands of the hard-charging James Kirkland, HBO's Jim Lampley stated to the audience at home, "Glen Tapia is only 23 years old and may have a very bright future. You don't want him to get ruined in one night." In the wake of what has taken place recently with the likes of Franky Leal, Magomed Abdusalamov and Jose Carmona, surely discretion would be the better part of valor here.
Sadly, it was business as usual from everyone involved who could've saved Tapia from the frightful beating he took from the merciless Kirkland.
What began as an exciting, back-and-forth brawl and a war of attrition had become a shellacking. By the end of the fourth, it had become clear that Tapia could no longer hold off Kirkland and his two-fisted attack, which featured ripping uppercuts to the body that took the air out of Tapia's balloon and hard shots up top that jerked his head back violently.

"You're getting hit way too much," said Tapia's trainer, Alex Devia, after his fighter trudged back to the corner. It was during this minute interlude that the ringside physician, Blair Bergen, took a close look at Tapia and conferred with referee Steve Smoger. Before Tapia was allowed to come out for the fifth frame, Smoger told him, "If you take any more severe head shots, I gotta stop it."
As the fifth began, Tapia fought valiantly, starting quickly and hitting Kirkland with a series of left hooks that momentarily halted his momentum. But it was just a short-lived reprieve as Kirkland soon regained control of the proceedings in violent fashion, hitting the brave Tapia at will to a point where Max Kellerman commented from his ringside perch, "Maybe we've seen enough."
It was at this juncture where the competitive phase of the contest had come to its conclusion. There was no doubt Kirkland was on his way to winning this fight. The question was: just how much of a beating would he dole out in doing so? Kirkland is as tough and mean as he is flighty and unreliable but with Ann Wolfe in his corner, there is a certain ferocity and toughness honed to a razors edge. They don't train so much for a prizefight but for guerrilla warfare. Kirkland is a hard man; Wolfe is a hard woman and together, they are hard to defeat. And with Wolfe exhorting Kirkland with such comments and demands (after the fourth) like, "F*ck this! This yo destiny, n*gga; you hear me?! Go kick this mother*cker's ass!" Kirkland was more than happy to comply with her wishes.
Tapia was no longer competing but surviving.
As Tapia sat down on his stool between the fourth and fifth frames, Devia would tell his charge, "I need my second air, man. You hear me? G, I need my second air." Watching this fight unfold, you got the sense that Tapia's troubles went far beyond his cardiovascular capabilities. As Tapia's eyes closed as if he was on a tryptophan high after Thanksgiving, that ominous sign was not met with concern but with Devia telling Tapia as Bergen came to check up on him, "Explain to this doctor you good, baby. You're gonna go. You're gonna go right now. Tell 'em you're going to stop this boy right now. This is your life, baby; you gotta get your second air."
Devia, perhaps the worst thing a badly beaten prizefighter can have in this predicament - a courageous trainer - then inexplicably told Smoger, "This is a sparring session."
This is when the adults needed to take over but after Smoger and Bergen talked for a few seconds, Tapia was sent out for slaughter in the sixth. The "Jersey Boy" needed a life preserver. Instead, he got pushed right back into the eye of the storm.
As Kirkland assumed his relentless assault, 20 seconds into the round, Kellerman noted, "This is enough," as Tapia's head was being hit and battered all about like a tetherball on the playground. Finally, Smoger stepped in but not forcefully enough to prevent one last hammer shot that seemingly knocked Tapia out on his feet, his body sagging into the arms of a referee who failed in his own duty to protect the combatants. Smoger has a well-earned reputation for being a fan-friendly referee who lets fights play out to their most vicious of conclusions. But it says here he forgot that, first and foremost, his real obligation is to look out for the health and safety of those who are willing to ply their trade in the squared circle.
Ask yourself this: if the roles were reversed, do you think there would have been any hesitation to stop the fight on Kirkland's behalf? Just think about it; Tapia (promoted by Top Rank Promotions) was the house fighter, boxing in his backyard in Atlantic City, New Jersey, where the hope was that with his good looks and hard-hitting, fun style, he would become another Arturo Gatti, who carried this region for years (Tapia even has the same manager Gatti had, Pat Lynch). The business needed Tapia to come out on top.
He was going to be given every single opportunity to win this fight - even if it killed him.
Tapia's courage and valor was only exceeded by the likes of Devia, Smoger and Bergen, who all have some blood on their hands. This here was a systemic breakdown and perhaps it goes all the way back to the culture of boxing where quitting is so taboo and frowned upon. Tapia simply wasn't going to quit. However, he should've been forced to long before he was beaten into submission.
For three rounds, this battle was the very best boxing had to offer. It's why we love the sport. But something happened on the way to our bloodlust being satisfied. A hotly-contested prizefight developed into an assault-and-battery rap with those whose responsibility to protect fighters from themselves simply refusing to do so.
Instead, they put their own egos and agendas ahead of the correct thing to do - shielding Tapia from himself.
Judging by the way the ballroom emptied out for Guillermo Rigondeaux's fight against Joseph Agbeko after Kirkland-Tapia, you could argue it's the first time HBO ever televised a walk-out bout. There's no doubting "Rigo's" skill and boxing acumen. He's as good as it gets in those departments but the quandary is in getting him dance partners who will bring out the best in him. And in all fairness, Agbeko didn't do much as he was very reluctant to open up in fear of getting countered by the quicksilver Cuban southpaw. It does take two to tango.
But you wonder if HBO, which seemingly had to have its arms twisted to televise Rigondeaux after his victory over Nonito Donaire, isn't at the point where they basically tell Bob Arum, "Hey, this is your problem. You signed him to a contract; you fulfill it on your own dime." This network is in the programming business, not the business of satisfying the purists who make up a small percentage of its audience.
What Rigondeaux fails to realize - or perhaps doesn't give a damn about - is winning sometimes just isn't enough. No, it's not fair but then life isn't fair. And the boxing business really isn't fair (although some will point out that Rigondeaux being paid in the six-figures to perform in front of seemingly hundreds is a pretty good deal) and Rigondeaux isn't the first (and he certainly won't be the last) boxer who will be in this situation.
I thought Carlos Acevedo penned his usual quality column on the Rigondeaux dilemma this past weekend on theCruelestSport.com:
Erislandy Lara, who easily outboxed Austin Trout at the Barclays Center, is really putting together a nice résumé...Zab Judah was completely impotent versus the fast and steady jab of Paulie Malignaggi...Hey, how bout Shawn Porter? Anyone see that coming?...Felix Sturm isn't going away gently into the night. He recaptured the IBF middleweight crown by stopping Darren Barker in two innings in Germany...Has all of America thanked Michigan State for beating Ohio State?...I can't wait for Auburn-FSU in the BCS title tilt...Can you believe the last few minutes of the Ravens-Vikings game?... The Next Round Episode 461 link for today at 4 pm PST/ 7 pm EST http://www.blogtalkradio.com/leaveitintheringradio/2013/12/10/maxboxing-live-the-next-round-episode-461... The first question Ted Koppel ever asked Nelson Mandela upon his release in 1990 on "Nightline" was on Buster Douglas-Mike Tyson and boxing...Yes, I will be in San Antonio this upcoming weekend for Adrien Broner vs. Marcos Maidana. Cue Bart Scott...I can be reached at k9kim@yahoo.com and I tweet at www.twitter.com/stevemaxboxing. We also have a Facebook fan page at www.facebook.com/MaxBoxing, where you can discuss our content with Maxboxing readers as well as chime in via our fully interactive article comments sections.