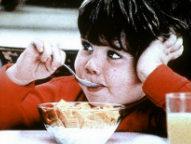 Lil' Mikey - Life cereal commercial


It's going to be a slow month for boxing - just look at the calendar - but there was an MMA card this weekend. It was the UFC's fourth show on FOX and between the Pro Football Hall of Fame ceremonies, I watched a good portion of this telecast. And guess what? Like Lil' Mikey in that Life cereal commercial from way back, I liked it (http://www.youtube.com/watch?v=vYEXzx-TINc). OK, I'll let you take a deep breath - and I'm sure some of you may have actually fainted from reading what I just wrote - but yes, I actually took time out of my Saturday evening and willingly watched UFC on Fox with no regrets whatsoever.
I know to some it sounds blasphemous but I just call it the way I see it. It was an entertaining two hours of programming put forth by Dana White and his combatants. And quite frankly, after falling flat in their first two tries on FOX, they needed a card like this.

(And before you even go there, this is not an "MMA is taking over boxing" column. Not is it only untrue but it's a tired storyline. I'm a boxing guy, always have been, always will be, and it'll be a long time - if ever - before I watch another UFC card. So yeah, don't expect "MaxUFC.com" anytime soon. Honestly, if the fight card featuring the battle between Wilfredo Vazquez Jr. and Rafael Marquez wasn't postponed, chances are I wouldn't have bothered tuning in to FOX. But I did. And what I saw was entertaining.)
But watching the bulk of this card it got me thinking about how boxing would be well-served to adopt some of the philosophies of the UFC, namely, as it relates to records of its participants and how they treat losses. Hear me out...
First, looking at the main event featuring the match-up between Mauricio Rua and Brandon Vera, they put on a back-and-forth battle in the Hexagon - or is it the Octagon? - that saw Rua stop Vera in the fourth round. I noticed that, unlike in boxing, where there is this huge fixation or overreliance on glossy or undefeated records, the UFC isn't such a slave to it. Rua came into this fight with a mark of 20-6 and Vera with a résumé of 12-5. Now, could you imagine boxing ever showcasing two fighters with records of this ilk on this type of platform or on HBO or Showtime?
Yeah, I know I'm comparing apples to oranges here and the process of developing boxers is much different than that of MMA participants. But my overall point is that regardless of what their records were, there seemed to be an understanding that these two would make for a good scrap. In boxing, fans seem to equate a big or good fight as being one matching two undefeated fighters. Case in point, the ill-fated bout between Tim Bradley and Devon Alexander which was perceived to be so "important" and vital because both boxers were undefeated at the time. Problem was that fight looked much better on paper than it did on the canvas.
It looked even worse in the Silverdome (have I ever told you that I was at that disaster?).
And look at how the fans reacted to Juan Manuel Lopez's first loss to Orlando Salido last year. To many of them, it diminished a potential Lopez-Yuriorkis Gamboa hook-up. I have one question: Why? Because Lopez committed the cardinal sin of losing? Lopez, a proficient offensive fighter with glaring defensive defiencies, will always be engaged in fun fights but because he lost to "Siri," all of a sudden you don't want to see Lopez-Gamboa in the future? Or was it two undefeated boxers fans wanted to see? Remember when Arturo Gatti and Micky Ward began their classic trifecta? Well, they had a combined 16 losses between them (5 for Gatti, 11 for Ward).
Coming into Saturday night, Rua, in his last five contests, was 2-3. Vera was 2-2 with one no-contest. As Brent Brookhouse, Managing Editor of BloodyElbow.com pointed out to me via email, "Vera's NC was him getting dominated but the other guy popped a positive drug test. The last win saw him almost lose when he got arm-barred and his arm was broken. The ref didn't know that he was injured so it wasn't stopped. Also, technically, I think that if that round was properly scored as 10-8 it would have been a draw."
UFC fans didn't seem to make too much of a big deal about the recent records of Rua or Vera (but admittedly, I don't converse or deal with many of them, so maybe I'm incorrect in my observation). But could you imagine the outcry on Twitter and boxing forums if Top Rank or Golden Boy put on a pay-per-view promotion featuring two boxers who had lost two or three of their previous five fights? There would be mass hysteria, talks of boycotts and the beginning of the apocalypse. Perhaps a large part of the blame has to fall on the mindset of the fans themselves. Also, the media – yes, us guys - we'd probably frown upon it too without looking closely enough beyond what's on BoxRec.com and not the actual quality and potential of the prizefight.
In other sports, the fact that teams come into games having lost their prior contests doesn't seem to really dull the interest of the game coming up. In regard to the MMA/UFC, it certainly doesn't seem to matter as much as it does in boxing. In the UFC, a loss, as long as it's somewhat entertaining, is just that: a loss. Nothing more. In boxing, it's treated as something that cripples a career. Y' know what? With how many involved in the sport react to them, perhaps it does. Because many times promoters have built-in clauses where purse minimums can drop precipitously with defeats, networks are sometimes hesitant to give slots to fighters coming off defeats and fans can be the most fickle of all. Win 50 fights in a row and you're on every pound-for-pound list. Lose the 51st and you've been "exposed" were always a protected fraud. But never, ever, Heaven forbid, just be a guy who happened to have a bad night at the office.
And with that, everyone from promoters to managers and trainers (perhaps even fighters who are essentially paid by the premium cable networks) become very cautious in their approaches to matchmaking. I can't say I blame them because in too many instances, you are actually punished punitively for taking on real challenges.
Looking at the televised undercard, there wasn't anything remotely close to an undefeated ledger. Mike Swick, 14-4, faced DaMarques Johnson, 14-11, followed by Joe Lauzon, 21-7, vs. Jamie Varner, 20-6, and then Lyoto Machida, 17-3, against Ryan Bader, 14-2, and the fights were all pretty good (for full disclosure, I missed a part of the televised prelims. I wasn't going to miss Cortez Kennedy's Pro Football Hall of Fame induction speech. C'mon, "The Dancing Bear" was from the "The U"). It was in sharp contrast to most boxing cards where the results of the undercard are seemingly preordained. It's funny; for all this talk of "fixed" fights, the reality is that most of your really adept matchmakers don't really need such shenanigans. Boxing undercard bouts aren't so much about true athletic competition but sanctioned mismatches designed to develop and move the house fighter along.
Go to most major boxing cards and look at the bout sheet. Usually, you'll see one side with pristine records against guys from areas like Louisiana, Indiana or shipped up from Mexico that provide cannon fodder and how many rounds a certain corner will win that night. If the house fighters are in the red corner, chances are the blue corner may literally not win a single inning throughout that whole night (and if you see "Repo Rick" there, forget about it. On the flipside, if you see the Watson twins come into the ring with a fighter, that's who you should put your money on).
And it's one of the reasons why UFC cards have fans lined up at the door before the first bell even rings. In boxing, the reality is that a large majority of the audience gets in their seats about 10 minutes before HBO or Showtime get on the air, save for the relatives and fans of local ticket sellers or prospects who are placed on the untelevised portion of the bill. It seems that both fan-bases know what they are getting for their ticket buying experience.
In the MMA, you're expected to lose (more than a few times, actually). It's a sign of seasoning and experience, a certain rite of passage everyone takes. In boxing, when a prospect loses, it means that a managing or matchmaking gaffe was committed or the fledgling fighter was merely exposed and eventually shunned or cast off.
In boxing, early losses are held against fighters. Trust me; no matter what they say, network executives love the undefeated record, especially with prospects. Think about it; when was the last time you saw a fight on HBO's "Boxing After Dark" or even "ShoBox" where you have a young hopeful with a record of say, 19-3, versus a guy who's 17-4? Invariably, at least one of those boxers has an undefeated ledger or something close to it. It wasn't always this way. There was a belief in the past that if you hadn't lost prior to fighting for your first world title opportunity, you really weren't ready for it. Nowadays, a loss means a mistake was made.
If you look at recent boxers with double-digit records, like the recently retired Glen Johnson and Orlando Salido, one of the main reasons they weren't/aren't so coveted by the HBOs or Showtimes of the world is because their records look just a bit too, well…blemished. In the UFC, they'd fit right in.
Again, this is no indictment on either realm and I fully realize they are different in many ways - but there are certain differences that are simply better.
A few days ago there was a rather spirited debate on Twitter on just who is a star that came out of the Olympics. Some said Andre Ward, which I disagreed with. Based on every tangible way of gauging it, from television ratings and attendance, while Ward is talented (and he may one day be a "star"), he's still not at that plateau. I think too many fans don't understand the difference between being accomplished and having notoriety. They are not always intertwined nor connected. Being a star means you move the needle; people care when you perform - but it doesn't always mean you are a great boxer.
I think Sherman M., who's quite the emailer, summed it best in this recent message:
I could probably go on for days about the ridiculousness that you can find on Twitter.

I find it hilarious that the population of people who do not attend fights have the audacity to think they can decide who is or isn't a star. I understand that not everyone has the budget to attend fights, but if that's the case then one should understand that his opinion on that topic will not matter. It reminds me of being a child and going to the grocery store with my mother. I seemed to know the perfect list of groceries that we needed to stock the kitchen, you know, snacks and treats. My mother would always tell me, "when you start paying for the groceries, you can decide what we're going to buy". If you're not going to attend fights, your input means nothing.

Another thing that irks me to see on Twitter, are all of the athletic commission reports of all of the comps being given out for fights.

Living right outside of Washington DC, I am pretty much forced to gather friends to take trips to Atlantic City to go see fights. I was on the phone ordering tickets the minute they were available for Khan/Peterson. The fight draws about 10,000 fans (all there well before the main event) and here we are 8 months later and Golden Boy still has not revisited this market (maybe they enjoy giving out more tickets than are purchased?).

You would think Golden Boy would look at some economic indicators (maybe that's just me being I got my degree in Economics) to see the Washington DC area has a lower unemployment rate than most of the rest of the nation. There is also a huge African American population here, me being one, as well as a solid Arab population here and in the surrounding areas. I mean, the Redskins are the second most valuable NFL franchise, and it's certainly not because they are Super Bowl contenders every year, ha! There is a market out here that can flourish if done properly. Guys like Seth Mitchell, Gary Russell, the Peterson brothers, even Broner could probably do well making an occasional appearance here.



Here I am crossing my fingers, anxiously waiting for the next event where I will gladly pay my hard earned money to attend.. all the while I see fight after fight where more tickets are being given away than sold...
Sherminator, as usual, you hit it on the head. Guys like you who put your hard-earned bucks on the table to attend fight cards (even just once or twice a year) are the ones I take seriously when it comes to this discussion because you are making that extra financial commitment to follow and support this business. Yeah, I want your input, not some guy who just posts on boxing forums all day anonymously and never goes to any fights.
And yeah, it's troubling what's going on recently with Golden Boy cards (where more tickets are being given away than actually sold). You can really poison a market for good. I mean, give away enough freebies and you take away any of the incentive to ever buy them in the future.

As for D.C., I would hope what happened in December with the Lamont Peterson-Amir Khan fight isn't a one-off. It's clear they will support boxing and local talent (which you listed). That's a market that needs to be utilized on a regular basis.

FINAL FLURRIES

Mercito Gesta had a nice finish to his bout versus Ty Barnett. I just wonder if he's seasoned enough to deal with the difficult puzzle that is IBF lightweight champion Miguel Vazquez...Diego Magdaleno has developed into a nice pro but, really, his younger brother, Jesse, might have a higher ceiling as a fighter...According to the L.A. Times, over 16,000 people were in attendance for the UFC show at the Staples Center with a gate exceeding $1.1 million. They did nice job of pricing this show with tickets ranging from $200 to $30...We know this about Deontay Wilder; he can pitch - but how well can he catch? That's the question...Amateur boxing is hard to watch nowadays but what's almost impossible to stomach are some of the shenanigans with the judges and officiating. It's turned an Olympic staple into a bit of a farce...Watching the Hall of Fame Game and Drew Brees and Kevin Kolb were both in mid-season form, which is good for the Saints, bad for the Cardinals...This year, it was "Tez" who got into Canton. Will it be Warren Sapp next year? He defined his position for a decade and was dominant...Y' know, Usain Bolt is kinda fast...Can't wait for "Hard Knocks" to start on HBO; it's a summer staple for any football fan

...

I can be reached at k9kim@yahoo.com and I tweet at www.twitter.com/stevemaxboxing. We also have a Facebook fan page at www.facebook.com/MaxBoxing.