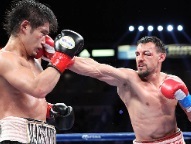 Photo © Tom Hogan - Hoganphotos / Golden Boy Promotions

By John J. Raspanti at ringside

Former champion Robert Guerrero (32-2, 18 KOs) withstood a determined challenged from Yoshihiro KamegaI (25-2, 18 KOs) to notch a hard-fought 12-round unanimous decision in the main event at the StubHub Center in Carson, Ca., Saturday night.

In the opening rounds, Guerrero, 31, abused Kamegai's face with brutal combinations, but Kamegai withstood the onslaught and asked for more.

Whenever Guerrero kept the action in the center of the ring, the fight was his. He'd bounce slightly and uncork punches. Most of the shots landed. In round three, a brutal left hand knocked Kamegai backwards but instead of going down, the tough guy from Japan pounded his chest and let out a Tarzan-like scream.

His war yell woke up the slumbering crowd, that was still recovering from the Vasyl Lomachenko-Gary Russell Jr. battle. Kamegai's only chance was to hope that Guerrero would engage more on the ropes. His wish was granted in round six. During an exchange of blows, Kamegai, 31, connected with a right hand. The punch did major damage. It opened up a cut over Guerrero's left eye, but more importantly for Kamegai, the eye began to swell.

With his sight impaired, Guerrero stayed in the pocket. Kamegai took advantage of the damage, connecting with more right hands. He also hurt Guerrero with bodyshots. Guerrero, even with one working eye, was still landing vicious punches. In round 10, a sharp uppercut staggered Kamegai, but within seconds he was firing back at Guerrero.

The last round was an all-out brawl. Both fighters ignored whatever semblance of boxing technique remained. They stood toe-to-toe in the center of the ring as the StubHub crowd, roared. They smiled and embraced after the final bell.

"It was a rough fight," Guerrero said in the ring. "I didn't want to get caught into his style, but right out of the gate I did. I'm not a runner, I will fight. He is a tough, great fighter. I want to give the fans what they want.

"That's the name of the game. You can't cry about a swollen eye, busted up mouth, or a broken nose, you've got to still keep fighting."

"I'm OK with the decision," Kamegai said. "He shook me a couple of times, and I felt weakened in the legs, but I think I had him hurt a few times, too, but he recovered very well."

There was no quit in either boxer.

In 12 months they might be rewarded with Fight of the Year.