Gomez Dispatches Leyva in Three; Kavanagh, Valadez Steal Show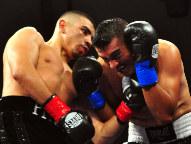 (Photo © German Villasenor)

By German Villasenor at ringside

November 3, 2012 - Frankie "Pitbull" Gomez, 13-0 (10), back in action after undergoing legal issues and now under Freddie Roach's tutelage, looked impressive (as he should have due to the opposition) downing game but overwhelmed Manuel Leyva, 21-9 (12), twice inside three rounds, notching the stoppage in the GBP/Telefutura main event at the Phoenix Club in Anaheim, California, Saturday night.
Gomez, looking in much better shape than in previous outings, came out strong, throwing vicious hooking combinations which had the veteran Leyva teetering from the onset. The East L.A. fighter did receive a few shots in return by Leyva throughout the fight; nonetheless, Leyva's lack of power was not enough to deter Gomez from his all-out assault. Gomez dropped Leyva twice and followed up with a flurry of shots after Leyva got to his feet. However, referee David Mendoza had no choice but to step in and call a halt to the fight at 1:13 of the third frame after a third knockdown.

Jamie Kavanagh, a natural lightweight, proved to be too much for the always exciting but natural featherweight Ramon "Monchi" Valadez, 11-3 (6), in a fight featuring sustained, back-and-forth action that left the crowd on its feet many times throughout the fight.
Hooking wide, Kavanagh, 12-0-1 (5), stunned Valadez several times during the bout but, somehow, Valadez came back from the brink of a possible knockdown, stunning Kavanagh enough to stay in the fight for the eight-round distance.
Dipping to his side as if throwing a body shot, Valadez turned upward into uppercuts, landing constantly against the bigger, more chiseled Kavanagh. The marked difference was the difference in natural fighting weights, which Valadez tried but could not match against the opposition.
Kavanagh nearly got the stoppage in the third and again in the seventh with Valadez gamely fighting back to make it out of the fight. Valadez sported a bloody, bruised face and Kavanagh also sustained a small cut under an eye and several bruises around the face.
All three ringside judges saw Kavanagh do more than enough to win a unanimous decision with scores of 80-72, 79-73 and a more reasonable 78-74.
In other results, light heavyweight Ulises Sierra, 1-0-1, fought debutant Ricardo Pinell to a four-round majority draw via scores of 39-37 (in favor of Sierra) and 38-38 (twice).
Heavyweight Gerald Washington, 4-0 (3), halted Brandon Spencer, 1-4-1 (1), with a left to the nose at 21 seconds into the third round.
Lanky super bantamweight Joet Gonzalez, 2-0 (1), looked impressive, throwing and landing precision combinations against Victor Serrano, 0-4. Serrano got dropped twice before a barrage of shots moments later forced referee Tom Taylor to call a halt to the fight at 1:47 of round one.
In the final bout of the card, Juanito Gonzales dropped Yosmani Abreu, 3-5-1, twice, using hard body shots, chopping head shots and an aggressive style, going on to win via unanimous decision with scores of 39-35 (twice) and 38-36.
With the win, Gonzales moved his record to 6-0 (3).



Subscribe to feed