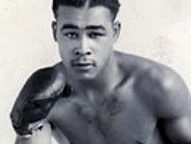 (Charley Burley)


The Gennady Golovkin vs. Daniel Geale fight drew slightly over 1 million HBO viewers. That's according to the Nielsen ratings provided by HBO. Not quite the record of 4.6 million. The Nielsen Media Research team explained that fights during the summer months do not draw as well as those fought in the Spring or Winter months. At least 1 million witnessed a great slugfest with Golovkin providing another electrifying performance in scoring his 17th consecutive knockout.

How many of our readers have heard of the great Charley Burley?
Charley makes the top ten list of great fighters of all boxing historians/experts. Burley fought during the time of Sugar Ray Robinson. Charley was known as the "uncrowned champion" and for good reason. The list of fighters who ducked Burley include Billy Conn, Jake LaMotta, Henry Armstrong, Marcel Cerdan, and even Sugar Ray Robinson, considered by most boxing historians as the best pound for pound fighter of all time. Archie Moore, who was defeated by Burley as a middleweight, is among several fighters who claimed that Charley Burley is the greatest fighter of all time.

Now let's fast forward to 2014 where we have another fighter who is being avoided by future hall of famers. Of course you know by now that fighter is Gennady Golovkin aka GGG or the triple G. The list is impressive - filled with fighters like Miguel Cotto, Saul Alvarez, Julio Cesar Chavez Jr., Peter Quillin, Andre Ward, Carl Froch, and maybe today's version of Sugar Ray Robinson -- Floyd Mayweather Jr.

Why? Are these professional prize fighters afraid of GGG? I would hope that's not the case. Maybe it's because they are not into taking a risk?

Here's a great story about overcoming fear and taking a risk.

During the tryouts for the 1984 USA Olympic team, a young heavyweight Mike Tyson would step into the ring and boast "everyone of you are afraid of me." "None of you will even spar with me because you know I will hurt you!" A young fighter also trying out for the team, had decided that he had heard enough. He jumped into the ring and said "I am not afraid of you and I am ready to fight." The fighter -- Evander Holyfield, and we all know how that story ends.

Is there another Evander Holyfield out there among today's middleweights? Will Miguel Cotto risk his middleweight belt for a unification bout with GGG? Don't hold your breath!

Maybe Charley Burley was right when he said, "Many talk the talk, but few walk the walk." Time will tell us all just how great Gennady Golovkin is as a professional fighter. He too may be judged by the quality of fighters who avoided him rather than the fights he won.

Please click here (opens on Doghouse Boxing) for my latest interview with Abel Sanchez who is Gennady Golovkin's trainer. Abel weighs in on the competition at middleweight and possible reasons they are all ducking the triple G.

Many Thanks, David Tyler

***David Tyler replies to all his e-mails and loves to hear from the readers. Comments, Questions, Suggestions, E-mail
David now at: dtyler53@cox.net