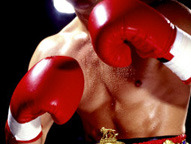 H1_Gloves_03.jpg


Cruiserweight titleholder Krzysztof Glowacki (26-0, 15 KOs) knocked down former champion Steve Cunningham (28-8,-1, 13 KOs) four times en route to winning a unanimous decision at the Barclays Center in Brooklyn, New York Saturday night.
The scores were 116-108, and 115-109 (twice).
The first round was all about feeling each other out. The second was completely different.
Southpaw Glowacki, 30, unleashed a powerful left hook that sent Cunningham down. The former champion pulled himself up-only to be sent down by another left. Cunningham beat the count and survived the round.
Cunningham rallied in round three. Glowacki fought back with combinations, but Cunningham's legs looked sturdy. Rounds four and five were competitive Glowacki landed a thunderous shot to the body. He also did some good work to the head. Cunningham stung Glowacki with right hands. He pumped out his jab. He was boxing now, instead of slugging.

Glowacki was the busier boxer in Rounds six and seven. A number of combinations landed. Cunningham went for the home run blow, but whiffed more than he landed. He did connect with a shot to the body. Glowacki countered with a left over Cunningham's right..
Cunningham, 39, popped his jab in Round eight. Glowacki tagged him with an uppercut, and seconds later, a good left.
Round nine was close. Cunningham stung Glowacki with a straight right hand. Glowacki rumbled back with shots of his own. Cunningham ran into a right hand that sent him down for the third time in Round 10. Cunningham got up and hurt Glowacki with a right hand.
Cunningham came back effectively in Round 11. He knocked Glowacki back a step with blows.
Glowacki wanted to win the last round, but so did Cunningham. They battled in the middle of the ring. Glowacki was tired. He stuck out his right. Cunningham countered nicely. The older man looked fresher, but left himself open. Glowacki made him pay. Another left sent Cunningham to his knees. He shook his head as he gazed at the referee.