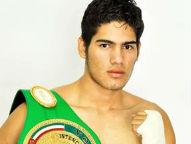 (Photo © Temmy Villa)


Over the years, Mexico has churned out more than its share of quality fighters, champions and stars. But the production line has somewhat dried up of late as the country looks to anoint its next superstar. Currently Saul Alvarez and Julio Cesar Chavez Jr. are leading the crusade; however, there are several lesser known names with impressive credentials waiting in the wings for their opportunity. One of those is highly touted Gilberto Ramirez Sanchez. Though only 20 years old, he's been a pro for three years, something not uncommon in Mexico. And though he's yet to face anyone of serious consequence, he does appear to carry the rare quality of equalising power, evident in his 21-0 record with 18 inside-the-distance wins. So far, "Zurdo" hasn't crossed the Rio Grande to fight in America, though that seems only a matter of time as he looks to be one of the brighter young prospects in the game. He returns to action this Saturday in Playa del Carmen against veteran J.C. Candelo live on Televisa (aired the following day on Fox Deportes).

Anson Wainwright - You recently beat Jaime

Barboza

,

winning nearly every round along the way. Can you tell us about that fight, the experience the 10 rounds gave you and what you made of your performance?
Gilberto Ramirez Sanchez - I was training for two months for that fight and I fel

t

very confident during the fight. Barboza was a strong fighter and I think I gain

ed

a lot of experience fighting the 10 rounds for the first time of my career.
AW - Though it's early days, when are you looking at fighting next? What are your goals for 2012?
GRS - One of my goals is Marco Antonio "Veneno" Rubio. I want to fight him and also I want to fight in America with the best middleweights because I want to be the world champion in the next year.
AW - Could you tell us a little about your style of fighting? What areas do you feel you are strong in and what do you feel you need to improve on to reach the highest level?
GRS - I believe that I'm a strong fighter and also I work on the distance. I have very good reach and I'm working to have more speed to be a complete fighter.
AW - Could you tell us about your team? Also where do you regularly train and with what notable boxers?
GRS - My manager is Jesús Zápari; my trainers are Hector Zápari and Ruben Telles and my promoter is Zápari Boxing and Canelo Promotions.
AW - What is a typical day in the gym for you?
GRS - In the mornings, i

t'

s jogging and in the afternoon, I go to the gym to train and a three times a week. I work out with weights and I have sparred with the current WBC

junio

r middleweight champion Saúl "Canelo" Álvarez many times, also with Saúl Roman and the WBA ex-world champions Nobuhiro Ishida and Rigoberto "Español" Álvarez. Those are the most notables fighters that I

h

ave had sparred.
AW - What were your younger days like growing up in Mazatlan, Mexico?
GRS - They were very tough and I use

d

to work on construction since I was 14 years old.
AW -

How did you first become interested in boxing?
GRS - I used to play baseball

i

n the little leagues and I use

d

to be a very good pitcher but I always want

ed

to try boxing, so one day I went to the gym without my parent's permission.
AW - You were a very good amateur. Could you tell us what tournaments and titles you won? If you met any of the big names currently at pro, how did you do and what was your final record?
GRS - I was three times national champion on the Junior tournaments and when I was 17, I won the elite national tournament. I always beat those fighters from the Mexican Olympic team and I never train

ed

with the Olympic team. I always train

i

n my hometown gym; when I started fighting in the amateurs, I lost two out of my first three amateur fights.
AW - Away from boxing, what do you enjoy doing with your time?
GRS - I love to go swimming at the beach and also, I like to spend a lot of time with my family and love to go to the movie theatre.
AW - Who are your boxing heroes? Who do you enjoy watching today?
GRS -

My boxing hero is

Mexican

and his name is Julio Cesar Chavez

S

r

. and I like to watch Manny

Pacquiao

.
AW - What do you hope you can achieve in boxing throughout your career?
GRS - I want to be world champion and I'm working on it.
AW – Finally, do you have a message for the boxing world?
GRS - Keep an eye on me because I'm working very hard to be on the top of the middleweight division.