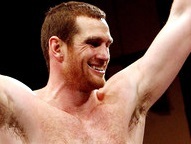 David Price


Heavyweight David Price (18-2, 15 KOs) will be in search of his fourth consecutive win this Saturday when he faces virtual unknown Irineu Beato Costa Jr. (16-2, 14 KOs) at the O2 Arena in Kreuzberg, Berlin, Germany.

Price, 31, has been sidelined for nine months due to injuries to his hand and his bicep. His fight with Costa Jr. is on the undercard of the Arthur Abraham vs. Paul Smith rematch.

An impressive performance is paramount for Price's future.

"It's the perfect opportunity," Price told www.skysports.com a few days ago. "I'm fighting on Sky again and I have a wide audience watching the fight.

"There's going to be quite a lot of British fans in Germany as well, so it's a perfect opportunity for me to remind everyone," said Price. "These three fights - they have pretty much gone under the radar in the UK, which was fine by me for the rebuilding purpose, but now is the time to start raising eyebrows again."

Eyebrows were raised in 2013 when Price was stopped in successive bouts by Tony Thompson, a 41-year-old contender. Thompson had come up short in multiple title bids against heavyweight kingpin Vladimir Klitschko. Many thought Thompson was on his way out.

Thompson did what every heavyweight aspires to when he gets in in the ring with Price--test his chin.

Price went back to the drawing board after his defeats, but his iffy beard remains a real issue. Reportably, he's been working on improving his defense.

"Winning fights is the easiest way to build your profile up," Price said. " I'm not interested in building my profile up on Twitter or arguing with other fighters. I'll let my fists do the talking."

Price can punch, as his 15 knockouts in 18 matches indicate. The 6-foot-8-inch, 250-pound boxer from Liverpool would love to tangle with fellow British heavyweight Tyson Fury.

The two have been jawing at each other over the past few years.

"There is a genuine rivalry between me and Tyson Fury," said Price. "It's got a lot of history and that's a fight that would get my juices flowing."



---