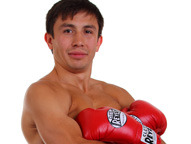 GGG


On February 1st in Monte Carlo, WBA middleweight champion Gennady Golovkin will be defending his title versus Osumanu Adama. What's not clear yet is if this fight will be televised in the States. While it won't be on regular HBO (which aired three of Golovkin's bouts last year), there is the possibility it could be broadcast on HBO2.
Tom Loeffler, Managing Director of K2 Promotions, said on Tuesday afternoon at a press gathering for Golovkin and heavyweight Mike Perez (who fights on HBO on January 18th) at the View Restaurant in Manhattan Beach, "We're still working with HBO to show the fight from Monte Carlo. We've had extensive discussions with [Director of Programming for HBO] Peter Nelson and they're working on clearing the slot for HBO2 and just working out the production details with the local people in Monte Carlo."
According to Loeffler, money is not the issue here.

"It's not necessarily a budgeting issue. It's a production issue to see if we can get that worked out," said Loeffler, who is hopeful that this can become a reality. "I'm always optimistic. If there's a will, there's a way and HBO wants to do it and we want to do it. It's just a matter of fine-tuning everything."
Last year, "GGG" played to ever-increasing audiences on the network. Tony Walker of HBO Sports, who attended the luncheon, told Maxboxing, "We're still discussing with K2 the possibility of airing the Golovkin fight from Monaco. There's some technical issues with the broadcast that have to be worked out but we're hopeful that we can work something out and we'll let the media know it and when we do."
In March of 2013, Golovkin had a fight in Monte Carlo, a three-round stoppage of Nobuhiro Ishida, the lone outing of the year that wasn't on HBO. The current plan in 2014 and for the foreseeable future will have Golovkin staying active and performing in Europe once a year till they land a marquee bout.
"It really depends," explained Loeffler. "If there's a bigger name out there like a Sergio Martinez, like a [Julio Cesar] Chavez Jr., we'll need a much bigger build-up for those fights and then instead of maybe four fights a year, maybe three times a year. But [Golovkin] definitely wants to stay active and he wants to also stay in touch with his European and international fan base. So I think these types of fights make a lot of sense. It just depends on whatever opportunities come up in the United States.
"I made it clear to HBO that we'll never conflict with a bigger fight that they might have planned with a fight that takes place internationally."
Scheduled to be on this undercard in Monte Carlo was the cruiserweight debut of Nathan Cleverly versus Junior Makabu but Cleverly recently pulled out of this fight. Rodney Berman, who represents Makabu, was none too pleased with the news. Here's what he stated in a press release that came out on Tuesday:
"I knew he'd pull out," fumed Berman. "He's not a true champion; I always felt that. Whatever excuse Cleverly is making, I know he hasn't been injured. He pulled out because he realised he had no chance against Makabu. Everyone said that when the fight was signed and it obviously dawned on him.
"I always suspected he was molly-coddled. Frank Warren clearly shot his bolt by doing the deal and now has to accommodate his fighter wanting out."

Yeah, uh, I get the sense that Berman isn't buying Cleverly's alibi.

SPORTS ON EARTH

Here's my 2014 debut with SportsOnEarth.com that deals with just how much boxing fans will have to budget if they want to catch all the pay-per-view fights being scheduled for 2014:

http://www.sportsonearth.com/article/66360480/

FREEZING FLURRIES

Golden Boy Promotions officially announced that the bout between WBC featherweight titlist Jhonny Gonzalez and Abner Mares has been scrapped for February 15th and will be moved to another date. Showtime will end up going dark that night. This means neither HBO and Showtime will have any major cards that month...I'm told a fight between Saul Alvarez and Alfredo Angulo is getting closer to being finalized for March 8th but not a done deal as of yet...Part of that undercard could include Ricardo Alvarez, the brother of "Canelo," facing Omar Figueroa...Chris Algieri-Emmanuel Taylor will headline the Feb. 14th edition of "Friday Night Fights" on ESPN2 from the Paramount Theatre in Huntington, New York...In

middleweight news, Sergio Mora says he is itching for a crack at WBO titlist Peter Quillin, who could return to the ring in March

...The WBC has informed Golden Boy that WBC 122-pound beltholder Leo Santa Cruz must face his mandatory, Cristian Mijares....Been watching reruns on "Sports Night." Yeah, I like that show...So are the Lakers in full "Operation: Get as Many Ping Pong Balls as Possible" now?...Auburn might have been the team of destiny but throughout the year, FSU was the best team in college football. Auburn simply made too many small mistakes to win the BCS title game

…I

can be reached at k9kim@yahoo.com and I tweet at www.twitter.com/stevemaxboxing. We also have a Facebook fan page at www.facebook.com/MaxBoxing, where you can discuss our content with Maxboxing readers as well as chime in via our fully interactive article comments sections.