German's Weekend Report- Oct. 4, 2011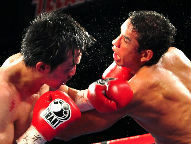 (Photo © German Villasenor)

By German Villasenor at ringside

Nishioka Defeats Marquez Retaining WBC Super Bantamweight Title;
Gonzalez Stops Soto in One
WBC super bantamweight champion Toshiaki Nishioka, 39-4-3
(24), gave former three-time world champion Rafael
Marquez, 40-7 (36), fits through 12 rounds
on Saturday night
to
become the first fighter from the "Land of the Rising Sun" to
successfully defend his title on U.S. soil at the MGM Grand Marquee
Ballroom.
The card, promoted by Top Rank along with Zanfer Promotions and
Japan's WOWOW, celebrating its 20th anniversary, all but saw a
full house, showcasing several Japanese fighters along with Marquez
and undefeated WBA light flyweight champion, Nicaraguan dynamo Roman
"Chocolatito" Gonzalez.
In the main event, the southpaw Nishioka began
slowly, gauging Marquez in the first round, with
the latter stepping up the tempo in the second frame. Marquez got into a
rhythm, perhaps not as sharp as his heyday, but showed brief glimpses of the
style which saw him become a multiple world title winner.
Nishioka's quick hands and feet, particularly the southpaw stance,
seemed to trouble Marquez as the fight wore on. Both men stepped on
each other's feet throughout the fight, with Marquez closing the gap in
points by the mid-rounds by letting his hands go and landing the sharper
shots in combinations.

Age catches up with everyone and Marquez, 36, is no exception. He lost
ground against the mobile and game champion entering the eighth round,
finding a home for his left hand and causing swelling underneath
Marquez's right eye.
An accidental headbutt caused a cut high atop
the right side of Nishioka's head. After the ringside doctor was brought in for a look,
the fight was allowed to continue and Marquez's battery was recharged.
The younger Marquez came back to put on his best performance in the fight thus far, landing his
crisp, hard combinations as Nishioka was clearly bothered by the
blood, Marquez landed everything but the kitchen sink for the
rest of the round.
Nishioka adjusted in the following rounds, keeping up his defense
and eluding Marquez's vaunted right hand and uppercuts, which
fell short most of the time. Nishioka closed the championship
rounds strong, landing his left hand at will to the final bell.
Scores were 117-111, 116-112 and 115-113.
Marquez claimed he felt he won the fight on the strength of winning the majority of the starting rounds. At the post-fight presser, he asked for a rematch, stating he wasn't done with boxing yet.
Nishioka was very thankful for the opportunity to fight a legend such
as Marquez, admitting he needed to keep his distance from the hard
shots coming from Marquez in order to win.
In the co-featured bout of FSN Deportes' (in the States) and TV
Azteca's (in
Mexico

)
, three-hour "Top Rank Live," Roman "Chocolatito" Gonzalez,
perhaps boxing's best kept secret, made an explosive U.S. debut,
stopping Omar Soto at 36 seconds into the second round with an
uppercut to the chin. Soto, clearly hurt, did not beat the count with
referee Robert Byrd signaling for the stoppage.
Gonzalez remains undefeated at 30-0 (25), retaining his WBA
light flyweight title for the third time. Soto, now a four-time world
title challenger, saw his record drop to
22-8-2 (15).
In other results, slick welterweight Yoshihiro Kamegai, 19-0
(17), stopped
Hector Munoz

,
19-7-1 (12), at
1:39
of the sixth
round of a scheduled ten-rounder.
Middleweight Carlos Linares, 9-1 (8), stopped Kevin Riding-In, 3-3-1
at
1:15
of the first round.
Linares is former WBA super featherweight champion Jorge Linares'
older brother.
Featherweight Jesse Magdaleno, 6-0 (4), stopped Isaac
Hidalgo

, 8-8-2 (1),
at
3:00
of the first frame of their scheduled six-rounder.
Light heavyweight Hiromitsu Miura, 8-0 (3), arm-punched his way to a
dubious 60-54 and 58-56 (twice) unanimous decision over Hector Hernandez,
10-5-2 (4), in what many felt was a gift win for the Japanese
fighter.
Despite his muscled body, the Japanese fighter does not turn with his
punches, is one-dimensional and throws arm punches with little effect.
In the upset special of the night, veteran Jose Angel Beranza, 34-21-2
(26), handed Christopher Martin, 23-1-2 (6), his first loss in a
six-round split decision via scores of 98-92, 96-94 and 97-93.
Ramos Stops Rodela; Rios Gets Decision over Gonzalez
In front of a full house at The Hangar at the OC Fair and Event Center in

Costa Mesa, California

, lightweight Luis Ramos Jr., 20-0 (9), banged out a fifth round stoppage over "Dangerous" David Rodela, 15-5-3 (6), in the main event of the Roy Englebrecht/Golden Boy Promotions fight card

on Friday night

.
The "Solo Boxeo" main event saw the southpaw Ramos, hailing from

Santa Ana

,

California

,

use his speed to great effect, shooting straight shots and angles to stay a step ahead. Rodela, who mostly walked into Ramos' shots, unable to use his greater reach and height, looked to trade on the inside with mixed results.
Warming up by the third round, Rodela seemed to finally get things done, working Ramos against the ropes and landing some thudding shots to the head. Ramos fired back and used his legs to set up shots on the counter behind stiff jabs.
The end came as Ramos fired a picture-perfect left hand to Rodela's midsection, sending him to his knees. Referee Raul Caiz Jr. called off the fight at

1:57

of the fifth frame.
Both men were supposed to have met back in August but the fight was rescheduled after Ramos was jumped by gang members during the week of the fight.
Featherweight Ronny Rios, 16-0 (7), had all he could handle and more, as he struggled at times in winning a unanimous decision at the end of eight heated rounds against Roger "Speedy" Gonzalez, 27-5 (18), in the co-featured bout.
Rios tried to match Gonzalez punch-for punch but it would be the forward-moving Gonzalez's multiple-combinations that seemed to trouble Rios.
Gonzalez seemed to control of the action from the outside by using a high-guard defense as well as side-to-side/head movement, avoiding most of Rios' lead shots. Not being the local fighter, Gonzalez perhaps made a mistake in strategy, choosing to wave on and play with Rios at times, which might have backfired at the end of the fight. Rios came on strong in the final two rounds with a tiring Gonzalez with flurries in an attempt to steal them.
It would have not mattered either way, as Gonzalez went on to lose a ridiculously lopsided 80-72 and 78-74 (twice). The fight was extremely close despite what the final scores showed.
On the undercard, in a very entertaining super welterweight outing, Bobby Chavez dropped a very tall Nicolas Balestra in the second round of a scheduled four-round banger en route to a lopsided 40-34 (twice) and 39-35 unanimous decision win.
Balestra was game but no match for the hard rights coming at him all night long. After losing his mouthpiece three times near the end of the fight, Balestra lost a point. With the win, Chavez moved his record to 3-2 (1), while Balestra was making his pro debut.
Featherweight Jose Manuel Sanchez, 6-2 (3), steamrolled his way to a stoppage win over Christian Gonzalez, 3-2 (1), 35 seconds into the first round.
In a heavyweight outing, Andre Carthron, 7-7-2 (2), forced Tyree Ortiz, 5-1 (4), to retire in his stool, dead tired at the end of four.
In the first fight of the evening, super welterweight Brandon Adams remained undefeated at 3-0 (1) after bullying John Worthy through four rounds en route to a unanimous 40-36 decision. The fight marked Worthy's pro debut.



Subscribe to feed