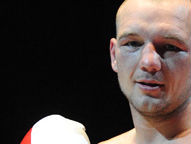 Gavin Rees


When Gavin "The Rock" Rees won the WBA light welterweight title in 2007, he achieved one of his goals in boxing. However, after having several months off in which the likable Welshman enjoyed his newfound fame (by his own admission, a little too much), he lost his title in his first defence to Andreas Kotelnik. It is the only loss of his 13-year career though today, Rees sports an impressive 35-1 (16) record. That loss saw him spiral out of the rankings and after 17 months off, during which time he did a lot of soul searching, many wondered just if we'd ever see Rees fight again. When he did reappear, Rees had one warm-up bout before taking part in "Prizefighter" which he won. It was a springboard back into the spotlight for Rees who has since gone on to win British and then European lightweight titles. This weekend, Rees 31, makes the first defence of his EBU title when he meets Derry Matthews in Newport, Wales. If he can continue his impressive recent run, maybe "The Rock" can get back on the world scene and achieve another of his goals, becoming a two-division world champion.

Anson Wainwright – First, you're fighting Derry Matthews on October 1 in Newport. What are your thoughts on the fight and Matthews?

Gavin Rees - He's a good fighter, a good test for me. He had a bad spell, got stopped a couple of times. I think that was more to do with him being weight-drained. He's had four or five good stoppage wins (since those losses). It's a good voluntary defence of the European title, to be honest.

AW - You were due to fight Matthews on July 23 but you were injured and had to postpone the original fight. Can you tell us about the injury and how it is now?

GR - It's fine now. I went to Bristol to spar with Danny Butler (a middleweight who's 19-4 (4)). I threw the jab. He ducked under it and I smacked him on top of the head and damaged the knuckle a bit. That's all. It's 100% better since I came back. I've been sparring great with Ricky Burns up in Scotland and he then he came back down to Wales. I've sparred with Carl Frampton and a lot of other good kids. Preparation has been great, so yeah, it's fine.

AW - Last time out, you took Andy Murray's unbeaten record. How happy were you with the performance and the win?

GR – Yeah, it was a good win on the record but me and my team, Gary Lockett, weren't happy with the performance. The first five or six rounds were good, then terrible. I have a nutritionist now. I have a better diet. I lost too much weight in the last few days doing the running. It killed the legs, to be honest. This time, three weeks out, I was only seven pounds over. I shouldn't happen at all. I'll be strong for 12 rounds.

AW - Could you tell us about your team? Also, where do you regularly train?

GR - I'm with Matchroom Sports now, Barry Hearn really, but Eddie is doing all the work, his son. I train with Gary Lockett now. My nutritionist is Renzo Algieri; he did some of Nicky Piper's world title fights, got him in good shape. I want to fight in December and fight for a world title at the start of next year. That's my dream to be a two-weight world champion. I train at Darren Wilson's gym in Bridgend.

AW - What are your thoughts on the lightweight division? There seems to be opportunities with Juan Manuel Marquez and Robert Guerrero either moving up in weight or being injured. What do you think of the current champions Brandon Rios of the WBA and the IBF's Miguel Vazquez?

GR – Yeah, at the top of the game, there is a lot of quality boxers. I want to prove myself with those boys. I want to show how good I am. At European level, I'm definitely the best without a doubt. World title is the next step; that's the plan. They're [Rios and Vazquez] world-class opponents, quality opponents. To win a world title, you have to fight them boys. I just want a chance to prove myself.

AW – Previously, you were the WBA light welterweight champion. Can you tell us about winning the title against Souleymane M'Baye and what it meant to you to become a world champion?

GR – Yeah, I was never a really light welterweight. I was in the gym, 26-0 ticking over. I was with Enzo Calzaghe. He was trying to get me a title shot at lightweight. There was nothing on offer. Then all of a sudden, Souleymane M'Baye had a mandatory then they asked me if I wanted [a title shot]. I said, yeah, went up in weight, won that. It was the best feeling in the world, as a kid everyone wants to be a world champion. Just to do it was amazing. I let myself down then in the first defence, didn't train properly and thought I was unbeatable. I hadn't lost in 13 years. I thought nobody could beat me so I went into the [Kotelnik] fight unfit. I wasn't a light welterweight. I should never have been at that weight but I won the title and came back down and I'm dedicated to the sport again, looking forward to the future at lightweight.

AW - How do you find making lightweight having previously been up at light welterweight?

GR – Yeah, I don't do too badly. I wasn't really a light welterweight. I had the chance; I took it and had to defend it. So I was always a lightweight but I was boxing at light welterweight. The two fights I've had at lightweight I've come in at 9.7 [stone], two pounds under.

AW - Could you tell us how you first became involved in boxing and what it was like working with Enzo Calzaghe?



GR - I was nine or 10, a little kid, and watched [Nigel] Benn-[Chris] Eubank and then I went to the gym to be a boxer. I went to the gym and stayed there ever since. It was 22 years ago; I was with Enzo for 20 years as an amateur. I won a schoolboy title before I turned over. Here I am now.



AW - Training for many years and knowing Joe Calzaghe, what can you tell us about what it was like being around one of Britain's best fighters ever?

GR - It was like I was in the gym with a superstar. I was in the gym at nine and I think Joe was 16, 17. We grew to be friends. It was great seeing him do all that.
Years ago, we had a great gym. Bradley Pryce, his brothers, Enzo had a lot of good boys in the gym. It was like a big family, a great buzz being in the gym. All that success went on to the rest of us and we went from there. Enzo was a great trainer and motivator. He got us in great shape and he won plenty of titles with all of us.

AW - You also won "Prizefighter" in 2009. Can you tell us about that and the springboard it gave you?

GR – That's when my career bounced back. We were going through a dead spell. We hadn't boxed in a year. We were going nowhere. They put on "Prizefighter"; to be honest, I didn't really take it that serious. That was at 10 stone, three (143 pounds). I've never been 10 stone, three in my life. I went into that two weeks before. I won that. I sat myself down and thought, 'I'm 29. It's now or never,' and since then, everything has changed. After I left Enzo's gym, I needed something fresh. I train with Gary Lockett. I had two eight-rounds with Matchroom. They got me the British, European [titles] and now I'm back on track.

AW - What do you like to do away from boxing? What are your hobbies and interests?

GR - I've got three daughters. They take up most of my time, to be honest, apart from training. I do the school runs with them every day. They're like a full-time job having three kids. I like to take them on holiday, relax with them. Just do stuff normal fathers do, just be a father. I don't get time to do much else, to be honest.

AW – Finally, do you have a message for the lightweight division?

GR - A lot of people thought I was gone a few years ago but after this performance, they'll definitely know I'm back and ready to challenge for a world title. I'm super-confident.