Gary Buckland: "Whoever Hatton Promotions fetches, I'll fight"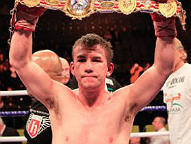 (Photo © Mark Robinson / Hatton Promotions)


Fighting away from home is nothing new for Gary Buckland. Tonight, the 26-year-old Welshman heads to Argentina where he faces former world title challenger Fernando Saucedo on the undercard of Sergio Martinez's World Middleweight Title defence against Martin Murray. Though this is an WBC Silver International title bout, Buckland is currently the BBBofC British super featherweight champion, just one fight shy of owning the British title outright, something he has aspirations of achieving before progressing further. "Whoever they fetch, I'll fight," says Buckland. "Hopefully, they do a good job and get the right opponents and I can win titles. That's what I want." He sprang to prominence winning "Prizefighter" in the fall of 2010, knocking out then British champion Gary Sykes along the way. Since then, he has repeated that feat this time on points in Sykes' back yard. "Dynamo" has managed to defend his belt twice, last time outscoring a career-best win over Stephen Foster Jr., forcing the former European champion to retire at the end of the eighth round. Currently, he sports a record of 27-2 (9) and is ranked number 12 by both the WBC and WBO and nine by both the WBA.

Anson Wainwright - You return to action on the undercard of Sergio Martinez-Martin Murray, taking on Fernando Saucedo. What are your thoughts on this fight? What about going to Argentina and fighting?

Gary Buckland - Yeah he's a good opponent. I'm really happy to go over there and fight him but I think I'm going to go over there and do a job on him. It doesn't bother me because when I was in the amateurs, I boxed all over the world. I've been to Mexico as a pro and Spain. I don't mind going to someone's back garden.

AW - In your last fight, you impressively stopped Stephen Foster Jr. Can you tell us about that fight?

GB - I went into the fight with an injury so I wasn't 100%. I had a couple of hand injuries and my trainer had a back injury so we couldn't do the things we wanted to do. We went in there with a game plan and stuck to it. The game plan was to take the first six rounds and after that, he tires out and looking at when he fought [Ermano] Fegatilli (when Foster lost the European title), he was worn out in the last four or five rounds, that was our aim and he really get stuck in the last half of the fight.


AW - Was it your career-best performance?

GB - No I wouldn't say that. I'd say my best one would be against Gary Sykes, because Gary Sykes is a good boy and I had to be so fit and plus he was the champion and I had to rip the title off him. There's a couple of good performances against Henry Castle and [Paul] Truscott. I'm happy with all of them really.

AW - Who are the key members of your team?

GB - I've been with Tony Borg, my trainer, since I was 14 years old, so I've been with him for 12 years now. We get on well together. We can be like father and son sometimes. We have a lot in common. Brian Powell, I got introduced to Brian Powell when I was 17. As soon as I turned 18, he signed me and I turned pro. It's going really well being with Ricky Hatton [Promotions]. We hit a bit of a stumbling block when he lost Sky TV. We grit our teeth and held on and then we got on the Ricky Hatton [vs. Vyacheslav Senchenko] bill which was great and now I get another chance to go and fight in Argentina, which I can't fault. I'm happy and I think they've signed up with BoxNation, which is another big thing.

AW - Your gym has several very good fighters in it at the moment. Could you tell us about that?

GB - Like you say, we've got Lee Selby; he's a really good boxer. His brother (Andrew, who won a silver medal at the 2012 Olympics), he doesn't train with us. He trains at Splott ABC; he comes down every now and then. We've got Justyn Hugh, Frankie Borg, Chris Higgs, Rob Turley. We have about 12, 13 pros down there. The next superstar down there is my brother, Mitchell. He's only had four fights.

AW - Do you and Lee Selby spar?

GB - We don't spar; we have a war! We go in there and punch each other. It's good sparring. Sometimes he has his day and sometimes, I have my day. When it's over, we go to the corner, touch gloves and have a chat and laugh.

AW - You're Cardiff-born and bred. Can you tell us about your younger days growing up?

GB - I was always rough and tough in school, always fighting. Literally, one of my mates was going to the boxing gym. I didn't know anything about boxing. I was just rough and tough and they asked me to come along and ever since then, I've been there. [My mates] gave up and took another road and I carried on ever since and it's been a good 16 years of hard training and dedication.

AW - If I can take you back, having won eliminators to both the British and Commonwealth titles up at lightweight, you challenged John Murray in May of 2010. Though you lost, you put up a valiant effort.

GB - What it was, I boxed Sam Rukundo in a Commonwealth eliminator and he broke my rib, so I was out of training. Then I had a phone call saying did I want to box John Murray in three weeks time. I've always had to wait for my turn, so I thought this is a big chance for me but I only had three weeks training. I was 11-and-a-half stone (161 pounds) when they offered me the fight, so it was just getting my weight down for three weeks. It was my toughness that what got me through the fight. I never had any fitness [training] or sparring or anything. It was almost a bit of a wake-up call cause. Since then, I've gone down to super feather and I'm undefeated I've won my last 10, 11 fights, "Prizefighter," British champion, boxed in Mexico and now I'm going to Argentina. I've beat Stephen Foster so everything is going well.

AW - After losing to Murray, you took part in the "Prizefighter" series. Not much would have been expected of you but you stopped then-British super featherweight champion Gary Sykes with a terrific punch in the semifinal before knocking out Derry Matthews to win the whole tournament.

GB - I was the first one to enter; I was the first name in it. As soon as I lost to John Murray, Brian Powell phoned them up and as time went on and I heard all these names going in, "I thought this is going to be a good'un." I think Gary Sykes was one of the last to go in it. I thought, "I know I can beat him over 12 rounds," 'cause I'd been watching tapes of him but over three rounds, he's got a good work rate. Then there was Stevie Bell,

Choi [Tseveenpurev] and Derry Matthews, so I knew it was a tough task but then I beat Stephen Bell and knocked out Gary Sykes. There was no way I was going to lose the final. I didn't care who it was; I was buzzing. It was a night to remember.



AW - It seems that was a sort of transformation for you.

GB - Yeah, when I knocked Gary Sykes out and also Derry Matthews, he's a good fighter as well and he beat Choi and he's a good fighter. I had belief from my first professional fight. I had a slip up against Ben Murphy but no excuses but I never trained to where I should have. At the time, he had five fights and I thought, "I'll take it easy," and as you know, he's like a steam train and I never had the fitness to beat him. With John Murray, I know it's another excuse and I don't like to make excuses but I wasn't fit. I've always had belief as a boxer. I was pretty comfortable as a lightweight but ever since I moved down to super feather, I feel too strong for these boys. The punches aren't hurting me. I can walk through them and that's a good thing.

AW - You decided to drop to super featherweight from lightweight and after a couple of stay-busy wins, you were able to again meet Gary Sykes, this time for his British title.

GB - People were saying, "You're going to knock him out again," and I would say, "I don't think so." I know Gary Sykes is a good fighter and he got caught cold. I knew he was going to be 100% fit and I needed to be 150% to beat him and I was. I never went for the stoppage in that fight. All I wanted to do was win the title. I trained for the points victory.

AW - Since then, you've twice retained your title with wins over Paul Truscott and last time out, Stephen Foster Jr. You need one more win to win the British super featherweight title. Is this something you are looking to pursue after your next fight?

GB – Yeah, definitely, 100%. I definitely want to win the British title outright. If I never had any notches on my belt I wouldn't be so bothered but now, I have two with one more to go it would be a pity. John Simpson's been ordered to box me and I'm happy with that. I think that could be a good fight.

AW - The current European champion is Devis Boschiero. Is his title something you are also targeting in the near future?

GB – Yeah, let me have the fight in Argentina. I'd like to defend the British title one more time and then I'll have to leave it in Richard Poxon's [Director of Hatton Promotions] hands. Whoever they fetch, I'll fight. Hopefully, they do a good job and get the right opponents and I can win titles that what I want.

AW - Can you tell us a little about yourself as a person? What you enjoy doing away from boxing to relax?

GB - I'm a family man. I've got two kids and a wife, another kid on the way. I go to training. I don't like to go away for training camp. I like to train in the gym, spend time with the family and train again. Other than that, when I'm not training, I like a game of football. I'm a quiet guy. I don't mention boxing to anyone. If people didn't know me, they wouldn't know I was a boxer. I like love a game of football and support Chelsea and Cardiff.

AW – Finally, do you have a message for the super featherweight division?

GB - I've got nothing to say to anyone in Britain. I'm the best in Britain. I'm not one to talk. I like to do my talking in the ring but when we meet, I'll show them who's the best.
Please visit our Facebook fan page at www.facebook.com/MaxBoxing, where you can discuss our content with Maxboxing readers as well as chime in via our fully interactive article comments sections.



Subscribe to feed