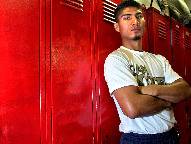 (Photo © Chris Farina / Top Rank)


After his victory over Juan Carlos Burgos on January 25th at the Theater at Madison Square Garden in New York City, talk turned immediately of having Mikey Garcia face the undefeated Cuban Yuriorkis Gamboa. The first proposed date was May 17th then was pushed back to June 21st. Unfortunately, this fight will not take place because of, well, what else? Money.
"It broke down over money. Yeah, everything breaks down over money," Top Rank Promotions Founder Bob Arum confirmed to Maxboxing last Friday afternoon. "I mean, Garcia thought he was worth more and obviously didn't give a sh*t about what Gamboa was getting but he used the argument that he should get more based on what they were paying Gamboa, who, after all, has no track record and hasn't fought in a long time. It seems to be that's a pretty good argument."

June 21st is no longer guaranteed to be Garcia's HBO date. When asked if his client was at an impasse with the network, Arum answered, "No, the question is what is fair value for his services and against whom? So Mikey met with [Top Rank President] Todd [duBoef] this morning in Las Vegas and he explained everything to him and now Todd's going to meet with Ken Hershman [President of HBO Sports] and the rest of HBO and hopefully, they'll come to some conclusions."
There was a time when it seemed that both Top Rank and HBO, both eager to develop potential opponents for Manny Pacquiao, were in accord when it came to this fight. Garcia reportedly was asking for north of $1.5 million for facing Gamboa, who, in turn, had agreed to a much lesser number for this match-up. HBO, which has televised seven of Garcia's bouts since 2011, seems to be taking this stance with Garcia: make the fight we want or sit.
"They're talking a hard line based a lot on how popular these guys are with their subscribers," opined Arum. "So when a guy wants to be paid like Miguel Cotto, they said, 'Well, your viewership is half of what Cotto's is.' So in other words, what they're doing now is they're taking a hard look on how many viewers each fighter gets when he fights among other things. You can't fault them on that. I mean, everyone thinks they're the greatest. Everybody thinks they should get paid the most. But it's like an actor. He may want $10 million; another guy may want $20 million and it's really based on how many sales they did in their last couple of movies."
"The fight I want to do - as a boxing promoter, as somebody who really wants to bring a quality match - I want him to fight the Japanese 130-pound champion, who is probably the number one guy in that division," stated Arum, in reference to Takashi Uchiyama, who holds the WBA strap. "Y' know, I don't give a sh*t where Gamboa fits in. Why are we even talking about Gamboa when we can deliver for Mikey the number one 130-pounder by consensus?"
While Uchiyama is certainly a respected fighter, he's also a relatively anonymous figure to HBO subscribers. Gamboa, on the other hand, has made numerous appearances on the network, which made a certain investment in him throughout the years. The question is does HBO have interest in a Garcia-Uchiyama match-up? Arum states, "I don't know; you should talk to them."
HBO Sports declined to comment for this story.
"But for me," continued Arum, "if you want to build Mikey, that's the fight to do. Mikey would love that fight because it makes sense. He would still fight at 130 and he would then, if he could beat the guy, be recognized universally as the best 130-pounder." When asked if Uchiyama's representatives are willing to do the fight, Arum said, "These people are coming to see me in about a week. They want to do the fight."
The bout between Danny Garcia and Mauricio Herrera in Bayamon, Puerto Rico played to a pretty sizable television audience according to a press release put out by Showtime:
Last Saturday's

SHOWTIME CHAMPIONSHIP BOXING

telecast continued the flagship series' upward ratings trend, with the main event between Unified Super Lightweight World Champion

Danny Garcia

and

Mauricio Herrera generating a peak audience of 1.1 million viewers. Garcia's star-power continues to rise with this appearance on SHOWTIME®, with Saturday's bout attracting nearly 20% more viewers than his last appearance on a SHOWTIME CHAMPIONSHIP BOXING telecast (April 27, 2013 against Zab Judah). The Garcia vs. Herrera bout attracted an average audience of 972,000 viewers.
Here's the latest episode of "The Next Round" with Gabriel Montoya and Yours Truly:
And to download the iTunes app, please visit: