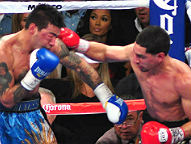 (Photo © German Villasenor)


Saturday night in Las Vegas, in front of a SRO MGM crowd, Floyd "Money" Mayweather reminded fight fans why he is the reigning king of the ring, seemingly until he decides to retire, as certainly the best boxer of his generation. Mayweather was up against 23 year old Mexican superstar Saul "Canelo" Alvarez in a fight that many people were saying was going to be, at the very least interesting, as "Cinnamon" was bringing size and youth to the table. However, like the 44 previous Mayweather opponents, it wasn't enough.

Throughout his career, Mayweather has not just defeated, but dominated, most opponents he has faced, in moving his ring record to a perfect 45-0. Fight fans are still waiting for the guy who will come along and upset the indomitable Mayweather apple cart. However, from what we saw last night the wait might continue for a long while yet.

Mayweather took a couple of rounds to seize up "Canelo", set his rhythm, get "Canelo's" timing down, and then he went to work. For the remainder of the bout, Mayweather, working on a 40+ million dollar guarantee before he starts to receive the PPV revenue, slipped and rolled while he landed crisp, accurate counter shots to the head and body of his opponent who is 13 years his junior.

In the end, it was a boxing clinic that made the scores of judges Dave Moretti and Craig Metcalfe, who scored the bout 116-112 and 117-111, respectively, (and the bizarre score of judge CJ Ross, 114-114), academic by fights end.

While Mayweather, time and again, shows incredible ring intelligence and boxing skills, against any and all styles, he wouldn't be described as a risk taker. He even stated after the fight that he "could have stepped it up and finished him", but seems content to just win the fight, and look to be in a league of his own while doing it.

Risks don't appear to faze Philadelphia phenom Danny "Swift" Garcia who pounded out an exciting, 12 round decision over thunderous punching, Argentinean slugger Lucas "The Machine" Matthyse.

Going into the fight many people felt that Matthyse would be the guy to hang the first loss on the undefeated record of Garcia who entered the ring at 26-0 (16 KO's) as the 2 battled for Garcia's World Boxing Council (WBC) and World Boxing Association (WBA) light welterweight world titles. Garcia's father and trainer Angel, known for pre-fight, press conference rants that would make coffee nervous, told anyone who would listen, that Danny would win. However, most people, in truth including the Garcia camp, knew that Matthyse was a dangerous opponent.

The gutsy Argentinian came into the fight with 32 KO's in 34 fights. The 2 losses he did have were debatable and when he hit guys they got hurt. A lot of the fight came down to Garcia's chin, his ability to box smartly and counter with hard shots of his own. Those questions and more were answered from "Swift" as he ate whatever Matthyse doled out and answered with well timed, hard, counter left hooks to the head and body.

By mid-fight Matthyse realized this all-Philly tough guy wasn't going to fold when he got hit and was in fact doing some serious damage to "The Machine" himself. With Lucas' left eye closed and Garcia raining punches on him, Matthyse hit the deck in the 11th round. He showed great heart and determination in getting up to finish the fight.

With the gap widened by fights end it didn't stop Garcia from looking to punctuate the win, or Matthyse from trying to land a hail Mary bomb to steal a victory, and the 2 warriors stood and slugged until the final bell in the closing moments of round 12 to the delight of the Vegas crowd.

Danny Garcia, coming into the bout with 2 wins over Mexican legend Erik Morales, a win over British star Amir Khan, and a win over multiple world champion Zab Judah in his last 4 bouts, and now a dominant victory over Matthyse, is fast becoming must-see-TV and one of boxing's new superstars.
Please visit our Facebook fan page at www.facebook.com/MaxBoxing, where you can discuss our content with Maxboxing readers as well as chime in via our fully interactive article comments sections.