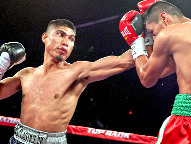 (Photo © Chris Farina / Top Rank)


Budding superstar Mikey Garcia (34-0, 28 KOs) continued his race up the rankings by winning a wide 12-round decision over Juan Carlos Burgos (30-2-2, 20 KOs) at The Theater at Madison Square Garden.

All three judges had Garcia winning by scores of 118-110 (twice) and 119-109.

Maxboxing scored the bout 118-110 for Garcia.
The bout was the main event of HBO's "Boxing After Dark."

In the opening stanza, Garcia immediately established his edge in quickness. Burgos, who hails from Tijuana, Baja California, Mexico, waited patiently for an opening. Garcia landed a double hook to the chin. Burgos, taller by a couple of inches, worked his jab.

With the win, Garcia, of Oxnard, Calif., retained his WBO super-featherweight title.

In round two, Burgos landed a thudding hook that buckled Garcia's legs. The punch seemed to wake Garcia up.

He came out more focused in round three. His jab set up a right hand that hurt Burgos. The action was tactical and precise.

In round four, Garcia, who hails from Oxnard, Calif, was the busier fighter. A straight right hand knocked Burgos back a step. Both fighters were blocking a lot of each others shots.

The action stayed in the center of the ring in rounds five and six. Garcia, 26, landed a right hand. Burgos was finding it more and more difficult to find him. A good left by Garcia knocked Burgos into the ropes. Burgos, also 26, tried to pick up the pace in round six. Garcia avoided most of the blows and countered. A roundhouse right landed. A left hook to the midsection had to hurt.

In rounds seven and eight, Garcia connected with a number of combinations. The composed champion stalked Burgos. Garcia was pulling away as the fight progressed. Burgos, loaded with pride, looked to land something significant. Garcia pushed harder, eyeing a knockout. Burgos fired more punches in round nine. Garcia went to the body. Two jabs landed. A left hook to the side hurt Burgos. Garcia did more stalking in round 10. He cut off the ring and trapped Burgos. His counter shots jarred the challenger.

Garcia went to the head and body in round 11. Burgos was surviving, but little else. He did land a short right hand. The last round was more of the same. Garcia connected with a number of right hands. Burgos threw some punches, but none of them did any damage.

"His height was a little different, but as soon as I found my rhythm I felt good," said Garcia in the ring after the fight.

"He (Burgos) is a tough guy," he added.