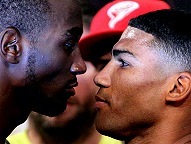 (Photo © Chris Farina / Top Rank)


Tonight, live on HBO from Omaha, Nebraska, local favorite Terence Crawford, 23-0 (16), will defend his World Boxing Organization (WBO) lightweight title against Yuriorkis Gamboa, also 23-0 (16). Crawford is a gutsy, tough scrapper who walked into former champion Ricky Burns' backyard in Scotland in March and took his title. Gamboa is a confident, if not sometimes cocky, multiple world champion who is looking to add the WBO lightweight title to his growing collection. Both fighters are motivated and focused and neither wants to see a blemish on his perfect, undefeated record. While Gamboa may look like the favorite going in, Crawford has no intention of giving up his newly-won strap in his own backyard.
Gamboa turned pro in the spring of 2007 after an impressive amateur career he closed out as the Cuban national amateur champion after Olympic gold in 2004 in Athens. By early 2008, he had captured the vacant North American Boxing Federation (NABF) and vacant World Boxing Council (WBC) International super featherweight titles. He then added the WBO/North American Boxing Organization (NABO) featherweight title in the spring of 2008. Four fights later, he won the World Boxing Association (WBA) world featherweight title. He defended the title three times and in the fall of 2010, added the International Boxing Federation (IBF) featherweight title by beating tough, experienced Orlando Salido.

Three fights later, Gamboa added the WBA interim world super featherweight title to his collection by defeating Michael Farenas and faced undefeated Darleys Perez in Montreal, Canada in his next fight in June of 2013, beating him for the WBA interim world lightweight title. Now a year later, he is looking to add Crawford's WBO title to his ever-expanding trinket collection.
While Gamboa, always confident and self-assured, might be the better boxer and may appear to have more options in his toolbox, he is in with a rough character who isn't intimidated by anyone and believes in his chances no matter who is across the ring from him. Gamboa may have garnered more attention throughout his career but if he isn't aware of what Crawford brings now, he will be after this fight.
Crawford is gutsy and game and can both box and bang. If pre-fight comments are any indication, the heat is rising on this tilt and it could be a beauty of a summer sleeper fight. Recently, both fighters took to social media to land some sharp barbs before the hooks and uppercuts fly tonight. Gamboa all but dismissed Crawford saying, "Would you mind if I show up with my gold medal? I might let you take a picture with it and your belt before bringing them home with me." Crawford quickly replied, "You talking about me taking a picture with your medal? Put it up and let's see who walks away with both of them seeing as you're that confident."
Gamboa is going to have to bring his "A" game to Omaha because it will be a motivated hometown hero in Crawford who has no intention of giving up his title, especially in front of his Omaha faithful. Things are going to get nasty on a hot night in Nebraska tonight and that is good news for fight fans.
Please visit our Facebook fan page at www.facebook.com/MaxBoxing, where you can discuss our content with Maxboxing readers as well as chime in via our fully interactive article comments sections.