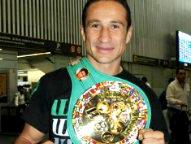 (Photo © Alma Montiel)


When Gamaliel Diaz headed to Japan last October to make his third and likely last attempt to become a world champion, not many fans gave him a chance to unseat then-WBC super featherweight kingpin Takahiro Ao. However, "El Platano" was riding a lucky, 14-fight winning streak and had twice previously fought in Japan, winning on both occasions. Unperturbed, he whipped himself into the best shape of his life and shocked Ao, along with his adoring patrons attending the bout, outfighting the home favourite to win a close but well-received, unanimous decision. Despite a modest looking record of 37-9-2 with 17 stoppages, Diaz is nobody's fool. Constantly matched tough, he lost his debut (one of five losses in his first eight contests). The tough love approach clearly worked as he is the only man to have beaten Robert Guerrero to date and also holds a win over former WBC 126-pound champion Elio Rojas. On April 8th, the recently turned 32-year-old will look toward his first successful defence when he returns to Japan to take on Takashi Miura, 24-2-2 (18).

Anson Wainwright - In your last fight, you beat Takahiro Ao to win the WBC super featherweight title, a surprise to many fans. Can you tell us about the fight, what it was like for you to go to Japan and what it meant to you to win a world title?

Gamaliel Diaz - First of all, I'm feeling really happy to make my dream happen. My dream I had since I was a child, it was to be world champion. I knew it was my last chance to become world champion. That's why I prepared like I never did; I arrived at my best physically, spiritually and mentally. I know that many people didn't believe in me nor gave me a little hope to beat Takahiro Ao but I ignored all the comments. I just get focused on training and training...to win the fight. I had all the faith and hope in myself. I knew it was a hard fight, complicated. For the only way to go to Japan to fight, I knew I was going against everything but I grew up in adversity. I knew it was going my third triumph in Japan. Winning the world title for me, it means I reached my dream to be WBC world champion.

AW - You return to action on

8th April

when you make the first defence of your title against Takashi Miura. What are your thoughts on this fight and what do you think of Miura as a fighter?
GD - I'm very happy to defend my world title against Takashi Miura, another hard Japanese fighter. I believe it will be a hard fight like I've had many other times. For the fact to return to Japan and match a strong fighter, I'm training once again like the challenger and I'm pretty confident that I'm gonna return to Mexico with my title.

AW - You're on a really good run at the moment having won your last 14 consecutive fights. Can you tell us about this and what has changed?
GD - Thanks. I had won 13 consecutive fights before I got the opportunity to fight for the WBC title. All that was based on the dedication I put in the training camps. I changed many things, first, my mentality and my training. In February of 2012, I changed my corner team; that really helped me a lot.

AW - Could you tell us about your team? Who is your manager, trainer and promoter? Also where do you regularly train?
GD - My current manager is Jose Morales. My trainer is Daniel Dominguez and my promoter is Fausto Daniel Garcia. They are part of my team. With them, I felt really grateful for helping me to realize my dreams. The gym where I train is located in the Mexico City downtown area and the gym name is Chabacano.

AW - You were born in Tacambaro, Michoacan de Ocampo, Mexico. Could you tell us about your younger days and how things were for you?
GD - I lasted a few years in Michoacan. We had to migrate to Nezahualcoyotl in Mexico, a place where I reside currently to find better opportunities. Since I was a child, I sparred with some friends. From there, I started to get interested in boxing. I lived some really difficult moments. I had a very poor childhood, so that makes me a strong, honest and working man. In my teens, I met the love of my life, Rosa Claudia. We got married at 17 years old and we have three wonderful kids, Rosa Itsel, Gamadiel and Yael. I never lose my hopes inside boxing. My life since I was young has been training, work and being a husband and father.

AW - How did you become interested in boxing?
GD - Since I was a child, I wore boxing gloves with my friends. Later, I found out that my father, Jose Luis Diaz, practiced amateur boxing in the past. In the hood where I lived, some neighbours used to box and they took me to my first boxing classes.

AW - What are your thoughts on the 130-pound division and its current champions?
GD - The current division where I am is where I feel all my power and it's a very spectacular division. I would like to fight with the other champions of different organizations. I know they are really good but I would like to demonstrate that I'm the best and the king of the 130-pound division.

AW - You have fought some very good opponents throughout your career including Robert Guerrero (twice), Humberto Soto, Jorge Linares, Elio Rojas and Takahiro Ao to name just a few. Who do you consider the best overall and the best puncher and boxer?
GD - I actually fought the best fighters. I have never been afraid of any fighter, even if it's the most dangerous one. I've never been a fighter looking for easy fights. Thanks to God, I've been in charge to clear my own way. I fought any fighter they put me in front of. I believe one of the best fighters I had fought is Robert Guerrero. He is the one of the best punchers. Jorge Linares would have been one of the best boxers I had fought.

AW - Your most impressive win is probably beating Robert Guerrero in your first fight of two. Would you agree with that? Also, what can you tell us about that fight and how pleased are you with the win, now looking back and seeing how well he's currently doing?
GD - I believe that moment was one of the best victories where I demonstrated to the world the fighter I am. It was a fight where I was the underdog. I'm very happy with that triumph because I demonstrated to the world of boxing that you never take anyone lightly in this sport. All my life I've been surrounded by champions. I was the only one left, the wins and losses are mine for the rest of my life.

AW - Away from boxing, what do you enjoy doing with your time?
GD - I like to be with my family all the time. They are a really important piece of my career; they're my inspiration and motivation.

AW - Who was your boxing hero growing up? Who do you enjoy watching today?
GD - When I was growing up, my idols were Julio Cesar Chavez Sr. and Ricardo Lopez. Now, they're still my idols but now, I admire Juan Manuel Marquez.

AW - In closing, do you have a message for Miura and the 130-pound division?
GD - Just that I will see him on April 8th in Tokyo to perform a great show and for all in my division, I'm telling them to get in line like I was. And after my commitment on April 8th, I will match the one who is in front.
.

Please visit our Facebook fan page at www.facebook.com/MaxBoxing, where you can discuss our content with Maxboxing readers as well as chime in via our fully interactive article comments sections.