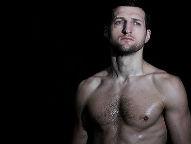 --

By John J. Raspanti, Doghouse Boxing, MaxBoxing


This time there was no controversy.

Carl Froch (33-2, 24 KOs) battled back from an early deficit to knockout George Groves (19-2, 15 KOs) in round eight and retain his IBF and WBA super-middleweight titles before 80,000 raucous boxing fans at Wembley Stadium in London, England.

Groves did well in the opening rounds by beating Froch to the punch. He showed respect, but popped Froch in the nose with jabs. Froch jabbed back and landed a long right. Groves, 26, the younger and quicker fighter, connected with a hard left hook in round two that stung Froch.

In rounds three and four, Groves continued to outwork Froch. He would slide to his left, stop, and throw a lightening quick combination. Froch, 36, absorbed the blows and bided his time. He smacked his gloves together and made Groves work. His jab landed with some force on the forehead of Groves.

Like a powerful locomotive gathering speed, Froch became more active in round five. He went to the body with authority. His money punch, the right hand, hurt Groves. Froch continued his varied attack in the next few rounds. Groves was fighting back, but the momentum of the bout had changed.

Before the fight, Groves had said he would knockout Froch with his left. The punch landed and shook Froch in round seven, but by the end of the stanza it was Groves holding on after a four-punch combination to the body.

Froch went right back to work on Groves in round eight. He stalked, ate a couple of punches and pushed Groves into the ropes. He feinted with his left and fired a long right from his hometown of Nottingham. The punch landed flush on the chin of Groves. The young upstart collapsed on his back with his eyes closed. Referee Charlie Fitch immediately waved off the contest.

The time was 2:34 of round eight.

"I'm feeling elated, " said Froch on the ring apron after the fight. "This is the best moment in the history of my boxing career. I didn't rush it. Timing beats speed."

"He caught me," said a subdued Groves. "I felt I was doing very well. Carl caught with me a shot."

Groves had demanded a rematch after their first bout ended controversially in Manchester last year. He floored Froch in the opening round and was winning the bout on two of the three judges scorecards, before Froch began to come on. The premature stoppage in round nine (with Froch declared the winner) was heavily criticized.

The bout was televised live on HBO Championship Boxing.