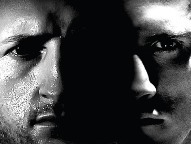 -


When a boxer reaches the highest echelon of the sport against an experienced, battle-tested champion with a large following and even bigger chip on his shoulder before ten of millions across the globe for the first time, we find out who he really is. Which way does he get going when the going gets in his kitchen and starts making a sandwich? Was his record padded? Had he faced enough diversity and adversity to handle whatever tricks and challenges the champion may have in store through the tumultuous championship rounds? Only an experienced champion with something left in the tank can help a first-time challenger answer those questions.
Such was the case on November 23, 2013 when George "Saint George" Groves, 19-1 (15), squared off against IBF and WBA super middleweight champion Carl "The Cobra" Froch, 32-2 (23), at Phones4u Arena in Manchester. On that night, Groves showed world-class stuff, dropping Froch in the first and taking the fight well in hand over the first half of the fight. But inexperience in a number of areas inevitably reared its damned head. Groves was picked apart slowly by the veteran roughhousing of Froch, who showed his 36 years and near-240 rounds negatively and positively throughout the fight. In the fateful ninth, Groves, looking like he hit the wall and it hit back harder, began to unravel. Then ref Howard Foster ruined everyone's night by stopping the fight at the first sign of trouble for Groves.

Some fans, as well as Froch, insist Groves was on his way out in the ninth. Others might argue that considering all he had done leading up to that point earned him the right to get knocked down, gather himself, rise and escape the round or rally if he could. They hadn't entered the championship rounds. Groves wasn't even on the canvas yet (https://www.youtube.com/watch?v=El0uQJy9j_4) and was fighting back while coming forward as opposed to Froch, who about got iced at the end of the first round (https://www.youtube.com/watch?v=zTArECAlRr8).
The simple truth is we'll never know.
From the mental game in the press tour to training, replenishing weight drain and then the fight itself, winning is all about having everything in your arsenal perfect attuned while seeing reality for what it is. Groves had most of his equalizer perfectly balanced. In the press tour, he took apart Froch's resume, pointing out his losses and perceived flaws. But Groves did this coldly, intellectually, as opposed to firing off flashy quotes that had no substance. It clearly drove Froch into the red.
Groves grew in confidence from the tour through camp and into the fight. He jabbed to control Froch's awkward style and looped shots when necessary. Groves found Froch's head coming forward flush with a right hand in the first but his deficit in experience showed throughout. He was tight early, frenetic and sometimes wasted punches. While we'll never know what he would have been like in the final rounds, its safe to say Groves burned too much energy in the first half of the fight.
Froch bided his time and took what Groves dished out because at times, he had no choice but this was also a product of veteran guile. Unlike the younger Groves, Froch understood that everything landed, be it punch or elbow, low blow or legal, has value. If Froch couldn't land flush or work with both hands freely on the inside, he tied up the young man with one hand and worked in an elbow, a rabbit punch or shot to the head and body. He rattled at Groves' cage time and again. And from a certain perspective, it absolutely worked because in the ninth, suddenly, Groves looked distressed. Groves didn't take a knee. He didn't run or seem to be trying to tie up. Instead, he punched back at Froch through a hazy lens, fighting his way off the ropes that held him up. The energized and composed Froch sat back, picked his spots and let Foster take action.
While we got a clearer picture of Groves on that evening, Foster's freeze was at least a blessing in disguise. On Saturday night, in front of what may very well end up being 80,000 screaming fans at Wembley Arena, we get to see a more experienced George Groves at the elite level facing down the man who welcomed him to his first defeat. Lucky us.
Last November, Froch vs. Groves was a potential passing of the torch. This Saturday is a mixture of crossroads bout and revenge match. At 36, (he'll be 37 in July), Carl Froch is looking for a few more great paydays. He has tentatively earned lucrative fights with the likes of Julio Cesar Chavez Jr. or Gennady Golovkin but has this Groves problem to deal with. A loss and the millions he has earned till now may have to suffice. Last time out, Groves had a chance to become arguably the biggest name in U.K. boxing. Instead, he is now a once-defeated fighter potentially looking at two consecutive losses. This fight is everything for him.
What worked for Groves in the first fight certainly can again. His more technically sound footwork, sharpshooting punches and strong, straight shots will absolutely set the framework for victory. But a more measured pace combined with better inside work and a negation of Froch's veteran tricks will almost certainly secure the titles. While he was brilliant in spots, he was also flawed enough to be taken advantage of. The question comes down to how well Groves sees and learns from harsh reality.
The hardest lessons boxing has to offer can only learned through seemingly endless baptisms by fire. In boxing, there is no such thing as "making it." From the root to the fruit of championship victory and inescapable decline, the lessons only get harder. The hope is not for a reprieve but that the teachings don't have to be learned twice. While the first fight ended with a blemish on his record and a ton of questions about the future, at the very least, George Groves will get a chance to take all Carl Froch helped him see and use it to take the torch and set him on fire with it.
Groves seems just as confident to me this time out. He's been through the grinder once and will be better for it. I see him boxing more cautiously but fighting when he has to. The key is to not get greedy and not let Froch beat on him unnecessarily. I've got Groves by unanimous decision.
Bring me Peter Quillin vs. David Lemieux. Lemieux may never be confused with Charley Burley but he is pure entertainment.

Adonis Stevenson looked like a guy who may not have been in the best condition on Saturday in beating Andrzej Fonfara over 12 rounds. I was very impressed by Fonfara, who showed that prognostication isn't all it's cracked up to be. Boxing in general gave him no chance to win and instead we were rewarded by a good fight and a new player at 175 pounds. Give me hard workers with substance and incredible self-belief like Fonfara every time out. Stevenson better be on his game if he wants to beat the Timeless Wonder Bernard Hopkins. On a side note, it should be noted that Stevenson takes part in the GYM-Interbox Anti-Doping program, as do anyone he fights. Stevenson-Hopkins should be a good fight.
"
Boxcino's" finals were uneven. I wasn't that into the Willie Monroe Jr.-Brandon Adams bout but I was very impressed by Petr Petrov. The guy got better each fight throughout the tournament and is a very TV-friendly fighter.
Julian "J Rock" Williams continues to impress. This Philly boxer-puncher trained by Stephen Edwards has substance, technique and a composed patience in the ring. Now it's time to step it up.
Please visit our Facebook fan page at
www.facebook.com/MaxBoxing
, where you can discuss our content with Maxboxing readers as well as chime in via our fully interactive article comments sections.