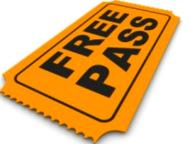 --


This question fans ask most after I list the club reports (which detail just how many tickets are sold - and given away - for each promotion, along with the total gate revenue) from various fight cards is: "How do I get free tickets to these shows?" Hey, it's a natural human instinct to want something you like for free. Why pay a few hundred dollars for something when you can get it for nothing?
But just who gets these free/complementary tickets?
Those are good questions because it's not like every promotion has the Brett Yormark Foundation involved.

OK, we'll start off here: at major casino fights at properties like the MGM Grand or Mandalay Bay in Las Vegas, many of the "whales" (i.e. big gamblers) get free tickets and rooms for the big events involving the likes of Manny Pacquiao or Floyd Mayweather. Yeah, it may seem costly to the venue to give up a presidential suite for a weekend and ringside tickets but oftentimes, these individuals are paying $10,000 (or much more) per hand at poker or Pai Gow. But if you think about it, these comps are actually very small investments to get these players to the tables. Because of this, oftentimes the casinos grab up the prime real estate around ringside from the promoters before any tickets go on sale to the general public. So even if you wanted to buy the best seat in the house, unless you've put some serious money down at the casino and help build that place, you probably have no chance at getting it.
Also getting tickets are sponsors (such as Corona and Tecate) and the networks (like HBO and Showtime) that have it built into their agreements with the promoters to provide entry for employees of their corporations or stars of their various programs, respectively. You think it's just a coincidence that a star from "Game of Thrones" happens to be at an HBO fight or a cast member from "Dexter" is at a Showtime fight?
Many boxers under the banner of a top promoter, be it Top Rank or Golden Boy, have it built into their contracts that they get a certain number of tickets to their companies' events. And of course, any specially invited VIP and celebrities are handed freebies.
So basically, every sell-out has a certain amount of tickets that are given away or not truly bought at all, which is in line with other events like the Super Bowl or Final Four (and there's this not-so-small detail: even fights announced as immediate sell-outs are usually situations when a good number of seats are on consignment to ticket brokers who put them up on the secondary market).
Now, who else gets tickets they don't pay for?
Well, you have local charities, Boys & Girls Clubs, fire and police departments and military bases that might get a stack of tickets. In other cases, you have hotel employees (such the lady that cleans and changes your bedsheets or the guy who takes your bags up to your room) who are offered various deals from two-for-ones or just flat-out free tickets. Usually this is done to make sure there are asses in the seats as sales lag on fight week. It's a bad look and can be embarrassing to a fighter to headline a card while having just a few thousand people in attendance in a 12,000-seat room. These arrangements are usually done on the down-low but leading up to a recent card at the Barclays Center, it was made abundantly clear that tickets would be discounted and some just given away.
One important point to make: there is a difference between a free ticket and one marked "complementary." A free ticket that one receives is still subject to the state tax (which differs from one commission to another) while a "complementary" ticket (which will clearly state it is on the front of the ticket) is not. So you could theoretically give away or discount every ticket in an arena - as long as you pay the commission tax (because that's all the states really care about) - and call it a sell-out. As that tax is paid by the promoter on the gate report, it goes down as a full sale. So why do some supposedly sold-out cards have empty sections? And why do some crowds look much, much smaller than their announced attendance? Well, perhaps some tickets that were given away simply weren't used (yeah, and some fights are so bad, you literally couldn't get people in for free).
It differs by state but there is a limit on the number of "complementary" tickets a promoter can issue. In California, it's capped at 30 percent of the printed tickets. But all tickets are subject to an 88 cent tariff for the pension fund and another cent for the neurological fund in this jurisdiction.
So for those who have asked me, "How can I get free or discounted tickets?" Well, you can either gamble a whole lot or work in one of many gambling establishments in Las Vegas, get stationed at Nellis Air Force Base, star in the next hit show on HBO or Showtime, win an Oscar or play for the Lakers or Yankees...or just wait for the next card at the Barclays Center (I kid; I kid).
And on Ticketmaster, there are plenty of sections where you could request over 10 tickets together and have no problems getting them.
I think a few factors are at play here. First, I think Trout as a B-side is a tough sell. This isn't like a concert, which is driven solely by the headliner. Unlike an Antonio Margarito, there is no passion or any particular hatred toward Trout. Also, the pricing of the tickets is very similar to last year's rematch between Cotto and Margarito (which was a sell-out and had a gate of well over a million dollars), which looks like a mistake. The Puerto Ricans wanted Margarito's head on a platter; Trout, well, many of them barely know who he is.
Also, perhaps "Hurricane Sandy," which wreaked havoc on the Eastern Seaboard, displacing many from their homes and the most basic of necessities, could be affecting business.
It's finally a done deal; on January 26th at the Galen Center on the campus of USC in Los Angeles, Andre Ward will defend his super middleweight crown against former middleweight champion Kelly Pavlik (in a fight that some books already have listed at 16-1 for Ward). Also on this HBO doubleheader will be a WBC heavyweight eliminator between Chris Arreola and Bermane Stiverne.
Can't wait to wear my old Duane Cooper throwback jersey on this night.
Time for another email from a familiar face/reader, G. Link, who had this to say about this past weekend's action on HBO from the Citizens Business Bank Arena in Ontario, California:
Thank you Steve for expressing the reality about Berto that HBO, given their massive and completely undeserved investment in him, chose to ignore

on Saturday

.
Guerrero won decisively and should move on to bigger and better things. Nothing that happened suggests to me a rematch would turn out any differently, despite the HBO crew (specifically Max Kellerman, whose admiration for Berto is so comprehensive that he actually compared him to Meldrick Taylor during the Ortiz fight) trying their best to make Berto seem far more impressive than he was.
You touched on his inept attempts to duplicate Mayweather's style with his lack of output and constantly looking to the ref for help. One other thing I noticed is his two left feet and shoes apparently filled with cement. He barely moves his feet, much less do anything suggestive of footwork. Had he used his feet even a little bit, maybe Guerrero would not have so easily walked him down and pressed him to the ropes.
The other stunning fact was his seeming inability to clinch. It's been suggested that Guerrero held and hit on the 1st knockdown, but if you watch, Berto had under-hooked his right arm and was holding him (or creating the appearance to the ref), during the sequence.
For a fighter whose family has an MMA background, Berto was tragically inept and clinching. In MMA, you want an under-hook to prevent a take down...but to stop a punch, you use an over-hook. That's not even mentioning how very time Guerrero closed the gap, Berto would grab one arm and do nothing with his free hand, expecting the ref to save him. Had he tied up Guerreo with both arms, the ref would have broken them more often, and the fight dynamic might have changed. He even could have tried the Holyfied/Tyson, clinch and walk him back strategy to blunt Guerrero's forward momentum.
I don't want to take anything away from Guerrero, who fought smart and tough, but I could not have a lower opinion Berto. As best I can tell, Berto is tough, has fast hands, and good power, but no ability to use any of those tools against any fighter who doesn't run away or walk straight to him and stay in range.
I don't know if it's too late to teach an old dog new tricks, but he desperately needs a "Rocky III" style training camp. Maybe Apollo Creed can teach him how to move in the ring and not be such a plodder.


As always, thanks for your feedback. I won't disagree with you on anything you wrote but I will paraphrase Lloyd Bentsen: I know of and admired Meldrick Taylor; Andre Berto is no Meldrick Taylor.
This week's edition of "Solo Boxeo" on Telefutura has Manuel Avila taking on Ricky Lopez in what is an interesting match-up of two young fighters in Vacaville, California...Main Events announced that a heavyweight tilt between Tor Hamer and Vyacheslav Glazkov has been added to its NBC telecast on Dec. 22nd...Gotta hand it to WealthTV; they aren't kidding when they say they are in the business of televising boxing. I just wish more homes had access to this network...RIP to Marvin Miller, truly a revolutionary sports figure...Was that last episode of "Boardwalk Empire" the best ever? Seriously, I need more Chalky White...Say it ain't so! Fireman Ed steps down as the lead Jets fan?...I can be reached at k9kim@yahoo.com and I tweet at www.twitter.com/stevemaxboxing. We also have a Facebook fan page at www.facebook.com/MaxBoxing, where you can discuss our content with Maxboxing readers as well as chime in via our fully interactive article comments sections.