Francisco Leal, 26, passes away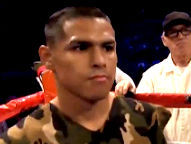 --


Three years ago, Francisco "Frankie" Leal challenged Celestino Caballero for the junior featherweight title of the world. Leal was stopped that night, but his future looked bright.

Tuesday night in a San Diego hospital, Leal, 26, lost his life three days after falling into a coma following a brutal eighth-round stoppage at the hands of Raul Hirales in Cabo San Lucas, Mexico.

Leal, a native of Mexicali, Mexico, always came to fight. In 2011, he won by split decision over-then undefeated prospect Robert Marroquin. Leal was fighting for the fifth time in 2013 when he faced the equally determined Hirales. The first five rounds were rough and grueling. Both fighters exchanged heavy combinations to the head and body. Hirales (20-2, 9 KOs) floored Leal early in round six, but the resilient fighter willed himself up and fought back.


In round eight, Leal was hurt by a sustained body attack. He staggered into the ropes and tried to survive. Hirales landed two sweeping right hands to the back of his head that sent Leal down. He again got up, but soon slumped to the canvas. The referee quickly waved the fight off. Leal, with his back against the turnbuckle, was unresponsive to the referee and his trainer. He was removed from the ring on a stretcher. After being admitted to a hospital in Cabo San Lucas, Leal was transferred to San Diego where he died.

Some are wondering why Leal (20-8-3, 13 KOs) was even allowed to fight again after being knocked out by Evgeny Gradovich last year. Leal was taken from the ring that night on a stretcher. He returned to action in January of this year.

Leal is survived by his wife Laura and a young daughter.

Maxboxing.com sends it's condolences to the Leal family.

To send donations to the family to help: http://www.gofundme.com/4w3r0c


---
John J. Raspanti responds to all his emails. Please send all questions and comments to John at:
marlow_58@hotmail.com



Subscribe to feed