Frampton Stops Cazares in Two, Now Mandatory for Cruz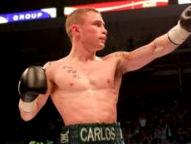 (Carl Frampton)


Super bantamweight badass Carl "The Jackal" Frampton needed just two rounds and some miscalculation on his opponent Hugo Cazares' part to put an end to matters Friday from the Odyssey Arena in Belfast, Ireland. The Irish favorite improved to 18-0 (13) and moved into the mandatory position for a shot at WBC super bantamweight titleholder Leo Santa Cruz.
The fight started with Frampton (trained by Shane McGuigan and managed by Barry McGuigan) taking his time in measuring the cagey, counter-punching veteran Cazares, 40-8-2 (27). Measuring with his left jab and inching toward his prey to lob a right hand now and again, Frampton used the first stanza to force Cazares toward the ropes and into the corners. Normally one who can counterpunch with aplomb, Frampton played the role of aggressor here, tracking Cazares and safely unloading when opportunity knocked.

The 36-year-old Cazares used the edge of the ring throughout - or was possibly forced into doing so - marking his territory, gauging what the 27-year-old Belfast fighter could do without sustained action. Frampton, knowing full well that a title shot was on the line, was calm, measured and didn't get lured into anything reckless by the raucous partisan crowd. Instead, he found his spots and won a tight and tense first round.
In the second, Cazares was a little braver, letting his hands go here and there. Any success would be short-lived for the Mexican veteran. Near the ropes, Cazares let a jab go that Frampton ducked. From his crouch, Frampton exploded with a left hook that caught Cazares flush. The reaction was somewhat delayed as Frampton stepped back to admire his work while Cazares stumbled and fell hard. The fallen fighter rose to a knee and smiled at Frampton, looked to his corner as if to signal he was fine and stared at referee Victor Loughlin as he continued counting. When Loughlin's count reached 10, signaling the fight was over, Cazares leaped to his feet in protest as if he had missed a number. In fact, Cazares miscalculated his strategy, an odd move for a veteran fighter.
"
I thought it was a great performance. It was a one-punch stoppage of a guy who had not been stopped since 1999. [Cazares] can say what he wants about the count. He didn't want to get up," said Frampton afterward. "I just hit him. It was more instinct than anything. It was over a jab. It landed and game over."
With the win, Frampton hopes to get the big fight he has been dreaming of. A fight with Santa Cruz is almost guaranteed action. The question is: Where will the fight be held? Frampton is showing he can draw very well as a headliner in Ireland. Santa Cruz does not quite have headliner status in the U.S. However, with an opponent like Frampton, that could certainly change.
"
We certainly hope that it does come [to Belfast]. You cannot beat these fans," said Barry McGuigan. "They are incredible. This is the best atmosphere in the world. The Belfast boxing audience are the most amazing people. They really know their boxing. We really want the fight to come here. There's going to be a lot of negotiation before we get there."
Frampton's trainer feels confident in not just taking his fighter anywhere in the world to get that title but also in beating Santa Cruz, who enjoys a two-inch height and a seven-inch reach advantage over Frampton's 5'5" 62" height and reach, respectively.
"
We really hope that is happens here but the truth of it is that Carl is good enough to travel. We'll travel to America. What you will see is [Frampton] will outbox him, hit him with one of those left hooks and knock him out."
Said Frampton, "Onwards and upwards."
Please visit our Facebook fan page at
www.facebook.com/MaxBoxing
, where you can discuss our content with Maxboxing readers as well as chime in via our fully interactive article comments sections.



Subscribe to feed