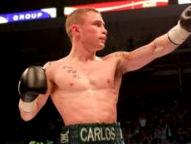 --


Sometimes boxing gets it right.
On February 27 at Manchester Arena in Manchester, London, England, two champions in their boxing primes will meet to settle their differences. The bout between undefeated super bantamweight title-holders Carl Frampton and Scott Quigg promises to be both competitive and entertaining.
Frampton has scored 14 knockouts in his 21 wins. Quigg has a slightly higher knockout percentage, having dispatched 23 opponents in 31 fights. Quigg is taller,
Quigg, 27, has been fighting professionally since 2007. His path to a world championship was deliberate—with many bouts against local opposition. His technical draw with highly-ranked Rendall Munroe in 2012 surprised some boxing fans. Quigg did even better in the rematch.

He stopped Munroe in six rounds to capture the interim WBA super bantamweight title. His improvement has been obvious, culminating in a

two-round

blowout of former champion Kiko Martinez seven months ago. Four of his last five fights haven't gone the distance.




Frampton first appeared on the boxing scene as an amateur, winning the Irish National championship twice. He made his professional debut two years after Quigg. His rise was faster than his rival. He won a minor belt in his eighth fight. In 2011, he claimed the vacant Commonwealth super bantamweight title.
In his fifteenth

fight, he knocked out tough Steve Molitor at

Odyssey Arena in Belfast, Northern Ireland. Frampton

garnered

praise

early in his career, much like his manager, former featherweight champion Barry McGuigan. Frampton defeated Martinez last year to win the IBF super bantamweight championship. He's defended his title twice, most recently against unheralded Alejandra Gonzalez Jr., who shockingly floored Frampton twice in the opening stanza. Frampton got up and dominated the rest of the match.



Quigg was asked during a media conference call last week about F

rampton's knock downs.



"

I mean, he got off to a shaky start," said Quigg. "He got put down a couple of times, but that's not the reason why I take any confidence from, you know, what happened in that fight. I've always said he doesn't fight well over [the course of a long] fight.

And he showed vulnerabilities in that fight (against Gonzalez). But he came bac

k,"he said. "He

got the win but he showed these little weaknesses in his armor, that I'd already seen."



Frampton,

speaking

during the same conference call,

said he saw the fight

a totally different light.



"Well, I think that last fight was probably — I'm going to call it a blessing in disguise," said Frampton.

"If

I had went in and blew Alejandro Gonzalez away in one or two rounds then you guys wouldn't be on the phone talking to me about Scott Quigg. Because, I (went down) in the first round is the only reason that (we're fighting). I've been chasing Scott Quigg for a long time. I've been chasing him for at least four years when he was British champion, and it's only now that they want the

fight," he said.



"So, again, a blessing in disguise, but it wasn't my best performance

,"Frampton admitted. "But

, if you (take the knockdown) out of the equation then it wasn't a bad performance (and I did what I) had to do to win. But, I'll need to be at my best to beat Quigg."



Will Quigg try and test Frampton's chin in the early rounds?



"My fights have finished early because I've done and stuck to what I've gone out to do," Quigg said. "And I've (ended) them early. I'm gonna pick the right shots at the right time. If the knockout comes early, it comes early. If I've got to box for six, seven rounds, I'm smart in my boxing, and then the shots [will connect) to take him

out," he said. "That'

s what will happen.

If you go looking for the knockout,

it doesn't come. "



Quigg has 12 more fights than Frampton, but it appears the latter has faced the tougher competition.



Frampton believes his natural talent gives him the edge over Quigg.



"When people talk about high dedication and high heart Scott Quigg (is a hard worker). But if they think that I don't train equally as hard as him then they're wrong

," Frampton said. "Everything

that he does is programmed.

He's been taught how to fight. I know how to fight. I've been boxing since I was seven.



"It's all I know really and that's gonna be the big difference," added Frampton.



F

rampton goes to the body well. His disadvantage in reach (around six inches) could be problematical. His right hand is his best weapon. He's also the more fluid boxer.



Quigg could surprise him with his power. He's

an intense fighter who also loves to go to the body. His head shots are hard and lethal.



Most see this as a 50-50 fight. I can't really disagree, but I think Frampton is correct. His natural ability will guide him to another victory.