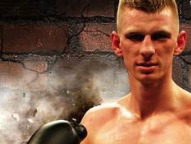 -


The amount of options for light heavyweight contender Andrzej Fonfara's future are abundant and his promoters will have to map out which direction they want to take, Fonfara's co-promoters Dominic Pesoli and Leon Margules told Maxboxing.
Fonfara, 24-2 (14), returns this Friday to the UIC Pavilion in a tune-up fight against Samuel Miller, 26-7 (23). Fonfara is coming off a ninth round knockout win over former WBA light heavyweight titlist Gabriel Campillo and is poised for bigger fights.
"
It becomes who makes the best offer," Pesoli said. "There's been preliminary talks about appearing on HBO but we're just going to wait and see. I would say [Fonfara's next fight] would be in early or late spring."

Margules, who just recently became Fonfara's official co-promoter, laid out three or four routes they could pursue. He mentioned Fonfara could chase Bernard Hopkins' IBF belt, be matched against Eleider Alvarez for the WBA interim title or face Adonis Stevenson or Sergey Kovalev.
For the IBF belt, Fonfara would first have to fight Dmitry Sukhotsky in a final eliminator. Sukhotsky, 21-2 (16), recently beat Eduard Gutknecht and would have to face Fonfara to become Hopkins' mandatory.
If Fonfara decides to go that route, Margules said they would have 30 days to negotiate with Sukhotsky's promoter to reach a deal. If a deal can't be met, the fight would go to a purse bid. Hopkins' mandatory is due in June.
"
[Fonfara]'s a player and right there in the mix," Margules said. "We'll have to see how he looks on Friday night."
Alvarez is the type of opponent who could make sense to be matched up on the undercard of a Stevenson fight on HBO. Margules said it could be the headliner of a fight in Chicago because of Fonfara's drawing power.
"
It depends on who is driving the train," Margules said. "A lot depends on the market. It depends on if the other fighters on the card are bigger or smaller. It's all negotiation."
Is Fonfara a big enough draw to drive that train?
"
Ultimately, yes," Margules said. "Will he bring Stevenson out of Montreal? I don't think so. Maybe. Stevenson says he wants to fight in the U.S."
Regardless, Pesoli says he believes HBO is interested in Fonfara. "They are very interested and he's on their radar," Pesoli said. "They are obviously spending a lot of money in the light heavyweight division and he's definitely in the mix."
Following Fonfara's win over Campillo, Pesoli envisioned Bernard Hopkins against his fighter at U.S. Cellular Field the next summer. While Hopkins could still be an option, Pesoli now says a return to US Cellular Field is very unlikely.
"
There were just a lot of..." Pesoli said before considering his words. "We were told one thing and when we got billed, it was an entirely different amount of money. Nothing added up to what it was supposed to be. The expense of that show was far greater than what was told to us.
"
What and why that was, we don't know," he said.
There were also legal complications from the U.S. Cellular Field show, causing Pesoli and his former partner Frank Mugnolo to split. There was a difference between money and other details, which resulted in a court battle.
Mugnolo released a press release saying he is still a financial backer in Fonfara but would no longer have any say in his promotional path.
Since the matters are still being resulted in court, Pesoli had no further comment.
Earlier this week, polish heavyweight Artur Szpilka took time on Twitter (@szpilka_artur) to call out prospect Bryant Jennings. With Mariusz Wach pulling out of a January 18 fight, Jennings is in need of an opponent and Szpilka is now the target, according to ESPN.
Originally, Margules, Szpilka's American promoter, told Maxboxing that a fight between the two would be very unlikely for that date. Margules said Gary Shaw initially contacted him before Wach pulled out and that matching Szpilka and Jennings right now wasn't the right time in particular because it didn't make a lot of sense to match the two fighters in Montreal.
However, HBO reshuffled Jennings and he is now slotted to fight on January 25. Margules said HBO has recently contacted him and told Maxboxing "It's possible" the fight happens.
If it doesn't, Margules said Szpilka will most likely fight twice in Poland in January and later, May, then fight in Chicago during the summer.