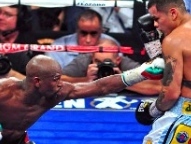 H1_Floyd-Mayweaather-Maidana-German-5.jpg


After Floyd's win over tough, aggressive Marcos Maidana last Saturday night from the MGM Grand Hotel in Las Vegas, the questions turned to who's up next for the undefeated, 46-0 (26), Grand Rapids-born champion. Traditionally, Floyd will take a short break before starting to gear up for his September Showtime date. While the obvious choice might seem to be Maidana, based on the tough go-round he gave Mayweather, there are a few others who might make for a fun night. Let's look at some familiar - or surprising - names that might pop up in any chatter about Floyd's fall fight.
- Marcos "El Chino" Maidana, 35-4 (31):
Based on his gutsy effort last Saturday, Maidana has earned another trip to the plate. Floyd eschewed his slick, distance countering style and stayed in the pocket and rumbled. But methinks "Money" thought it was a tad too close for comfort. Once Floyd gets a blueprint he makes adjustments and figures out the way to beat you. I think Mayweather would get slick and slippery in fight number two and cruise to an easier but less fan-friendly win.

- Manny "Pac-Man" Pacquiao, 56-5-2 (38), World Boxing Organization welterweight champion:
This is getting old - as are both fighters - real quick. Both boxers aren't fighting at the same fever pitch as of late. Pacquiao looked solid but less than the bomb threat that brutalized the likes of Antonio Margarito and Miguel Cotto a few years back. He's won his last two but looked unremarkable doing it. And Floyd just had a rough night at the office against Maidana, who seemed tailor-made to use as his catcher in a counterpunching clinic. Let's do this fight with while both are still at their best - or close to it. Top Rank Promotions' Bob Arum and Golden Boy Promotions' Oscar De la Hoya seem willing to do business. For a guy who markets himself on "Money," this is the mother lode payday, even by "Money Mayweather" standards. The fans, who are quickly losing their jones for this bout, will get onboard in a New York minute if it is announced. I understand why this fight isn't happening…but I can't believe this fight isn't happening. There are a few fights that come along every few years that really capture the public's attention. Special bouts that put countries, cultures, personalities, abilities, styles and characters in a magic melting pot resulting in a great night for boxing and all of sports. This bout has enough rocket sauce to deliver and could be one of those gems. Let's do it!
- Amir "King" Khan, 29-3 (19):
When he keeps his chin tucked and protected, avoiding a clip on the whiskers (and when he lets his hand speed dictate the pace), Khan's a tough outing for anyone. He has lobbied for a Floyd fight for a while now and certainly looked sharp in dismantling tough, Brooklyn banger Luis Collazo on the Mayweather-Maidana undercard. This fight would go postal in England but Floyd likes to train and fight in the comfy confines of Vegas. Khan looked good and is seldom in bad fights, win or lose. The thought of Mayweather vs. Khan is hot right now. Go over to a soccer stadium in England and promote this punch-up to a crazy level. However, Khan says he will not compromise his commitment to Ramadan, which doesn't finish until the end of July. This would cut deeply into his prep time required for a fight with Mayweather in September. So if this one even happens, it may have to be a year from now anyway.
- Shawn "Showtime" Porter, 24-0-1 (15), International Boxing Federation welterweight champion, or Keith "One Time" Thurman, 23-0 (21), World Boxing Association interim welterweight champion):
Both a little green in the mega-event, experience category but so far, neither have shown any signs that they would tighten up on the huge stage. In fact, both are real tough and gutsy and would love to test themselves against the best before Mayweather hangs 'em up. Thurman is sitting pretty after knocking out previously undefeated Diego Chaves and beating rugged vets in Jesus Soto Karass and Julio Diaz in his last three. Porter is really starting to make a name for himself hot off of a recent dismantling of Paulie Malignaggi and an upset win over champion Devon Alexander beforehand. The old sheriff vs. the new gunslinger…I like it!
- Timothy "Desert Storm" Bradley, 31-1 (12):
Didn't do anything to help his bargaining position to make demands of a bout with the best when he lost his last bout against Manny. But Bradley can box and brawl and will be there all night. The Top Rank/Golden Boy "Cold War" might make his name a moot point but he is a fun fight for fans against almost anyone on most nights.
Please visit our Facebook fan page at www.facebook.com/MaxBoxing, where you can discuss our content with Maxboxing readers as well as chime in via our fully interactive article comments sections.