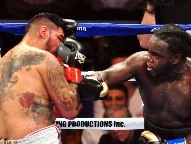 (Photo © German Villasenor)


This past Saturday night at the Galen Center on the campus of USC, Bermane Stiverne captured the vacant WBC heavyweight title with a sixth-round stoppage of Chris Arreola in an entertaining affair, nationally televised on ESPN. Here are some random thoughts from ringside this past weekend...

- No, this wasn't George Foreman-Ron Lyle but by today's standards, Stiverne-Arreola II was a very good heavyweight scrap. Early on, Arreola was effective in pushing Stiverne back with his jab and letting his hands go as his conqueror from April of last year was on the ropes. But as Arreola damaged his left in the fourth inning, that jab dissipated and his activity waned. And like last year, that sneaky overhand right was Arreola's poison.

I've said it before but it's possible that Stiverne has the quickest hands in the division. He reminds me a bit of Michael "Dynamite" Dokes with his hand speed and ability to put punches together. But unlike Dokes, Stiverne doesn't have his output and seems more content to lay back, look for openings and counterpunch as he did this past weekend. A blistering right hand Arreola never saw coming hit him on the temple and sent him staggering to the canvas. He got floored again and was spared anymore damage by referee Jack Reiss after gamely getting up at 2:02 of the sixth.

Again, this won't go into the annals of all-time great heavyweight battles but what we got here was a fight with back-and-forth action, swings in momentum and a definitive ending between two big men who gave an honest effort. That in itself should be appreciated.

- Speaking of which, take away Wladimir Klitschko and you put the next dozen or so heavyweight names in a hat (say Stiverne, Arreola, Deontay Wilder, Tyson Fury, Vyacheslav Glazkov, Dereck Chisora, Tony Thompson, Bryant Jennings, Mike Perez, Alexander Povektin, Steve Cunningham); pick out names and you'd get a lot of fun fights. The two-headed monster known as the Klitschkos for the past several years have sucked the life out of the division because of their pure dominance and a style that is more effective than exciting.

This is not an indictment on them but there's a reason why there is a large segment of fans who are waiting for Wladimir to follow Vitali's footsteps into the sunset. For all the clarity they have brought this division, they have also made it very redundant.

- I was told by those in the know that the magic number for ESPN this weekend was a million viewers. If they hit that, the chances of them doing a fight at this level again (in which they actually spend some real money) are very good. If they hit 800,000, well, there would at least be a discussion. But you get the sense they might have problems reaching either plateau. As has been noted by many, it didn't seem like the "Worldwide Leader" did much to promote this event in-house throughout its various platforms and this took place right in the heart of the NBA, NHL playoffs and the NFL Draft (which ESPN invested in heavily throughout the week).

Most casual boxing fans probably aren't conditioned to watch the "Sweet Science" Saturdays on ESPN. Also, if I'm not mistaken, this broadcast went up against the Miami Heat-Brooklyn Nets game on ABC. Regardless, moving forward, scheduling a fight like Stiverne-Arreola will be tough the rest of 2014 because once September comes around, (college) football is king at ESPN on the weekends.

- Stiverne didn't just win a major title; he basically kept Don King in business. No, he wouldn't have necessarily shuddered DKP if "B. WARE" lost but let's be blunt; King would pretty much be completely irrelevant at this point. Now, he has a beltholder in the sport's glamour division and you hope that for Stiverne's sake, King doesn't do what he has done for most of his other clients recently: basically put him on active retirement by shelving him for months and years at a time.

At 35 years old, Stiverne has just 26 professional bouts (with a record of 24-1-1 and 21 stoppages) under his belt and since 2011, has performed just five times. His boxing age is much lower than his chronological one. Having spent a lot of time in Montreal in his life, there's a possibility that Stiverne can be a legitimate draw in that market (one of the best boxing cities in the world). King now has a horse to ride; let's hope he can actually do more than just take him to the glue factory.

As for what the WBC will rule in regard to whom Stiverne must face next, don't ever, ever, ever, underestimate the long-standing relationship King has had with this organization.

- So will Stiverne face next, Wladimir Klitschko or Deontay Wilder, who was ringside on Saturday night? Well, while Wilder is the WBC's number one contender, King claimed they have the right to an optional defense before facing their mandatory. King talked of taking Stiverne - who is Haitian, grew up in Montreal and is now in the process of becoming a U.S. citizen - on a bit of a world tour. Regardless, as aforementioned, let's hope for Stiverne's sake that means fighting more than once a year (which he hasn't done in 2010, 2012 and 2013).

- The announced attendance at the Galen Center was 3,992 although it looked much closer to 3,000 than 4,000. This event had the misfortune of going not only against the Kings-Ducks playoff game down the street on Figueroa Boulevard but was sandwiched between the Clippers-Thunder series (which had games at the Staples on Friday and Sunday) and the Dodgers were at home. There's also this dynamic: not only was this show just a couple of weeks after the card at the StubHub Center, there is also next week's grand re-opening of the Fabulous Forum as a boxing venue, featuring the return of Juan Manuel Marquez against Mike Alvarado.

That said, the Galen Center is a classy joint. It's sizable without being too big, has very good sightlines and a cozy atmosphere. Here's hoping they host another boxing event in the near future.

FINAL FLURRIES

Amir Imam was able to defeat the much bigger Yordenis Ugas in the ESPN opener. Ugas looked at least a weight class larger than Imam on fight night...Watching the Mayweather-Maidana fight again this past weekend, I still had Floyd winning 115-113...Very disappointed that the final "All Access: Mayweather-Maidana" didn't have footage of the stampede at the MGM Grand...Can you believe that Clippers comeback in Game Four? Donald Sterling must be so proud of his team of minorities...Tough to really grade how teams did in the NFL Draft till a few years down the line but it seems like the NFC West became an even tougher division..."Hungry Investors" is a decent new show on Spike...Ican be reached at k9kim@yahoo.com and I tweet at www.twitter.com/stevemaxboxing. We also have a Facebook fan page at www.facebook.com/MaxBoxing, where you can discuss our content with Maxboxing readers as well as chime in via our fully interactive article comments sections.