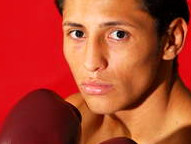 --


When Felix Alvarado took on seasoned Carlos Melo in April, it was seen as a solid step-up fight that would give Alvarado much-needed rounds. However, early on, the "El Gemelo" (The Twin) realised he could push Melo back and hurt the former world title challenger. In doing so, Alvarado was able to score a stoppage midway through the first stanza, putting the light flyweight division on notice while moving seamlessly to 16-0 with 13 stoppage wins. The 24-year-old hails from Managua, the capital of Nicaragua, and has been a pro for three years, having enjoyed a successful amateur career. His twin brother, Rene, is also a pro, currently 18-2 (12), at featherweight. Alvarado followed his mother into learning about jewellery but intends to win his own gold soon enough. Former Maxboxing scribe Marty Mulcahey sees potential in Alvarado, believing he could make waves at 108, saying, "I enjoy Alvarado because he is a boxer who, despite distinct, whip-like power, relies more on technique and accuracy than brute force. Like most young fighters refuses to move his upper body for defensive purposes but does move his head when not concentrating on attacking and uses his feet well overall. The only negative in his career trajectory is lack of activity, only fighting twice last year and less than 50 pro rounds in total. Definitely a force if he can maintain that weight on a long frame." He's already ranked number 11 by the WBA and nine by the WBO while he cracked The Ring magazine top 10 earlier this year, currently sitting at eight.

Anson Wainwright - You recently impressively stopped Carlos Melo. Could you tell our readers about that fight?

Felix Alvarado - The truth is that I never expected that victory would come so fast. I came with the mindset of looking strong and pushing him back in the early rounds because I looked at his fight with the "Chocorroncito" [Carlos] Buitrago and saw that he was a typical Panamanian fighter that moves a lot in the ring. But I hooked early and dropped him. I started working with feints; I thought that's what Melo was going to do in the fight but I finished it quick.

AW - You stopped Nerys Espinoza in three rounds last December. Could you tell us about the fight and how do you feel about the performance?

FA - For a long time, I have seen Nerys Espinoza fight. I never thought I was going to win by knockout but I felt strong fighting at flyweight. I did not expect to dominate Nerys but from the first moment I landed a right hook, he blinked and then I knew I could finish the fight early with those right hands. Quickly, it looked like he was hurting and so I was yet to get the win by knockout.

AW - Could you tell us about your team members? Also where do you regularly train?

FA - My manager is Pablo Fletes, who works with Mr. Miguel Angel Garcia, who was with Alexis Arguello. My coach is Sergio Gonzalez, a former professional boxer who fought for the world title in Thailand (Gonzalez was stopped in the second round fighting Fahprakorb Rakkiatgym in 1997 for the latter's World Boxing Federation title), but I've also received a lot of help in my career by Mr. Luis Cortes, who also worked with Alexis Arguello. Currently, my manager, Pablo Fletes, is working with the developer Ezequiel Obando, from Costa Rica, where we hope to fight again on June 29 with the Mexican Ramon Pena.

AW - Could you describe your style of fighting?

FA - I consider myself a smart puncher because I try to make feints while fighting, throwing hooks, technical blows to hurt my opponents.

AW - What are your strengths and what areas do you hope to improve on?

FA - I think I should increase my experience; I do not have much when fighting. I do not want what happened when I fought Nerys in the early rounds to happen again. When I felt that, I panicked a little. I want to work more calmly as I did in my fight with the Panamanian Melo.

AW - You were a good amateur fighting at the 2009 World Amateur Championships. Could you tell us about that and the rest of your amateur career, titles you've won and your final record?

FA - My participation in the World Championships in Italy helped me to be what I am today in professional boxing. That gave me confidence to jump to professionalism. That trip to Italy was nice for the experience that I acquired at that time and for many people I met in boxing. I worked with Italian coaches for a month-and-a-half and gained experience [Writer's note: Alvarado lost in the preliminary rounds to China's eventual bronze medallist Li Jiazhao]. I won three titles in the amateurs in Central America. I twice won the award for best technical fighter and was champion in a Cup Sandino in Nicaragua, which was virtually Central American and Caribbean Championships for the quality of the fighters who came. In the amateurs, I had 67 fights, of which I won 60.

AW - Nicaragua has many top fighters at 105 and 108 including Roman Gonzalez and Carlos Buitrago. Have you sparred and trained with them? If so, what did you think of them?

FA - All have been good fighters. "El Chocolatito" (Gonzalez) is one of the fighters who have inspired me and "Chocorroncito" is one of the best fighters are in Nicaragua. With "Chocolatito," I've done many sparring sessions because sparring with him, I learned a lot of boxing. I like the style of Roman; he hits to the body.

AW - Do you have a nickname? If so, how did that come about?

FA - People always called me the "Twin Alvarado" like my brother, Rene. Since we started in amateur boxing, people called us "Twins." We were the only Nicaraguan twin brothers to have been crowned Central American tournament winners.

AW - Could you tell us a little about your life growing up?

FA - Our inclusion in boxing [came from] from my mom. She once bought some tickets for an amateur boxing evening but honestly, my brother, Rene, and I did not like the sport. My mom wanted to frighten us to the sport but to us what we really liked was football [soccer]. Afterward an uncle of ours took us, almost forcing us to go to the gym and gradually, we started liking it. We were almost 16 years old but as I made a lot of effort to practice, we quickly sparred with other older fighters, even sparring with professionals like Ernesto "Torito" Castro, Oscar Murillo, Erick Aguilera. In a short time, perhaps a little over a year, and we were winning, the most outstanding amateur fighters in the country. My mom was a kid when she had us. She had six children, three girls and three boys, and she has always worked for us. Since we were born, my mom started selling coffee in the Market Roberto Huembes but eventually saw that it was not enough to eat and learned the work of jewellery with a friend of hers. My mom has 25 years of experience in jewellery. We learned this profession but do not practice it because we are 100 percent stuck in boxing. Yes, we grew up in the market. With Rene, we have always walked together, fighting in the streets, because other boys were always looking for a fight. It was nice having my brother, Rene; he has been a lifelong stalwart companion.

AW - What do you like to do with your spare time away from boxing?

FA - When I'm not thinking about boxing, I like to play football. I also like to buy gold in the market and then sell it. I love playing PlayStation and see videos of fights, especially [those from] when Alexis Arguello fought.

AW - Who was your hero growing up and who do you like to watch today?

FA - It has always been Alexis Arguello, the best fighter to ever come from Nicaragua. Alexis was well-loved in Nicaragua, let alone in the United States. When one wants to see a good fighter with great technique from the past, you must see Alexis, one of the best fighters of all time.
Please visit our Facebook fan page at www.facebook.com/MaxBoxing, where you can discuss our content with Maxboxing readers as well as chime in via our fully interactive article comments sections.