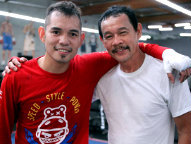 (Photo © Chris Farina / Top Rank)


There has been a familiar face among the training camp of Nonito Donaire leading up to his rematch versus Vic Darchinyan this Saturday night in Corpus Christi, Texas (HBO, 9:30 p.m., ET/PT). Donaire's father, who he had been estranged from for several years - a consistent tabloid story with the Filipino press - is now not just back in his corner but his life.
Yes, it's Daddy Dearest again.
"It's been great. It's been good to just kinda go back and relearn everything," said Donaire last week from Oxnard, California. "My boxing skills, thinking, going in there and using my jab, using a lot of things I haven't used for the many years I haven't been with him. So I'm able to just kinda get back to the way I fight. I'm not 100 percent yet to how I was but it's coming back slowly and I'm very happy with how it's going. We work on the mitts. We pretty much spent our training camp together, so it's been great. It's just refreshing to kinda do things...it's just different. I'm happy with training now and I feel good training. So it's been difficult."

Throughout his days as an amateur and during his first run at a title, Donaire was trained by his hard-driving father. Eventually, this relationship frayed. It was a very public split in which verbal jabs were thrown from both sides. This was boxing's version of Jennifer and Stefano Capriati.
As Donaire ascended to professional stardom, Nonito Donaire Sr. quietly trained on the fringes of the sport. A son, flourishing without his father. But it was fatherhood that brought the pair back together. On July 16th, Donaire and his wife, Rachel, gave birth to their first child, Jarel Michael. It was at that point when the new father started to have visions of the man who spawned him.
During a summer dinner at a Las Vegas hotel, Rachel recalled, "[Nonito Jr.] kept looking back and a couple of times before that, he had dreams of his parents. But specifically that one, he kept looking back and I'm like, 'What's up?' He's like, 'I think my dad's down there.'"
This led the wife to ask Nonito, "Are you hallucinating?"
The wife, who had had a contentious (to say the least) relationship with her father-in-law, says Donaire Sr. had reached out via text during her time in the hospital after she saved a drowning child and the birth of Jarel. With the ice broken (and without her husband's knowledge), she reached out to Donaire Sr. and invited her in-laws to spend some time with them in Las Vegas. The father flew down during the week of Floyd Mayweather's bout against Saul Alvarez in mid-September.
Donaire admits he didn't know what to expect during this powwow, "I was nervous. I didn't know what to say or do," but years of hard feelings quickly evaporated. Evidently, time does heal all wounds.
"The first time he came to Vegas when they had talked and all that stuff, when we dropped him off at the airport for his flight back to San Francisco, Junior came back into the front seat and we were driving off and he started tearing up and I'm like, 'Are you OK?' and he's like, 'It's the wine. I'm just so happy. I really miss my dad. I'm not saying I wasn't happy with you and without him - it's just so much happier and I miss him."
And "Baby J," as they call him, led to this reunion.
"Definitely," said Donaire, who began to have an understanding of what his father did for him and the sacrifices a parent makes. "When I came to the United States, my dad petitioned me and brought me here. He was around 30 at that time and he could've been like, 'Y' know what? I can start a new life, forget my family in the Philippines and do my thing here and I don't have to spend money and time and effort to get him over here.' He never did that and I just realized what a father does for his kids. For me, I'm willing to do everything for my kid and I know my kid's only three months old.
"So it opened up my relationship with Father all over again and my wife reached out to my father and we sat down and the weird thing was - it wasn't weird."
Rachel says, "I think once you become a parent then you kinda see things in a different light. My parents always told me that: 'Just wait till you become a parent.' You never really understand that, the sacrifices you go through and everything until you actually become a parent. We've only been parents for three-and-a-half months but it changes your whole outlook on life and your schedule and your sacrifices and your priorities. So I think that really made [Donaire Jr.] look at what his dad has done for him in his life and he appreciated it."

But she adds, "I want to make sure this lasts. There were a lot of break-ups and then there were lot of reconciliations. But I think everyone is starting to see the bigger picture now because whatever we were fighting about before isn't such a big deal. So I think that's what everyone sees and I think that's really important, the small things; that's what they were. And I think a lot of it has to do with when Senior told me that he had Nonito Jr. for so long and any decisions that were made, we've made together and when I came along, it stopped and Junior started making decisions on our future and it was something that Senior didn't adjust to."

In many respects, Rachel had been vilified by the Filipino fan base as being a divisive force in breaking up the Donaire family. Supposedly, Yoko Ono had nothing on her.

But according to her, "When we first sat down, one of the first things [Donaire Sr.] said was, 'I want to apologize to you for not adjusting,' and that means more than him saying, 'I apologize for saying this or doing that.'"

For the first time, there is harmony between the two families.

"I know the way [Donaire Sr.] perceived me before is, 'Oh, I'm losing a son,' when my parents were gaining a son and I feel like now, he's like, 'I gained a daughter.'" Now, the grandfather regularly texts Rachel for updates on Jarel. Short messages but meaningful nonetheless.

And yes, Nonito Sr. is a doting granddad.

"The first time Senior picked him up, he looked soooo happy," said Rachel, who describes a recent Sunday dinner the two families had back in Las Vegas. "He'll wait till everyone's done eating because he wants to hold him as long as he can and then he'll eat." And then he'll consume his food quickly to get Jarel back in his arms again.

The 30-year-old "Filipino Flash" is no longer a child in his father's eyes.

"I think that helps a lot that I'm a grown man. I have my own son now and I make my own decisions and I think now that he realizes that he even said it himself, 'I wish I was able to change but it's hard for me to change until now,' and we just talked about things like that," said Donaire. "Even myself, I have a lot of pride because I want to protect my wife and I also have my pride as a man. But once we put that aside, just respect each other. We just clicked without even thinking about it.

"It just felt like nothing ever happened."

GOLDEN OFFER

Golden Boy Promotions and CEO Richard Schaefer aren't playing around in regard to trying to get the services of Miguel Cotto on their side of the street. They have made him an offer he may not be able to refuse to face Saul Alvarez according to RingTV.com:

http://ringtv.craveonline.com/blog/181773-miguel-cotto-offered-eight-figure-deal-to-fight-canelo-alvarez

TNR

Here's the latest edition of "The Next Round" with Gabe Montoya and Yours Truly:

http://www.blogtalkradio.com/thenextround/2013/11/05/the-next-round-episode-456

MIDWEEK FLURRIES

Eric Gomez of Golden Boy says a January bout between Victor Ortiz and Luis Collazo is close to being consummated...Main Events announced the signing of undefeated heavyweight David Rodriguez, 36-0 (34)...So is Shane Mosley-Anthony Mundine back on? Has the money been wired and is it in Shane's bank account?...It looks like there is going to be some black-on-black crime coming up on "Boardwalk Empire"...The Lakers are decent at home, just hideous on the road. That's probably going to be the pattern the whole season...Thought that "A Football Life" on Randall Cunningham on NFL Network was excellent. Cunningham was ahead of his time...Also enjoyed "Bernie and Ernie," the latest installment of "30 for 30" on ESPN. Bernard King had one of the best midrange games I have ever seen...I can be reached at k9kim@yahoo.com and I tweet at www.twitter.com/stevemaxboxing. We also have a Facebook fan page at www.facebook.com/MaxBoxing, where you can discuss our content with Maxboxing readers as well as chime in via our fully interactive article comments sections.