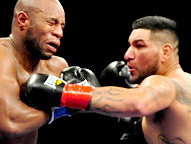 (Photo © German Villasenor, MaxBoxing)


One of Efrain Esquivias' dreams came true Saturday night at the Fantasy Springs Casino in Indio, CA when he stopped Rafael Marquez at 19 seconds of the ninth round of a pitched battle on a special telecast of Showtime's "ShoBox: The New Generation." The 30-year-old fighter out of Carson, CA was coming off two decision losses and a draw coming into this bout with the former two-division champion Marquez, who was coming off nearly a one year layoff and a KO loss. For Marquez, this a hopeful gauge of what he has left at age 38. For Esquivias, this fight was do-or-find another gig territory.
The first two rounds were not so hopeful. A self-professed slow starter, Esquivias, 17-2-1 (10), said he wanted to take Marquez into deep waters considering his age, mileage and long layoff. But there is slow and then there is taking damage from long Marquez right hands. Still, despite damage around both eyes, Esquivias edged the gap closer and closer.

Marquez, 41-9 (37), a pupil of trainer Nacho Beristain, has maintained the beautifully sound technique that made him a champion despite his 38 years, an eternity for a lower weight class fighter. But he was cactus-slow in delivering his left jab/right hand combo or his lead uppercut. Slow of foot, head movement and hand speed, it was a matter of time before Marquez was going to be a sitting duck for the Esquivias right hands that were getting nearer to the target.
Esquivias stepped up the pace to start the third. He got inside on Marquez and let his hands go to the head and body, chopping away at Marquez and victory. In the fourth, Esquivias continued forward, eating hard right hands that slowed him briefly in his attack. However, in the fifth and sixth, Esquivias seemed to find the right gear and soon, it was right-hand Heaven for the hopeful contender.
Marquez tried to find offensive moments between the constant moments of Esquivias' pressure. But the younger man's energy and pace were too much. Esquivias would whip underneath and land a right hand then work the body and return upstairs. He found the rhythm and stayed with it.
Marquez nearly turned things around late in the seventh when he dropped a right hand hammer on Esquivias and punched him across the ring. For a moment, Esquivias looked like a fighter who had nearly reached the mountaintop only to be kicked off as he sat on his stool. But he steeled himself and came out loaded for bear to start the eighth.
He hurt Marquez with a left and kept the pressure on. The kid sponsored by Lucas Oil was a perpetual motion machine, tracking and attacking Marquez in bits and pieces. A right hand staggered and hurt Marquez late in the eighth round and he wobbled as it came to a close.
Then, just moments into the ninth, Esquivias exploded a short lead right off Marquez's chin. The proud champion crumpled to the canvas. Rising quickly in the count, he stumbled to the ropes prompting referee Raul Caiz Jr. to call a halt to the action.
When it was over, commentator Doug Fischer would tell how Esquivias had once promised his late father that he "would make it in boxing and fight for a world title someday."
With this win, Esquivias (who called out WBC 122-pound champion Leo Santa Cruz post-fight) has put himself into a position to fulfill yet another dream.
As for Marquez, he was taken to the hospital when the attending physician didn't like the way he was responding to post-fight tests, the time to call it quits is now. We have nothing but great memories of this classy warrior.
Arreola Goes all Nightmare on Mitchell, Ends It in One
Chris "The Nightmare" Arreola needed 2:26 of round one to put Seth Mitchell down twice (once officially, once with a nice body slam move) and make him turn to escape further harm, prompting referee Jack Reiss to call a halt.
Mitchell came out confident, dropping a jab/right hand on Arreola. The shots made Arreola step back and reassess for a moment but as the round wore on, the Riverside, CA native Arreola got braver and started to land. A jab/right hand of his own landed perfectly at long range and Mitchell's legs buckled. Mitchell, a former college football player-turned-boxer, wrapped up Arreola like a pro around the waist. Arreola moved with him, trying to unlock the vice grip. Finally, he just dumped Mitchell to the canvas for a non-knockdown.
Moments later, Arreola, 36-3 (31), would score a knockdown of his own, hurting Mitchell with a left hook and then dropping in a long right hand. Another one-two by Arreola and down went Mitchell. After that, it was elementary for "The Nightmare" as he swarmed on Mitchell, landing a long succession of shots that forced Mitchell, 26-2-1 (19), to turn his back and move away. Reiss, one of the finest refs in the game, had no choice but to wave the contest over.
Photos © German Villasenor, MaxBoxing.com
Please visit our Facebook fan page at www.facebook.com/MaxBoxing, where you can discuss our content with Maxboxing readers as well as chime in via our fully interactive article comments sections.