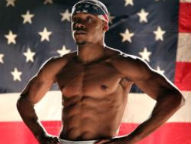 (Errol Spence)


2013 was a busy year for rising prospect Errol "The Truth" Spence Jr. He had as busy a first year as I can recall, turning pro in November of 2012, winning both his fights to close out that year. His activity didn't relent in 2013, going 8-0 with six stoppage wins. The southpaw welterweight out of Desoto, Texas fought often because the majority of his opponents were blasted out early by the boxer-puncher's mixed head and body attack, leaving him with little damage. While that activity allowed him to stay in sharp between fights, it also took a bit of a toll.
"
It's always good to be active; you know? Especially this being my first year, I was getting guys out of there early, knocking them out early. I wanted to be active," Spence told Maxboxing.com on Wednesday. "It kind of took a toll on me like kind of towards the end of the year. Like July to August, I kind of got burnt out a little bit physically because I was constantly training and not really taking any days off except Sunday. After I'd stop a guy or after I'd win, I'd get another fight in the next month, so I got burnt out a little bit. But now after a rest, I feel 100% and I am ready to start 2014 on the right foot."

The reason Spence is being fast-tracked a bit in terms of TV exposure and development is his combination of skill, natural ability and an emotional maturity that belies his 23 years. You can hear it in his voice, the way he thoughtfully breaks down his experiences in the ring and is open to exploring how he might improve.
"
My team has a lot of confidence in me. They told me they want to move me and develop me faster than other guys because they have a lot of confidence," said Spence.
It's not a boast of any kind. That isn't his style at all, more an admission of reality as it is. Of the graduating U.S. Olympic class of 2012, Spence seems to be moved quickest toward title contention. Part of that development has included being matched with fighters who won't simply lay down at first touch. While he has had six first round stoppages, two outings have lasted the four and eight-round distances. The first was Luis Torres, who was 4-2-3 when Spence faced him. The 21-year-old out of Kissimmee, Florida lost every round but was tough and durable, allowing the then 3-0 Spence to be extended and learn a valuable, early-career lesson.
"
I learned that you can't knock everybody out," Spence said of the fight. "I mean, not everybody is going to go down. Especially being a young guy and you're knocking people out in your pro fights. That fight shows you that sometimes you are going to have to go the distance. You'll always have to be in shape because not everybody is going to go early."
The other fighter who went the distance was Ghanaian southpaw Emanuel Lartei Lartey, at the time, 15-0-1 (7) with a physique built to handle everything Spence could dish out. It was tough fight for Spence to take, being a 8-0 fighter who'd been scheduled for six round bouts but had only ventured as deep as the fourth. But he got what he asked for.
"
That's the fight I wanted to take. [The matchmakers] said a lot of guys didn't want that fight, so I took the fight. It was a hard fight," recalled Spence, who finally looked like he had been in a fight after the eight-round unanimous decision win. "I knew [Lartey] was going to test me physically and mentally because I think previous to me, he had beaten a guy on 'ESPN Friday Night Fights.' That is the fight I wanted to take. I wanted to get tested."
A 32-year-old fighter versus a 23-year-old fighter is going to present some challenges. Strength, experience and maturity all come into play, especially in a distance fight.
"
He was more durable than other opponents. You get that a lot with guys from Ghana. They are very durable. He was real strong too," said Spence. "He had 'man strength.' I just stuck to the game plan and everything worked out well."
Arguably the most challenging aspect of Lartey was that like Spence, he is a southpaw. Left-handers are used to facing right-handed fighters for the most part. But fighting a mirror image changes everything. Rather than moving right against an orthodox fighter, suddenly a southpaw finds himself having to circle left. Punch selection, defense - everything - changes a bit.
"
It threw me off a little bit but I relied on my experience as an amateur. I fought a lot of southpaws in the amateurs. I adapt to it well. There's not that much [southpaw] sparring where I am from. As far as southpaw sparring, there was one guy. I just had to adjust and use my amateur experience. Nobody really likes to fight southpaws. Southpaws don't really like to fight another southpaw because its a mess," he laughed. "I say it's a mess because [of the opposite movement] and then you're throwing the hook the opposite way. Most southpaws are used to fighting orthodox fighters. It's different. You have to really focus."
Spence focused to the tune of a near-shutout victory over Lartey, leaving him time for one more victory, a first round stoppage of Gerardo Cuevas in a December stay-busy bout.
Looking back at his first year as a professional boxer, Spence assessed how he had grown and changed as a fighter.
"
Oh, definitely," agreed Spence when asked if he had discovered new punches and avenues of attack. "My body shots, my left uppercut to the body because I had hurt my right hand earlier in the year. It was hurt for a while so I had to rely more on my left. In the amateurs, I was more of a right hook guy. I'd throw a lot of right hooks to the body and the head, so I had to rely more on my straight lefts and my left uppercut."
Besides taking off the head gear and putting on smaller gloves, the length of bouts is the biggest transition from amateurs to pros. The rounds are now a minute longer and the fights continue to increase. In one year's time, Spence went from four-rounders to six to eight. In his next bout, scheduled for either February 10 or 15 (pushed back from a proposed bout on January 25), he will be scheduled to go 10 rounds for the first time. That eight-rounder with Lartey was a perfect way to find out for himself just how big the Spence gas tank is.
"
I also found out about myself that I can go eight rounds," said Spence. "A lot of young guys, when they have never been eight rounds or past six rounds, that's always in the back of their mind. I don't care what they say. It's always in the back of your mind. Can you go them rounds? So that was a big confidence booster that I went that many rounds and I did it at a good pace too. I think I was throwing like 80 punches a round."
Spence said he didn't feel like he held back anything in the win but does feel he is still learning to relax in the ring.
"
I think I exerted a lot of energy but not too much. I'm used to throwing [a high volume] of punches. That's what we work on in the gym. But I kind of want to settle down a little bit more, just relax a little bit more and pick my punches a little bit more. I was throwing five, six-punch combinations. I just want to relax and be more comfortable," he said.
For now, the plan is for Spence to either fight in either San Antonio on February 10 or California on February 15. Until then, he will remain in Texas preparing for a year he hopes will take him through transition from high-level prospect to contender in the title hunt.
"
By the end of this year, I want to be fighting guys or get a chance to be fighting guys in the top five, top 10, definitely, fighting those caliber guys," declared Spence. "My goal is this year is I don't want to be known as a prospect. I want to be known as a contender."
Is there a style he would like to face in particular as he develops?
"
I'm not really too picky. Me being in Texas, of course, I fight a lot of Mexican fighters. I fight a lot of guys who come forward, who like to fight. We really don't see a lot of guys who box but I fought a lot of boxers in the amateurs. I am not really picky on which styles I fight or looking for a style to fight," Spence said.
As he ascends the ranks, the scrutiny will grow along with the notoriety. More people will come out of the woodwork claiming to be Spence fans all along while simply looking to jump on the train and get a piece of his rising popularity. Using fellow Al Haymon/Golden Boy Promotions fighter Adrien Broner, who recently suffered his first loss, as a potential cautionary tale of "too much too soon," I asked Spence what he could learn from that.
"
It can happen to anybody, a loss. Adrien Broner, it's not like he lost to a somebody who is not a world-class fighter. [Marcos] Maidana is a world-class fighter. Very strong, he's a big fighter too. Adrien Broner jumping up two weight classes to face a big fighter who can punch, Maidana is dangerous for anybody," assessed Spence, who showed class in not piling on his fellow fighter. "But I don't see myself getting lost [in success]. As long as I stay grounded, stay focused, keep my feet on the ground and listen to my team, I feel like the sky is the limit. I can do whatever. I can beat anybody."
Last year in the books, the table is set for Errol Spence Jr. to show the boxing world exactly why he is nicknamed "The Truth."
Please visit our Facebook fan page at
www.facebook.com/MaxBoxing
, where you can discuss our content with Maxboxing readers as well as chime in via our fully interactive article comments sections.