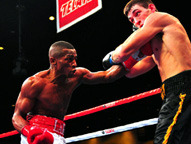 (Photo © German Villasenor)


Junior middleweight Erislandy Lara is currently in the process of finding an opponent to fight in either May or June, Luis DeCubas told Maxboxing.
DeCubas, father of Lara's manager, Luis DeCubas Jr., said Lara is targeting WBO junior middleweight titlist Zaurbek Baysangurov for his return. If unsuccessful, Lara could wait to target the winner of the IBF title fight between titlist Ishe Smith and Carlos Molina.
Still, DeCubas said Lara primarily wants the winner of the WBC-WBA unification bout between Saul Alvarez and Austin Trout, scheduled for April 20th.
"Enough is enough," DeCubas said. "He's fought three mandatories already. I think that [WBC president] Jose Sulaiman said it best: 'Fight Lara; that's your mandatory.' Instead of fighting Trout, that's the way it should have been. I think we're waiting to see what happens with that fight but he's definitely fighting May or June."

Lara last fought in November against Vanes Martirosyan for the WBC mandatory status. The fight resulted in a controversial technical decision after a cut over Martirosyan's left eye in the ninth stopped the fight. Many saw Lara ahead at the time but only one of the three ringside judges, Richard Ocasio, had him actually winning with a score of 87-84 (Jerry Roth scored the bout 86-85 for Lara; Dave Moretti scored it a draw at 86-86).
Whoever Lara fights, it won't be on HBO. Last week, the television network announced they would stop carrying fights by Lara's promoter, Golden Boy Promotions.
DeCubas said he doesn't mind the decision and that it will actually be good for boxing.
"They're doing a lot of big things at Showtime. They're a very big force in boxing," DeCubas said. "I've known [Executive Vice President and General Manager of Showtime Sports] Stephen Espinoza for a long time and I think it's going to be great for guys like us. I think with HBO and Showtime competing, it will open up a lot of doors for big fights to happen.
"Lara is the kind of guy who will fight anybody," DeCubas added. "Right now, we're just waiting on Golden Boy to find exactly out exactly what they have in mind."
At the Trump Tower on Tuesday, Warriors Boxing promoter Leon Margules said Carlos Molina is in negotiations to fight IBF junior middleweight champion Ishe Smith. Margules said that if a deal can't be reached by March 25 - and added it was looking that way - the negotiations would go to a purse bid 10 days later.
"The Mayweather people can be a little hard to get a hold of," Margules said.
Please visit our Facebook fan page at www.facebook.com/MaxBoxing, where you can discuss our content with Maxboxing readers as well as chime in via our fully interactive article comments sections.