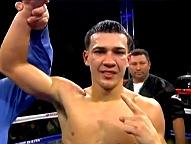 --


On Friday, Detroit, MI's Erick De Leon, a 21-year-old, lightweight prospect, 5-0 (2), weighed in at 129.75 pounds for a developmental showdown with Phoenix, AZ's Jesus Aguinaga, 1-1, who weighed 130.25 pounds. The fight, held at the American Bank Center in Corpus Christi, TX is part of the HBO card promoted by Top Rank Promotions featuring the rematch between Nonito Donaire and Vic Darchinyan and rising star Mikey Garcia attempting to dethrone Puerto Rico's only current champ, WBO super featherweight titleholder Roman Martinez. It will be the crafty but aggressive southpaw's fifth fight of the year after turning professional last December.
"
It feels great. Everything came out great my last fight. First round knockout, so I feel great. I'm ready. I am ready physically and mentally. I had a great training camp. I trained really hard at Robert Garcia's Boxing Academy. I'm very well-prepared. I feel in great shape. I am just ready to go," De Leon told Maxboxing.com the morning of the weigh-in.

The Cameron Dunkin-managed fighter is a traveling warrior. For two camps, he worked with Donaire at the Undisputed Boxing Gym in San Carlos, CA. For this fight, he is in Oxnard, CA at "Trainer of the Year" Robert Garcia's Boxing Academy helping another Dunkin fighter, Brandon Rios get ready for Manny Pacquiao.
"
It was great. Training with a lot of great fighters, great world champions. Training with Marcos Maidana, sparring Brandon Rios, Mikey Garcia, Nonito Donaire, up-and-coming great fighters, prospects. It was great training and it was a lot of fun too," De Leon said of the experience.
Garcia's gym is a hotbed of talent right now with Rios, Garcia and Donaire all training for fights within weeks of each other. But the talent goes beyond just those three stars. It creates an environment not unlike the Wild Card Gym in Hollywood, CA, where at all times, elite fighting eyes are on you.
"
Its a little different but I am used to it. I am used to training around competition. There's a lot of competition. It motivates you because you are around world champions and that's every fighter's dream, to one day be out there with the big names and be a world-class fighter. Its a lot of motivation. It just makes you give your best and train 100%," said De Leon.
Though he didn't work with Donaire for this camp, De Leon and Donaire connected in camp, discussing their fights and so forth.
"
Donaire's training camps were good and I learned a lot from him. So I take that in concentration to get better and learn more from different fighters and different training camps. It helps me get better," said De Leon.
The young man seems intent on learning. Like all apprentices should be, De Leon is a sponge, soaking up knowledge every way he can in every gym he trains in.
"
Its a little different seeing how they train," observed De Leon. "You see the discipline they have. How hard they work. I've always seen myself being there one day. I just have to keep working hard and training hard. I know I can do it. Hopefully one day, that day will come as long as I keep training hard. Keep having discipline and working at it and hopefully, like I said, hopefully one day, I can be up there and do the same thing. If they can do it, I know I can do it. I have a lot of motivation as well, just self-motivation. But just to see how they work and train, that just gives you more energy and more wanting to work harder just so you can get at that level one day."
After five fights in under a year and a sixth on the way, De Leon is learning how to better see everything in the ring, interpret it and respond. Experience is everything in life. With 200 amateur fights and three national Golden Gloves titles, De Leon is now settling into the pro game nicely.
"
Every fight, I feel like I am learning more," he said. "I just got to take my time a little bit more. As a professional, you have three minutes. Every fight, I learn a little bit more and more. You can never stop learning in boxing. So every fight is very important to sit down and talk about it and just pick at the little things to make me a better fighter. But I feel like every fight, I am improving a little bit more and more. If I go the distance, that's great. If the knockout comes, that's even better. But I just got to learn from every fight a little bit more and just be more experienced.
"
I know to slow the pace and pick the pace up," he continued. "I know when the round's about to end. And I feel like, I mean, every round should be well-prepared and [I'll use my] knowledge to win the round no matter how you need to. You don't have to land a lot of punches to win a round. It's professional boxing. You just got to pick your shots. You gotta be smart in there and just take it little by little and learn more and more each fight," explained De Leon. "That's what I am trying to do: learn more and be more comfortable in the ring as a professional fighter. Because it's way different than being an amateur. I was an a amateur over 10 years. It's a little different. I like the professional way more and I feel more comfortable. As long as I keep learning, it's going to be better for my boxing career."
At this stage of his career, De Leon is facing fighters with no tape on them. It's flying blind, boxing-style.
"
Not much. No, I don't," De Leon answered when I asked if he knew anything about his opponent. The surprise in the ring is not unlike being at an amateur tournament where the opponent could be anyone each time out. "Right. Right. It's true. I am well-prepared for anybody. I am just ready to go. I had the best training camp, one of the best camps."
Should he win, De Leon's future is not set. He may train in Oxnard again with Garcia or he may return home to his beloved Detroit.
"
I'm not sure. I'm comfortable back at home but if I had to go somewhere else to get better sparring and follow my dreams, if I have to move, I'll move," De Leon said. "I have to talk to my family and my manager about that. I'm not sure yet."
For now, the fight is the moment's focus.
"
I am raring to go, ready to do my thing Saturday night."
Please visit our Facebook fan page at
www.facebook.com/MaxBoxing
, where you can discuss our content with Maxboxing readers as well as chime in via our fully interactive article comments sections.