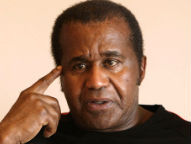 Manny Steward


Late

Monday night

,

I received a call from a reliable source that told me, "Manny Steward will not be in Miguel Cotto's corner for the Antonio Margarito fight." It being late on the West Coast, I wasn't able to confirm that night with any of the people involved so instead I tweeted what I'd heard and waited for the dawn. Early

Tuesday morning

, Miguel Cotto confirmed the rumor on his promotional company's website,

http://www.promocionesmiguelcotto.com.
"My dear fans," Cotto wrote. "Today I am very happy to announce that my trainer for my

December 3rd fight in

New York

will be legendary Cuban boxing trainer and expert Pedro Luis Díaz Benítez. Pedro Luis is a Doctor in Pedagogical Sciences. He holds a Master's degree in sports training and a Major in Physical Culture and Sports. He is also specialized in boxing training's planning and control. He was a professor and investigator for the University of Sports in

Cuba

. He has also worked with and trained several Olympic Gold Medalists and professional world champions.

"I met Pedro Luis as an amateur several years ago and had the opportunity to share time with him in several international competitions. I was instantly amazed as to the vast boxing's technique and conditioning knowledge that he transmitted to his fighters. I feel that together with Phil, Pedro Luis is a perfect fit to bring my best potential for my next fight in December and lead me to victory!

"I want to take this opportunity to express my wholehearted gratitude to Emanuel Steward, who I consider a friend and mentor. Because of calendar conflicts and other matters, we were unable to work together for this next fight. He is one of the best trainers I have ever met in boxing, and I will be forever appreciative for the two fights we worked together. We have both kept the doors open to maybe join forces in the future if the circumstances and timing are adequate.

"Now I will focus on my training camp! I feel happy and thrilled as ever to commenced preparing for December. I will be ready and will win the fight for all of you."
Later

on Tuesday

,

Maxboxing.com caught up with Steward, whose voicemail was full all day and whose phone was ringing off the hook. Steward's middleweight contender Andy Lee just came off a tough rematch win this

past Saturday

against Brian Vera (who had beaten Lee three years ago). While Steward had been away from the corner for Lee's fight with Craig McEwan this

past March

in order to be in the corner for Cotto against Ricardo

Mayorga

, this time, Steward opted to stay with Lee and see him through this tough step in his career.
"They wanted me to be in at a time when I couldn't be in without neglecting Andy Lee," Steward told Maxboxing.com, "so that's basically what happened. We're still in a good relationship. There's nothing personal. In fact, when I'm in

Orlando

in a few weeks doing something else, I'm going to stop by the gym."
Apparently, Cotto wanted to be in camp extra long for this fight while Steward had his duties with Lee to finish. While Cotto wanted to be in camp for seven-to-eight weeks, Steward could only do six. It seemed odd to him that Team Cotto suddenly parted ways because of a "scheduling conflict."
"Well, look, when you got seven weeks with somebody, that's a long f**kin' time," said Steward. "I mean, if we did that even half the time, I wouldn't be going to camps no more than seven weeks now. But we did six weeks before and five weeks the other. I knew exactly how much time it was."
Steward, like all trainers, has been down this road before. Most recently, Chad Dawson opted to train near his home in

Connecticut

with John Scully instead of Steward, who led him to victory one fight prior against Adrian Diaconu. Still, considering how important this fight is to Cotto, who lost to Margarito by TKO in 11 in their first outing, Steward was surprised by the move.
"

I'm somewhat surprised. First, the excuse was about time. I mean, c'mon, gimme a break," continued Steward. "And the thing is- and maybe they don't realize this- this is a hard, hard fight. This is a very important fight and just to change up for this type of hard fight and go with a new trainer, that surprised me. I would have never did that. That was his choice and I said, 'OK, f**k it; we'll just stay friends.' I don't get too upset. Remember when Evander [Holyfield] was fighting [Riddick] Bowe the second time; we got the title back but then the next fight, [Holyfield] was fighting Michael Moorer [without me].

We still see each other. We laugh and joke. [Holyfield] lost the fight which he could've won easily."
Despite losing a client, there is good news for Steward.

December 3

just became a stress-free night for him.
"Fights are very stressful," laughed Steward. "I'm a nervous wreck. I just got a few weeks now. I can just look forward to just hanging out. Next week, go to the [Bernard Hopkins-Dawson] fight and not all stressed and running out and running back. So it's not going to change my life all that drastically but I was looking forward to it because I felt the fight was a challenge, a very challenging fight and I love difficult fights. I was very excited and I love rematches. I was excited about the fight because I had this perfect plan laid out that was I was very interested myself to execute."
Even though the stress is now gone, it's easy to tell that Steward's competitive juices were flowing for this rematch for a couple reasons, one of which Steward experienced this past weekend in

Atlantic City

covering the Sergio Martinez-Darren Barker middleweight championship fight for HBO.
"Last weekend in Atlantic City, so many Puerto Ricans all coming up to me, 'Thank you for working with Miguel' and so and so. 'You gotta get Miguel past this.' So I'm all into the fight," said Steward. "So I really wanted to take the challenge. I find Margarito still a very challenging fighter. He's a tall guy and he may have lost to Manny [Pacquiao] because Manny can dart in and out and Miguel, that's not his style, moving and changing directions, coming in. That's not him. So I had a very, very careful plan laid out for him, like I had with Holyfield for Bowe that one time when I trained him."
There is another consideration Cotto should have made: Steward has a helluva record in rematches. Last weekend's Lee-Vera fight, the Thomas Hearns-Sugar Ray Leonard rematch (his fighter was robbed of a decision in), and Holyfield-Bowe II are among a few of Steward's second-look successes. If there is a trainer who can take a look at your loss, find out why it happened and then find a solution, it is Manny Steward. Now that possibility for Cotto and Steward is a thing of the past.
As for Cotto's new trainer,
Pedro Luis Díaz Benítez
, he is no slouch. He trained the Cuban National team for over 15 years, cultivating the likes of Felix Savon, Joel Casamayor, Odlanier Solis and 2008 Gold medalist Felix Guzman. No doubt defense and movement will be a big part of Cotto's new plan. How well these changes can be implemented will be up to Cotto and his ability to adjust.
Somewhere, odds on the fight just might be changing.
You can email Gabriel at

maxgmontoya@gmail.com

, follow him on Twitter at

www.twitter.com/gabriel_montoya

and catch him on each Monday's episode of "The Next Round" with Steve Kim. You can also tune in to hear him and co-host David Duenez live on the BlogTalk radio show

Leave-It-In-The-Ring.com

, Thursdays at 5-8 PM PST. Gabriel is a full member of the Boxing Writers Association of America.