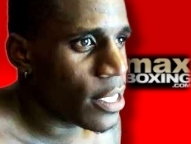 (Ellis)


Ronald Akeem Ellis is excited to restart the career that was humming along after turning pro in February of 2011. The 6-0 (5) (with one no-contest) Massachusetts native, now training and fighting out of Brentwood, California, recently locked up a contract with Los Angeles-based Sheer Sports Management and expressed that he "is excited to get back in the ring after being out for a while now" when he recently spoke to Maxboxing. Ellis ran up his current record in his first 23 months as a pro, showing early signs of being a fighter to watch in the middleweight division. In January of 2013, he fought on the Mikey Garcia-Orlando Salido undercard in the Theater at Madison Square Garden in New York. He picked up a unanimous decision win that should have put him at 7-0. However, Ellis failed the post-fight drug test that led to his recent downtime from boxing.

"That was an isolated incident, one time. I've put that mistake behind me and am ready to move on," he said. Now, reenergized and refocused, Ellis is excited to return to the ring and get rolling again. Currently fighting at the super middleweight limit of 168, he would like to see himself drop back to 160 in time. "Right now, with the time off, 168 is where I'm at but I can make 160 as 168 is a walk in the park. I mean I walk around at 172," he said. Ellis is now training with former fighter Courage Tshabalala and says, "He is working me like a dog but it will pay off in the end. He's a great trainer."
The 2010 National Golden Gloves champion also spoke about how he connected with Sheer Sports Management, "Sheer Sports heard about me after I was training with [former International Boxing Federation super featherweight champion] Robert Garcia in Oxnard, California. We connected and it has been great."
While it is early days yet for the unbeaten prospect, Ellis is a driven fighter with long-term goals. "It is a little early to be looking too far ahead but I see some guys out there that would be good fights down the line maybe. There is some guys out of the [Floyd] Mayweather gym, Jesse Hart from Top Rank [Promotions], out of Philadelphia, is doing great. There could be some good fights for me in time but I'm excited to get back to work in the ring and build myself up again," he stated. "I can box; I've been told I have a punch. I would describe myself as a boxer-puncher. I box a lot; I mean why get hit if you don't have to?"
As for what lies ahead, it looks like fight fans are going to have an exciting, young guy to watch in the middleweight mix. "I'm working towards fighting for a world title one day. I'd like to get back down to 160 and win a title there and then I'll go up to 168 and go for a world title there."
Please visit our Facebook fan page at www.facebook.com/MaxBoxing, where you can discuss our content with Maxboxing readers as well as chime in via our fully interactive article comments sections.