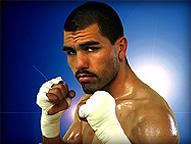 (Photo © German Villasenor)


At age 31 but with only 25 fights on his odometer, Mexicali-born junior middleweight contender Alfredo "El Perro" Angulo is both young and old in the sport of boxing. We last saw him in the ring last June against Erislandy Lara and by all accounts, he was winning, having dropped his opponent twice for the first knockdowns of the Cuban fighter's career. But a late eye injury forced Angulo to turn his back to Lara, forcing referee Raul Caiz Sr. to call the bout a TKO win in favor of Lara. Eight months later, with eye healed and body ready, Angulo returns to the ring on Saturday night at the MGM Grand in Las Vegas Nevada against Saul "Canelo" Alvarez in a fight he desperately wanted but was uncertain of ever getting.
"I am surprised [Alvarez] took the fight," Angulo told Maxboxing when the fight was announced. "I always was told he didn't want to fight me but he must have told his people to make the fight."

When Alfredo Angulo steps into the ring, he will to be stepping into a fantasy fight of sorts. He's been chasing "Canelo," a Mexican star who is coming off a one-sided loss to Floyd Mayweather Jr. last September. This is the chance of a lifetime. With three losses against his 22 wins and 18 stoppages, life and career will get infinitely tougher for Angulo with a loss on Saturday. But with a win, his fortune will change just as drastically. Like Alvarez, Angulo is embraced by the working-class folk of Mexico who honor hard work in and out of the ring. This fight is on Showtime Pay-Per-View and while it won't be playing to as big an audience as, say, "regular subscription" Showtime, the upside of winning a big PPV could pole-vault Angulo into another stratosphere.
But accolades or PPV sales don't seem to concern Angulo too much while training in the Bay Area with trainer Virgil Hunter for their fourth training camp. Beyond refining his defensive technique, which his repertoire has sorely lacked, Angulo also supplements his boxing training with the SNAC System group led by Victor Conte. While Hunter had Angulo eschew hypoxic boxing training at the Undisputed Gym in nearby San Carlos, CA, Angulo's supplementation was handled by Conte for this fight. In addition, Angulo worked with sprint coach Remi Korchemny. The latter is an 81-year-old taskmaster who seems to enjoy making the jovial Angulo work his ass off on the track.
"Immediately!" "More frequency!" "Go!" are all phrases you hear Korchemny bark at his charges as he puts them through all manner of drills.
"The thing I appreciate about Remi is that [he] doesn't care about your name; Remi will push you. [He doesn't care] who you work with, who you spar. 'I don't care,'" Angulo said during one of track sessions a month out from the fight. "If you aren't working hard, Remi will say, "'Immediately work!'"
Running backward, forward, sideways, knees high or in a squat-and-stand position or doing high leg lifts designed to work the core, Korchemny does not spare the rod when it comes to getting his fighters in shape.
"All the time, he change the work. It's the same but a little different. He put in something different all the time," Angulo smiled. Watching them work together is a study in contrast between the always-smiling Angulo and the rarely smiling Korchemny.
But the proof is in the pudding. In his first session almost two months out, Angulo, returning to his third camp with Remi, was working his way into the kind of shape Korchemny's work demands. In a session a month out from the fight, Angulo was in his groove, working his way through the workout, not so much easier but not struggling either.
"After the workout, I say, '[I feel] really good. Comfortable.' When Remi says, 'Last lap,' I'm happy and I run faster," Angulo laughed. "I think this time out, he is more focused on my work."
Over at Hunter's private gym, the work continues but this time, it's with Hunter's stable of fast, agile boxers who push Angulo to his limits for this his biggest fight to date.
"I am very excited and I am very happy with this camp. Virgil is very close to all the fighters [in his stable]. We all work together," said Angulo.
Hunter's stable, including former world champion and welterweight-to-be Amir Khan, worked with Angulo both on the track and in sparring sessions. The taller, faster Khan would bring his classic boxer style to Angulo in the ring and thus prepare him for what he may face on Saturday.
"I know 'Canelo' has speed but I don't think he is [faster] than Amir," said Angulo. Few would doubt that. "Amir also has experience. He has been in with really good fighters and right now, he is in really good shape."
In Alvarez, Angulo is not facing a speed demon. Alvarez is slow of foot but he appears to have a solid boxing I.Q., good skills and the ability to land in combination. His sense of range is good as well but then again, Lara was supposed to be the fastest and most technically skilled contender at 154 and Angulo the slowest, least skilled according to boxing experts. For much of their fight, Angulo had his way. Styles make fights. In the case of 'El Perro' and 'Canelo,' there is little doubt the fight will be entertaining. How it goes is anyone's guess. As confident as he is in winning the fight he has wished for, Angulo is one to prepare, not predict.
"Right now, all the work with Remi and Virgil, everything is really, really good," said Angulo. "You know me. I don't make predictions. The only thing I predict is its going to be a really good show."
You can email Gabriel at maxgmontoya@gmail.com, follow him on Twitter at www.twitter.com/gabriel_montoya
and catch him every Monday on "The Next Round" with Steve Kim, now at its new home, www.blogtalkradio.com/thenextround
or via iTunes subscription at https://itunes.apple.com/us/podcast/leave-it-in-ring-radio-blog/id316004573?mt=2. You can also tune in to hear him and co-host David Duenez live on the BlogTalk radio show www.Leave-It-In-The-Ring.com, Thursdays at 5-8 p.m., PT.
Please visit our Facebook fan page at
www.facebook.com/MaxBoxing, where you can discuss our content with Maxboxing readers as well as chime in via our fully interactive article comments sections.