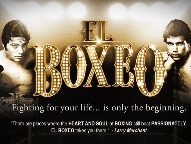 -


Alan Swyer is an acclaimed director, who has "The Buddy Holly Story," "Rebound" (starring Don Cheadle) and "Alfred Hitchcock Presents" on his résumé. "El Boxeo," which delves into the Latin influence on the world of boxing, was the completion of a trifecta for him.
"I participated in three sports as a kid: basketball, baseball and boxing - and not in that order," said Swyer last Friday afternoon while sitting on the ring apron at the Wild Card Boxing Club. "I had done a film about baseball, a documentary. I did a scripted film about basketball and there was only one sport left. I missed it; I loved it and decided to do it."
"Beisbol," narrated by Andy Garcia, won the Imagen Award for Best Feature Length Documentary. For Swyer, this particular project was a labor of love.

"This was entirely a labor of love," he stated with conviction. "Everybody loved it except my wife, who didn't get to see me for a long time and kept wondering where the money was going. I financed this together with a producing partner." Yes, they came out of pocket on this project.
Asked how much he spent, Swyer cracked, "I don't want to wind up in divorce court."
"My joke is that there are all different kinds of productions: there are high-budget films, medium-budget films, low-budget films. This is called a no-budget film," joked the personable Swyer, who understood the hurdles involved in making this film a reality. The reason he chose this subject matter is very simple: while many other cultures treat boxing as a niche sport, boxing is still an integral part of Latin culture.
"I realized that there is a misconception and there are very few boxing writers; the major papers don't have boxing reporters anymore. Boxing is considered to be passé, the world's thinking MMA has superseded boxing. Indeed, boxing is bigger than ever," said the 65-year-old Swyer, who grew up in Newark, New Jersey and boxed in the Police Athletic League in Elizabeth. "It's just become, instead of a sport that's followed by the key demographic of white males, 15 to 35, it's become an international sport and together with the demise of the heavyweights, there hasn't been a charismatic heavyweight champion who's American in a million years. The doors have been opened for lighter weight fighters, which means largely, Latino lighter weight fighters."
The biggest challenge of this production was gaining access to the various fighters, managers and promoters. Swyer says, "I found the world of boxing to be remarkably cooperative. Virtually everybody got behind the films; doors opened, amazingly. I was very fortunate. Larry Merchant is a friend who's also in my baseball film. So Larry was as good a door-opener as one can have. Furthermore, I had more credibility than most because of the baseball film. Most baseball fans are boxing fans and vice-versa, so people who were uncertain, I let them see the baseball film and then that really made them much more willing to cooperate.
"Then it really just increased in remarkable ways. When I was in San Juan, Puerto Rico, my wrangler, the guy setting up interviews for me was [Francisco] 'Paco' Valcarcel. Who's going to say no to the head of the WBO?"
But this being boxing, some had their hands out.
"Joel Casamayor tried to shake me down for money. Ferdie Pacheco said, 'Come to Florida; I'll give you anything you want' and then tried to shake me down for money. They're conspicuous by their absence in the film," said Swyer, who was able to get the likes of Oscar De la Hoya, Rudy Hernandez, Julio Cesar Chavez Sr., Saul Alvarez, Fernando Vargas, Ruben Olivares, Armando Muniz, Sugar Ray Leonard, Bob Arum, Ruben Castillo, Jose Sulaiman and many others to participate (and yeah, even this scribe makes an appearance).
It was a long process but one that played out perfectly for the purposes of this feature.
"It took me, in all, four years, to finish the film and I can explain that. If I had a budget provided by a studio or a network, I would have had a delivery date. With a delivery date, the film would've had no chance of being definitive because they never would've given me enough money to get everyone I wanted. Because we didn't have the wherewithal to fly here, there and everywhere and anytime we did, we had to cluster things," explained Swyer, who traveled thousands of miles compiling footage. "I shot over 80 hours of interview footage, which meant that to get that down under two hours was a long process, making sure that we told the tale but also making sure that people that gave of their time wound up on screen."
Swyer fondly recalls getting lost in Puerto Rico because the street names were changed; Sean Gibbons and Bruce Trampler coming to the rescue to deliver Chavez to him when he was in town ("Because I wasn't going to go to Culiacan. I didn't have the wherewithal or, frankly, the desire," he admits) and making friends throughout the boxing industry. As he saw the finished product, he was more than satisfied.
"When I look at the film, I am delighted to say I am very gratified that it's the film that I hoped it would be. When I do Q-and-As, when I speak at film schools about documentaries, when people ask, 'How do you make one?' My response is, 'First of all, get a rich wife,' but when it comes down to the actual making of it, you have to start with a very firm sense of what it is that you want to do and then hope that you find something better along the way - which means you've got to be open."
So what one comment or quote stood out?
"'The statement that really stood out to me, that stopped me in my tracks was when John Bray said to me, when I asked him, 'What distinguishes a Mexican fighter from any other fighter?' He said, 'A Mexican fighter is willing to die in the ring.'"
For more info on "El Boxeo," log on to ElBoxeoTheMovie.com.
This week's episode of "The Next Round" with Gabe Montoya and Yours Truly:
Episode one of "All Access: [Saul] Alvarez-[Erislandy] Lara" airs on Showtime on Friday at 9 p.m., ET/PT...HBO's "Road To [Gennady] Golovkin/[Daniel] Geale" premieres on July 12th at 12:05 a.m., ET/PT...Emmanuel Taylor-Karim Mayfield is the July 25th main event on ESPN2's "Friday Night Fights"...OK, it's pretty clear that anytime the Padres play with their line-up, it's a potential no-no..."Real Sports" on HBO is as dependable as the sun rising. It always delivers a quality show...Ican be reached at k9kim@yahoo.com and I tweet at www.twitter.com/stevemaxboxing. We also have a Facebook fan page at www.facebook.com/MaxBoxing, where you can discuss our content with Maxboxing readers as well as chime in via our fully interactive article comments sections.