Edwin Rodriguez Goes Next Level, Enters VADA's 24/7/365 Program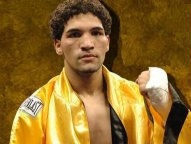 --


Around 7 p.m., PT, the Voluntary Anti-Doping Association's Twitter account (@Vada_Testing) tweeted, "VADA welcomes super middleweight contender Edwin @labombaboxing Rodriguez to 24/7/365 testing!
#
boxing
." Rodriguez, set to challenge super middleweight champion Andre "S.O.G." Ward (live on HBO from the Citizens Business Bank Arena in Ontario, CA), and his promoter, Lou DiBella, confirmed to Maxboxing.com soon after that "La Bomba" is now the second boxer in history to voluntarily enter a year-round testing program where he will be subject to urine and blood sample collection randomly throughout.
"
I'm really excited," Rodriguez said via cell phone following a workout with trainer Ronnie Shields back in Houston. Rodriguez had been up in San Carlos, CA for the past week working with nutrition expert Victor Conte (whose SNAC System supplement company is sponsoring Rodriguez's training and testing) on new training and recovery technology. Initially, Rodriguez had expressed interest in doing VADA testing for just the Ward fight, offering a sponsorship to the champion at last Saturday's press conference.

However, Rodriguez has since upped his own ante by deciding to go 24/7/365.
"
I've been working with Victor Conte and I heard all about Nonito Donaire [going 24/7/365] before and the first time I heard about him, right, I said 'This is what we need! We need guys to step up and help clean the sport and show that there are cleans athletes that are successful,'" explained Rodriguez. "Given the opportunity to work with Victor and being sponsored by SNAC, it was a no-brainer to be part of VADA testing. I'm clean. I have nothing to hide. It's one of these things where there have been athletes and fighters coming up dirty and I just want to show that I am a clean fighter and what better way to show that than to join VADA testing?"
Rodriguez's team is behind the move. Adviser Al Haymon backed the idea and DiBella, reached via cell phone late Monday night, was ecstatic but not surprised by Rodriguez's stance, which he called "a statement."
"
I've known this kid for years. He's got a great back story for anyone who knows what kind of guy he is and what kind of family he has. He's a high character kid. It doesn't surprise me that he would do this," DiBella told Maxboxing.com Wednesday night. "He's not going out there and pointing the fingers at anybody else. This has nothing to do with Andre Ward. This has to do with Edwin Rodriguez. I think Nonito Donaire set a good example when he did the same and went public with the stance and I think that frankly there should be almost a zero tolerance policy for PEDs in boxing."
DiBella feels its is an issue that should be immediately addressed.
"
I think that if anything, we are underestimating how much PEDs are a problem in our sport. I think they are almost becoming endemic. I think its a prevalent problem. Its not a little problem. Its a real big problem," said DiBella. "I think a lot of guys are cheating. I think a lot of guys are cheating."
But the sport is governed state to state. Anti-doping is low on the list of things that need funding, according to the current state of boxing's anti-doping test affairs. Thus this voluntary movement, driven by fighters stepping up to declare their cleanliness and run by an independent group of volunteers (headed by Doctors Margaret Goodman and Flip Homansky), is going to have to be the immediate solution.
"
I think it's a statement and its brings attention to the issue. I think its a quality thing to do," said DiBella. "I think its more of a personal statement. The likelihood is that Edwin is going to beat Andre Ward. At some point during that fight, [Rodriguez] is going to hurt him. And if he hurts Andre Ward and [Rodriguez] has gone through this level of testing, then everyone is going to know that this guy is something special."
Last year, Nonito Donaire set the bar with his 24/7/365 stance and won "Fighter of the Year" honors from the Boxing Writer's Association of America. Rodriguez is set to face the top super middleweight in the world and, in many eyes, the best fighter in the world, second to Floyd Mayweather Jr. If he beats Ward - and impressively - the anti-doping stance puts Rodriguez into that elite status with Donaire and gives the fighter no one picked to win the "Monaco Super Four" a shot at "Fighter of the Year 2013."
"
If he beats Andre Ward? Yeah. I would hope so. I would think it would," said DiBella when asked if his guy is now a "Fighter of the Year" candidate. "But I think its a stance that promoters and managers can't make anyone get tested. There's no compulsion right now for VADA testing. I'm thrilled when a fighter of mine takes a stance like that."
Rodriguez is fresh off a first round knockout of Denis Grachev to win the "Monaco Million-Dollar Super Four" tournament and is gaining steam heading into the Ward fight. He did a mini-camp in San Carlos, using Conte's hyperbaric chamber and Remi Korchemny's sprint training. Now, he is back in Houston with Ronnie Shields, preparing for the fight of his life.
"
When I beat Andre Ward November 16, everyone is going to know that a clean fighter beat him. It should be a clean sport. I want to show I am a person who is doing it the right way and proving that by doing VADA testing," said Rodriguez. "I'm doing this for me and for my fans. I'm doing this to show that come November 16, I beat the best athlete - pound-for-pound, number two in the world - clean."
With Rodriguez in the fold, VADA is currently testing two athletes year-round with Nonito Donaire having re-signed for a second year. Tim Bradley and Ruslan Provodnikov are also VADA testing for their current fight as is UFC welterweight champion Georges St. Pierre.
Please visit our Facebook fan page at
www.facebook.com/MaxBoxing
, where you can discuss our content with Maxboxing readers as well as chime in via our fully interactive article comments sections.



Subscribe to feed