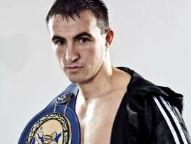 (Photo © Markus Morley)


It's been a successful first half of 2012 for German-based Kazakhstani Eduard Gutknecht; the 30-year-old has twice defended his European light heavyweight crown, beating former world title challenger Vyacheslav Uzelkov on points in early February. A quick turnaround saw him fight unheralded Frenchman Tony Averlant and though "Eddy" won, it was via close split decision. So far in a six-year pro career (after a solid amateur career), he's posted a record of 24-1 (9), the lone reverse in a world title fight at super middleweight when he came up short, losing a wide decision to current WBO kingpin Robert Stieglitz back in 2010. After struggling to make 168, Gutknecht decided to embark on a new challenge up at 175. So far he's won all six fights including three defences of his EBU crown. While he's happy to defend his European title, he has aspirations of challenging for another world championship in the future which may not be too far off. Currently, he's ranked in the top 10 by all four major sanctioning bodies, three by the WBC, four by the WBA and the IBF and six by the WBO.

Anson Wainwright -
You retained your European light heavyweight title, outpointing Tony Averlant at the end of March.
It was probably a little closer than you'd have liked. Can you tell us about the fight and perhaps why it was so close?
Eduard Gutknecht

-

Obviously, the fight did not go as smoothly as I would have liked but I wouldn't mind fight

ing

against him again if all parties involved can find an agreement

.
AW -
You've been very active in 2012, retaining your European title twice. What are your plans for the rest of this year? When do you hope to be box next?
EG - I want to defend my title as often as I can. The amount of fights also depends on my promoter. Hopefully, I will also challenge for a world title in the future.
AW -
You fought your entire career at super middleweight until you lost to Robert Stieglitz in 2010. Since then, you have moved up to light heavyweight. Why did you decide to move up in weight and how do you feel this has helped you?
EG -
I felt a bit weight-drained and was not able to live up to my full potential. Now at light heavyweight, I feel great and, physically, I am at my peak

.
AW -
Could you tell us about your team

?
EG -
My promoter is Sauerland Event and my Coach is Ulli Wegner. I either train in a gym in my hometown of Gifhorn or in Berlin at the Max-Schmeling-Gym

.
AW -
As the reigning European champion with three successful defences behind you, I'm sure you have your eye on the world stage. What are your thoughts on the current world champions, the WBC's Chad Dawson, the WBA's Beibut Shumenov, the IBF's Tavoris Cloud and the WBO's Nathan Cleverly?
EG -
They all are great champions. I already fought Shumenov at amateur level and won against him. I would like to do that again now that we both are pros. Chad Dawson is obviously a tough opponent but also beatable. I'm aiming to get myself up in the rankings of the four main associations and to become the mandatory challenger for a world title. But maybe one of them wants to face off with me earlier than that.
AW -
In your career to date, what do you consider to be your best performance and why?
EG -
My best performance is yet to come

.
AW -
You were born in Dzhetysai, Kazakhstan. Could you tell us about your younger days growing up there? Were things hard for you and your family?
EG -
I was only 13 when we moved away. It must have been hard for my parents but I would say that I had a good childhood over there.
AW -
How did you first become interested in boxing?
EG -
I started boxing after we moved to Germany. For me, it was a helpful tool to settle in into a new country. The real passion and desire for the sport came after I watched the fight between Axel Schulz and Francois Botha [in December 1995 for the vacant IBF heavyweight title].
AW - Could you tell us about your amateur career?
EG -
My amateur career was quite good, reaching the finals of the Youth World Championship back in 2000. Unfortunately, I didn't make it to the Olympics. I won against Shumenov and

[Gennady]

Golovkin. My record stands at 124 victories out of 157 fights

.
AW -
Could you tell us a little about yourself as a person and what you enjoy doing away from boxing?
EG -
I am qualified as an industrial mechanic and currently, I am studying for a degree in health management. I also enjoy supporting clubs in which family members participate. Apart of that, I love spending time with my two kids. I am a real family-orientated person.
AW -
What fighters did you look up to growing up and who do you like to watch today?
EG -
My idols are Roy Jones Jr., Mike Tyson and Evander Holyfield as well as Muhammad Ali. I really enjoy watching old videos of [Ali's] fights. Nowadays, I am always supporting my friend, Golovkin but, in general, I enjoy watching

all

the big fights and I respect everybody who is a professional boxer

.
AW -
In closing, do you have a message for the light heavyweight division?
EG -
I will take on everybody who is in the way between me and the world championship

.