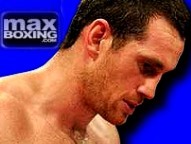 H1_David_Price-Max_Boxing-2.jpg


After the fall, the six-foot, eight-inch giant stood in his corner with a dazed expression on his face, tears rolling down his cheeks.

David Price had been knocked out in a professional boxing match for the third time in two years.

His plunge had been swift and dramatic.

Only three years ago, Price, of Liverpool, ENG. appeared to be on his way to a shot at the heavyweight championship of the world. ESPN had named him prospect of the year. His amateur background was solid—winner of the 2006 Commonwealth Games, and a Bronze medalist at the 2008 Olympic Games.

He could box a little, but more importantly, he could punch. Price knocked out 13 of his first 15 opponents. The excitement around him was building. If Price could defeat a flabby, 41-year-old warhorse named Tony Thompson, a title shot seemed inevitable.

Price did well in the opening round. He looked confident in the second, until Thompson caught him with a sneaky right behind the ear, which sent Price crashing to the canvas. He pulled himself up at seven and wobbled sideways. His legs had turned to Jell-O.

The referee wasted no time waving off the fight.

The loss was called a fluke by Price's supporters. Thompson's punch had caused his equilibrium to go wacky. The gentle giant seemed to buy into this scenario. He demanded a rematch with Thompson. It was time to right a wrong, he said.

Price began the second match cautiously. Nobody was sure how the knockout had affected his confidence. Would he be gun-shy?

Thompson, a cagey veteran, looked to counter. Price landed a big right in round two that staggered Thompson. A few seconds later, another shot put Thompson on his back. This was more like it, but somehow Thompson got up.

And then, the fight changed.

Price connected with a number of big punches in round three, but Thompson wasn't going anywhere. He was fighting back. Price was breathing heavily. It didn't help when Thompson landed a thudding body shot in round four. Price had a sour look on his face. Thompson's confidence grew. He worked Price over in round five. He unloaded a salvo of punches that Price couldn't overcome. The referee stopped the fight.

Instead of salvation, Price had suffered another humiliating defeat. Some pundits suggested he retire.

Price's chin is fragile. While he punches like a mule his jaw seems to be made of glass.

Many fighters have encountered chin issues, but they adjusted. Take Floyd Patterson. The former two-time heavyweight champion was floored 17 times during his career. But of course, Patterson was a much better fighter than Price.

Price returned six months after his loss and scored a knockout victory. He won two more bouts against careful competition.

That is until a few days ago.

His opponent, Erkan Teper, was undefeated. He'd flattened 10 fighters. He can punch.

Price had a bull's-eye on his chin and knew it.

"Now, because I've lost by stoppage, people have it in their head that it will be easy to knock me out so they come out and start head hunting straight away, but it plays into my hands," Price told BoxNation.

Price wanted to box Teper, but instead he found himself being stalked in the first round. Price landed a few rights, but the blows did nothing to persuade Teper to back off. The shorter man landed a clubbing right, but Price's chin stayed together—at least for a few more minutes.

In round two, a right followed by a left hook deposited Price flat on his back.

He didn't move for what seemed like an eternity. When he did get up, he stood in his corner, staring into space.

Within hours, his promoter announced that he could rebuild Price's career.

Ridiculous.

Price doesn't have a career in the most unforgiving sport in the world.

It's over. As Jim Morrison sang, "This is the end."

I hope it is. Price is a very nice person.

Boxing tends to eat kind people for lunch.

Hopefully, Price will realize there is life after pugilism—one where you don't get hit on what's left of your chin.

   _________

  Over and out.

WBO super middleweight champion Arthur Abraham (43-4, 29 KOs) ended his four fight series with Robert Stieglitz (47-5-1, 27 KOs) in the best way he could imagine -- by stopping his rival in round six at the Gerry Weber Stadium in Halle, Germany Saturday afternoon.

He did it by keeping things simple. When he followed his jab with a right hand, the bout changed.

Stieglitz was busier at times but Abraham's advantage in power was evident early on. In round four, Abraham scored a flash knockdown when Stieglitz ran into his left. The former champion blinked in surprise after he pulled himself up. He attacked the 35-year-old Abraham, but most of his blows missed or were blocked.

Abraham ended the fight in round six. He did something he rarely does--let his hands go in combination. Stieglitz, 34, absorbed every blow, until a sweeping right hand tagged him. He crumbled to the canvas. Stieglitz got up, but his corner waved the white towel. The time was 1:14. Abraham first fought Stieglitz three years ago. He won that fight by decision, but Stieglitz got some revenge a year later by stopping Abraham to win the WBO crown.

In 2014, Abraham won a hard-fought split decision that Stieglitz didn't agree with.

He had no complaints Saturday.


---