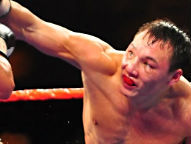 (Photo © German Villasenor)


After a few weeks ironing out the final details (i.e. money), a deal has been struck between Mike Alvarado and Ruslan Provodnikov to face each other in the main event on

HBO

on October 19th

at the 1st Bank Center near Denver, Colorado. This is an enticing match-up between two boxers coming off "Fight of the Year" - type of affairs. It looks to be a can't-miss match-up.
This is why HBO insisted to both Top Rank (which handles Alvarado) and Banner Promotions (which represents Provodnikov) that this was the fight they wanted first and foremost. They would accept no substitutions for this slot.
Todd duBoef, president of Top Rank, says, "First of all, I wouldn't say that HBO wanted this match. I think the fans wanted this match. When they heard it being thrown around out there, it was like, 'Oh, my God, these styles are going to be incredible together,' so I think there's that consumer demand that HBO's obviously aware of as am I as the content provider, the promoter. So we knew that there was a public demand because stylistically, it really comes together. It can be an incredible match-up."

The hard-hitting Russian is coming off an exciting back-and-forth battle against Tim Bradley on March 16th, when he dazed and floored the usually durable Bradley in the late seconds of the fight. Two weeks later, Alvarado, evened the score on Brandon Rios, in another entertaining scrap.
Now they face each other.
In this particular instance, HBO chose a fight over a fighter. This is anything but an appearance fight for either man.
"More importantly, it really sends a message to those guys who are going to go out there and get opportunities. It doesn't matter if you win or lose; if you put on a performance of great telegenic style like Provodnikov did with Bradley, like Alvarado has his whole career, especially in the last two Rios fights, you're going to have a place for yourself in your career. You're always going to have opportunities. That's what people want to see," said duBoef.
HBO has a full night of boxing programming on that night. While they are airing only one live fight, they are premiering "Legendary Nights" for Arturo Gatti-Micky Ward as well as the replay of the bout between Juan Manuel Marquez and Bradley, taking place a week prior in Las Vegas.
(Of course, there's still a question of whether Bradley vs. Marquez actually takes place.)