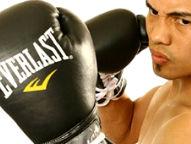 --


This Saturday night at Radio City Music Hall in New York City, junior featherweight champion Nonito Donaire takes on talented Cuban Guillermo Rigondeaux (HBO 11 p.m., ET). A few weeks later, in Las Vegas, in support of Floyd Mayweather's return against Robert Guerrero, Abner Mares moves up to face WBC featherweight beltholder Daniel Ponce de Leon. Both are two pretty good prizefights between 122 and 126 pounds. But the reality is the fight the public really wanted here was Donaire versus Mares, who went through a very public back-and-forthing a few months ago and was played out on Twitter (where else?). This ultimately included contracts sent out by Golden Boy Promotions and then summarily rejected by Top Rank.
We all know why this fight - by far the most commercially viable made at 122 pounds - isn't happening.
It's because Top Rank and Golden Boy are the midst of a "Cold War," seeing both companies absolutely refusing to work with each other. Instead, they choose to live on separate and parallel universes on HBO and Showtime, respectively. So instead of promoting the fights that make the most sense, in this particular instance, both sides are engaging in bouts that seemingly go against conventional wisdom.

Because of this, the "Filipino Flash," considered one of boxing's best, is taking on one of the sport's toughest puzzles in Rigondeaux, a quicksilver southpaw and consummate counterpuncher. It's a fight many observers and pundits didn't think would ever happen (even with both fighters under the Top Rank banner) because Donaire is thought of as one of the game's stars. In contrast, Rigondeaux exemplifies the very term, "high risk/low reward." For all his skills and amateur accomplishments. Rigondeaux, like most of his countrymen in the States, has no following or fan base to speak of. In many other instances, the mere thought of a guy like this ever getting in the ring with Donaire - a central component of both Bob Arum's and HBO's future plans - would be shrugged off and dismissed. Rigondeaux is the fighter who is usually skirted and avoided. But under these circumstances, perhaps they had no other choice (yeah, it's ironic, a Cuban benefitting from a "Cold War." I guess you could call this fight "The Bay of Pigs").
And if Top Rank and Golden Boy are going to embargo each other, well, this is what you'll be forced to do. If Donaire wins, he puts another notch on his belt. Rigondeaux upsets the applecart, well, good luck promoting a guy with a dozen fights, who would have a problem drawing a dozen fans anywhere in the United States as the A-side.
Ask any trainer or matchmaker who has a better stylistic fight, Donaire-Mares or Donaire-Rigondeaux and it's unanimous. For Donaire, Mares is the much better match-up for him - and the fans. Mares is a guy who pitches fastballs all night and won't be hard to find. Donaire has shown that if you don't lead, he's more than willing to just lay back, be patient and win rounds methodically. Mares is a gutty, tough prizefighter who likes to come forward and bang the body (sometimes, even below that). He has consistently made for entertaining bouts. Rigondeaux, however, is a crafty boxer who relies on his opponents making the first move and then reacting off of that. Well, the problem in this particular fight with Donaire is one of these guys will do something out of this comfort zone and initiate the action. This fight - which looks great on paper - may not be so great as opposed to the actual canvas come Saturday night…unless someone was willing to take a few chances.
This fight could've been dubbed, "No, No, You First, Please."
On the flipside, you have Mares, who recently held the WBC title at junior featherweight and is coming off a big victory over the difficult and respected Anselmo Moreno in November (Moreno decided to vacate his crown and move up to 126-pounds to face the hard-hitting Daniel Ponce de Leon). You figure Mares has the advantage in skill and technique (which just about every opponent of Ponce de Leon has) but this is his first foray into the featherweight division. If there's one thing the defending champion can do, it's punch with power.
It says here that Donaire (about a two-to-one favorite over Rigondeaux) has the tougher match-up of the two. Let's face it, the Cuban was one of the greatest amateurs who ever lived and is a gifted - if somewhat unproven – talent (while Ponce de Leon is a limited banger who, through hard work and perseverance, has overachieved into a very productive career.) If you look at the quartet Donaire faced last year in winning "Fighter of the Year" honors, downing Rigondeaux would trump anything he did in 2012. If Mares can get past the heavy-handed Ponce de Leon, he becomes a three-time world champion. Should both be victorious in the upcoming weeks, there will be some talk of these two meeting up but then, that will quickly fade into "Bolivian" (as Mike Tyson would put it, so many years ago) as the realization sets in that neither Top Rank or Golden Boy will make the fight the fans want, really, the one that these respective fighters should get.
Donaire-Mares should be happening now; instead, for the time being, it's not even a realistic possibility. So while the best option for both blue-chip boxers is out there as clear as day, they will continue to be matched away from each other.
Now that's a game of risk.
It was a very solid show from top-to-bottom from the Cotai Arena in Macao, centered around the professional debut of Zou Shiming (who beat Eleazar Contreras in a four-round decision) and was telecast via tape-delay on HBO2 in the United States.
In the first title fight, Rocky Martinez held on to his WBO junior lightweight belt by outpointing Diego Magdaleno over 12 rounds by the scores of 115-112, 114-113 and 111-116. Then, in a sizable upset, the WBA and WBO flyweight titles changed hands as Juan Francisco Estrada was simply too strong and active for Brian Viloria in the second half of their fight. Estrada, who was coming off a very respectable defeat at the hands of Roman "Chocolatito" Gonzalez back in November, is just 22 years old and he looks to have a very, very bright future. As for the "Hawaiian Punch," he's come back from disappointing losses in the past and before this setback, was among the hottest fighters in boxing. Does he have one more rebuilding job left in him at age 32?
What might have been the best fight of this card was the slugfest between junior featherweights Yasutaka Ishimoto and Wilfredo Vazquez Jr., edged out at the end by the sharp-punching Japanese fighter, who came on strong in the later rounds (scoring a knockdown of Vazquez Jr. at the end of the eighth round) to win by the scores of 95-95, 95-94 and 96-93. This bout was telecast on UniMas on Saturday night.
Overall, the event seemed to be a success. There was a sizable audience in the arena; the fights were well-matched and most importantly, Shiming won (let's face it; he is the centerpiece of this whole thing).
I'll say it right now, dollar-per-dollar, nobody is having the kind of year televising boxing as ESPN2 is in 2012. And once again, they had another fun fight between Rustam Nugaev and Johnathan Maicelo, who battled for eight rounds before the rugged Russian stopped Maicelo with a right hand, landed right on the button. Maicelo started quickly in this fight but was simply worn down by the aggressive, two-fisted attack of Nugaev, who walked through everything Maicelo had to offer and just steadily beat on him with a torrent of leather.
No, they rarely start on time (seriously, is there anything longer in sports than the last two minutes of any college basketball game?) but to their credit, "[The Deuce" has consistently provided good bouts this year.
I enjoyed Showtime's "All-Access" on Trout-Alvarez - but why was it just 19 minutes long?...For the record, I am picking Rigondeaux to defeat Donaire on Saturday night...I asked former HBO Sports president Seth Abraham what he thought of the current situation involving HBO, Showtime, Top Rank and Golden Boy and he said simply, "Nothing is forever." He recalled that in 1991, Don King had taken Mike Tyson and the rest of his vast stable to Showtime but by the end of the decade, he was negotiating fights such as Evander Holyfield-Lennox Lewis with him. But I wonder if Donaire and Mares have a decade to wait on each other?....I don't know if Los Angeles will ever be a Clippers town, but they are certainly the superior team by far, as of this moment...Honestly, the Lakers are better off not making the playoffs and just concentrating on retooling this whole squad...Anyone see "Vice" on HBO? I saw the premiere and I'm already hooked. It's in my regular rotation now…I can be reached at k9kim@yahoo.com and I tweet at www.twitter.com/stevemaxboxing. We also have a Facebook fan page at www.facebook.com/MaxBoxing, where you can discuss our content with Maxboxing readers as well as chime in via our fully interactive article comments sections.