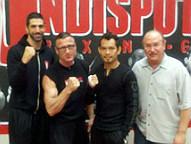 (Photo © Steve Kim)


After enjoying a string of dominant wins in somewhat uneven performances in his last three outings, Nonito Donaire, who essentially tried training himself in Las Vegas (where he now resides), is now firmly entrenched back in San Carlos, California (near the Bay Area) and is back with his team of Brian Schwartz, Mike Bazzel, Remi Korchemny and Victor Conte. Yeah, the results against Omar Narvaez, Wilfredo Vazquez Jr. and Jeffrey Mathebula are hard to argue against but the manner in which the fights played out weren't as satisfying.
The lighting in a bottle Donaire caught against Fernando Montiel in February of 2011 - when he scored an eye-opening, second round knockout - has been nonexistent. Going back up to Northern California is an attempt to recreate that magic this Saturday night against Toshiaki Nishioka (HBO, 10 p.m., ET) and beyond.

"Definitely, this is my home when it comes to training, the Undisputed Gym, and with my guys and with Remi and with Victor as well. This is what pushes me, seeing Brian and he's yelling at me about something and then you got Mike, 'Baz,' who strengthens you. I mean, just the overall thing and when you're here, they're doing their best to create something for me as much as they're creating for themselves and vice-versa. We give positivity towards each other and that's what makes me work harder because everybody works hard to be at their best," said Donaire, a couple of weeks ago after his day's work at the expansive Undisputed Gym, where space and equipment will never be an issue.
For a few fights, "The Filipino Flash" camped in Las Vegas, away from his team. And admittedly, he was training himself. "I was. I was training myself pretty hard," and as he states this, he gets a certain look from Schwartz (the kind of dubious look parents give their kids when they miss curfew) and Donaire can't help but laugh and tell him, "Hey, don't look at me like that." But what do they say about defendants who represent themselves in lieu of proper counsel being fools? Well, the same theory applies for boxers. Sure, it's possible to do it but it's not necessarily ideal for optimum performance.
Donaire concedes, "Well, it's a different thing; I think what I get here is motivation and determination. I always know how to fight, no matter what. But the motivation and the idea of having a game plan and just putting things together with my guys and trusting each other is the optimal thing for me to be at my best. But like I said, I can be in Vegas and still be world champion but it's just not the same. If I want to be at my best, I need to be here."
Brian Schwartz, who handles most of the work inside the boxing ring with Donaire, admitted that having Donaire away in "Sin City," "gave me a very uneasy feeling, to say the least," while chuckling. "I feel Iike I'm pretty protective over Nonito; I like to be able to see what he's doing everyday and making sure he's doing everything right and when he was gone, I was definitely uneasy about it." So is a fighter who is essentially training himself, fooling himself. "To a point," said Schwartz, who owns the Undisputed Gym, which is like the Taj Mahal of boxing/MMA facilities. "I think that training everyday is hard. I think it's good to have a team around you to motivate you on the days where you just can't push that little extra. That's what he gets when he's not 100 percent - which is very rare."
While he prepped for his bouts with Narvaez and Vazquez Jr. in the 702, Donaire regularly corresponded with his team via text messages and phone calls. But really, it's not nearly the same as being there. Ask the New Orleans Saints if they miss the day-to-day presence of head coach Sean Payton.
"I agree, especially with this," said Bazzel, who handles Donaire's strength-and-conditioning regimen. "Like Brian was saying, some days, you just don't feel like doing this stuff. And even when you're doing it, there's little things that happen and change and fluctuate." When asked about Donaire's physical condition the past couple of fights, he states, "He's more comfortable at the 122-pound level. He feels good because the focus is not losing weight or cutting weight. The focus is just training. So there's isn't that taper, coming down and tapering like you would do in the past because, 'Hey, man, I gotta make this weight. I gotta make 112, make 115; I gotta make 118' - it's a lot different. So the focus is a lot more, I won't say relaxed but it's very good at 122."
Conte, who supervises Donaire's hypoxic training says, "[Donaire] was using a lot of the principles and techniques and things that he learned from Mike, Brian and myself but it's just not the same as him being here. So I think everyone is very pleased that Nonito's here and most of all, Nonito's pleased he's here."
What has plagued Donaire in his last three bouts is the fact that he's been paired with fighters who, shall we say... have been more than just a bit reluctant to mix it up with him? It has made for rather dull and uneventful affairs. He can do a lot of things in that ring; however, fighting for two guys isn't one of them. The hope is that Nishioka will bring out the best in him and create opportunities for Donaire to shine. Bazzel says this training camp had a "Montiel feel to it." They have done their part. The hay is now in the barn as far as the hard work leading into this fight.
But there is also this troubling issue: the head cornerman for Donaire is Robert Garcia, who is based out of Oxnard. Because he was getting Brandon Rios ready for his battle with Mike Alvarado (which precedes this fight), he's only had a few days to actually work with Donaire.
"Well, Brian and Robert are going back and forth with texts," explained Donaire, who will be defending his WBC and IBF junior featherweight belts, "but he's a guy that really knows. He's really calm; he's really experienced and he's teaching me a lot of things, the knowledge and experience with Brian and 'Baz' and he just trusts them to do their jobs. I think Brian Schwartz has done a great job with me in this camp just putting back together the old style of Nonito Donaire with speed and power as well as strength training, really giving me that advantage. The difference of Robert not being here, I mean, we do understand that but we'll be able to work together and be on the same page; that's the main key. But I got my guys here who looks out for me and tries to be on the same page with Robert. So it all works together."
The bottom line is that Garcia wasn't going to leave his gym and his vast stable of fighters. Donaire wasn't going to Oxnard. This was the compromise that was struck that works best for both parties.
"I'm glad to have him here for a lot of reasons," said Conte, whose SNAC headquarters is just a short drive down the street from the gym. "Nonito's a very inquisitive guy; I don't think we've seen the best Nonito yet. He's done a lot of spectacular things but he continues to evolve, learn and grow. I think you're going to see those [Vic] Darchinyan and Montiel kind of outcomes and better in the future. Nonito always questions things. He wants to know; he wants to learn. I think he's growing as a fighter and he's growing as a person. I think that's going to be reflected in the ring for many fights to come."
"This here is the best situation," says Bazzel.
Like many of you, I enjoyed Larry Merchant's segment on ESPN's "First Take" (http://espn.go.com/videohub/video/clip?id=8482286&categoryid=2491554) on Tuesday where he brought some much needed knowledge and perspective on the Manny Pacquiao-Floyd Mayweather saga and educated the likes of Stephen A. Smith and Skip Bayless (who, to their credit, just stepped back and cleared the lane for Larry to do this thing). I'm guessing this is part of the much ballyhooed partnership between HBO and ESPN, where the "The Worldwide Leader" will provide extra coverage prior to these events (and I'm assuming for a cut of the pay-per-view pie).
And this is fine and dandy but here's the thing: fights involving Pacquiao and Mayweather already get covered by ESPN. Aren't fights like Andre Ward vs. Chad Dawson and this weekend's card featuring Donaire-Nishioka and Brandon Rios-Mike Alvarado the events that really need the coverage? Boxing, for three or four nights a year (usually when Pacquiao and Mayweather are facing someone other than each other), is actually the top story in sports. The problem is for the other 360-ish days of the year, it's a mere afterthought and routinely ignored on the iconic "SportsCenter." And it can be argued to a large degree, in the U.S., if you're not on this program, you really aren't all that relevant. Believe it or not, there was a time when ESPN did cover these types of fights during its infancy in the '80s and young reporters like Jim Gray cut their teeth covering bouts that didn't just involve the marquee names (I know this because, as a kid, I would see these reports on "SportsCenter" and still have some of them on some dusty old VHS tapes).
It's not the high-end fight that needs the coverage; it's the middle-class fight that needs this kind of push. How much more of the general public would have considered watching this weekend's card on HBO had Merchant not talk about it for a few minutes? Just think about it; Ol' Lar' was brought on to talk about a fight - that may never take place.
In this current deal, the rich get richer (through increased exposure which they already receive in abundance) while the rest of the 99 percent of boxing will continually get ignored on the four-letter network.
The judges for Donaire vs. Nishioka are Adalaide Byrd, Tony Crebs and Fritz Werner. The referee will be Raul Caiz Sr....Jonathan Victor Barros has been green-lighted by HBO as a replacement for Mikey Garcia on their November 10th card...The bout between Carl Froch and Yusaf Mack on November 17th will be another Integrated Sports pay-per-view offering...I'm surprised to hear that people couldn't believe Merchant could talk about other sports besides boxing. Folks, for years, he was a highly regarded sports columnist in Philly and New York...I think the New York Jets offensive is officially called "The Hot Mess System"...J.J. Watt really does look like a future Hall-of-Famer, doesn't he?...OK, anyone out there with DirecTV in Los Angeles thinking about ditching it for Time Warner Cable in order to see Lakers games and the Pac12 Network?...I can be reached at k9kim@yahoo.com and I tweet at www.twitter.com/stevemaxboxing. We also have a Facebook fan page at www.facebook.com/MaxBoxing, where you can discuss our content with Maxboxing readers as well as chime in via our fully interactive article comments sections.