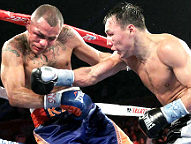 (Photo © Chris Farina / Top Rank)


Tonight at 8:30 p.m., (ET/PT) the latest installment of "The Fight Game with Jim Lampley" premieres on HBO. This edition will feature an in-depth review of the recent bout between Ruslan Provodnikov and Mike Alvarado, an interview with Dr. Margaret Goodman (who we can assume will talk about VADA and the issue of P.E.D.s in boxing), a segment with Max Kellerman and a tribute to the late Emanuel Steward.
It's the only magazine-style program in the United States fully devoted to the boxing business.
It's a show that is certainly an ambitious endeavor and perhaps overdue but as someone who has been a panelist on this program, I've also been its critic. After the last "Fight Game," I wrote (in this article: http://www.maxboxing.com/news/max-boxing-news/azad-championship-report---has-the-good-boy-arrived), "OK, I'll be honest; I found the latest edition of 'The Fight Game with Jim Lampley' to have been a letdown. I thought it spent way too much time on various lists when there are other issues (serious and not-so-serious) that could've been discussed. And I found it a bit head-scratching that Max Kellerman was trying to sell us on the public appeal of Guillermo Rigondeaux. According to Kellerman, the April 13th

bout between the Cuban southpaw and Nonito Donaire was apparently a match-up between the third and best fighter in the sport (uhhh…now if this doesn't show you how irrelevant pound-for-pound rankings are, nothing will).

(By the way, Kellerman's reasoning for ranking the "Filipino Flash" so high still was that he won a bunch of belts throughout his career. But isn't Max the one always saying how "meaningless" they are? Bottom line, while Donaire would still probably be favored in a fight versus Abner Mares - and have more physical talent - has Donaire ever had a run in any given division like Mares did at 118?)
"The Fight Game" can and should be an important show for the business of boxing (and personally, I'm rooting for this to work and one day be a monthly program) but it cannot get bogged down in the superfluous. It has to be very careful to not be perceived as having a network agenda. While Lampley's final statements on the below-the-belt promotion between Adrien Broner, Paulie Malignaggi and "Jessica Sidepiece" were valid and hard to disagree with, it has to be pointed out that HBO helped create this monster ("Broner-stein"?). They showcased him in a short amount of time more often than any other fighter in their history and even made a point to give him exposure when he wasn't fighting (such as his rather unfortunate attempt at dropping rhymes during the Robert Guerrero-Andre Berto card in Ontario, California).
"I thought this program was making consistent strides from its initial airing. Unfortunately, I think it took a step backward this past weekend."

Now that said, I think this show is necessary in many respects. The sport of boxing is rife with important issues that need to be discussed and dealt with such as drug testing and the need to modernize testing protocols and incompetent - or dare we say, corrupt – judges, seemingly entrenched in their positions. As uncomfortable as these subjects are, you have to applaud Lampley for addressing them. You'd also hope the recent death of Frankie Leal will be discussed. Anytime a fighter loses his life in the ring, it's something that should be touched on.

Lampley is one of the most respected voices in the game; he has a certain gravitas and knowledge that make him the perfect host for such a program. His presence gives "The Fight Game" a particular credibility and its slot on HBO gives it a built-in audience.

But "The Fight Game" faces a unique challenge in that HBO is now every bit a part (some would say cause) of the fractured nature of boxing. Right now, they are solidly aligned with Top Rank after embargoing Golden Boy Promotions earlier in the year, essentially creating a situation in which you have two separate boxing universes at HBO and Showtime. This puts Lampley in a very delicate situation when he addresses certain subjects or has exact critiques and criticisms, not only about the rival network but the reaction of his own higher-ups when HBO is the offended party. This network divide is so deep right now that Showtime refused to hand over any clips of Leo Santa Cruz for "The Gatti List."

Just think about ESPN not being allowed to use any clips from NFL games on NBC or CBS.

In a perfect world, this program is on a third-party network. But since we don't live in such a realm, this is where Lampley must fight the good fight.

This is the first episode of "The Fight Game" which takes place as a stand-alone and not attached to a boxing broadcast. I think this is a big development in terms of its growth and development. Oftentimes, while being paired with a live show seems convenient, it has also created logistical (and equally detrimental) difficulties. For this program to grow, it has to be autonomous much like "Real Sports" has for years with a steady time slot viewers can rely on.

Also, HBO is committed to four shows a year for the next few years, meaning it's on every three or four months. The hope is that "The Fight Game" becomes a monthly program so it can be much more timely and topical. Having it air every time the seasons change makes it difficult if not impossible to actually cover the sport properly.

Like most HBO productions, it's a slick piece of work, artfully done with elegance. But they still need to work on the pacing of its formats and subject matter. Also, for as serious as they want to be, this is just boxing; it doesn't always have to be so somber. Make it more "Inside the NFL" (which, ironically, after a long run on HBO, is now at Showtime) than "60 Minutes."
[Editor's Note: Not for nothing, "The Fight Game with Jim Lampley" would even benefit from featuring renowned boxing artists like Richard Slone, Amanda Kelley, Chris Guzman or *ahem*…Coyote Duran once in a while. Just a thought. No pressure…]


"The Fight Game with Jim Lampley" is still finding its way. It's gone through some growing pains but make no doubt about it; the sport of boxing would be better off if it had staying power.

SOE

Here's my latest contribution to SportsOnEarth.com on the passing of Frankie Leal and how the business of boxing must react:

http://www.sportsonearth.com/article/63283528/

EMANUEL STEWARD

There is a card tonight at the Pechanga Resort and Casino that will honor the late Emanuel Steward, who passed away exactly a year ago to this date.

"We have a show with Hector Serrano. It's an IFBA light heavyweight title fight that we're going to showcase and some young kids making their debuts on the show," said co-promoter David Arroyos. Last year, Steward had his Kronk Boxing Series in this casino.

"Tony Harrison (a protégé of Steward) will be here. We're going to talk a little bit about Emanuel and [we're] doing the best we can with the circumstances we're working with," said Arroyos on Thursday afternoon. "We wanted to do more but we're not able to but Emanuel loved this place and a lot of hard work was involved in what we did. He really enjoyed the fans."

FRIDAY FLURRIES

Here's the latest edition of "The Next Round": http://www.blogtalkradio.com/thenextround/2013/10/22/the-next-round-episode-454...According to Nielsen Media Research, there were 1.2 million viewers for the Provodnikov-Alvarado fight on HBO this past weekend, making it the ninth biggest audience for boxing on cable in 2013..."Face Off with Max Kellerman" for Manny Pacquiao-Brandon Rios premieres on November 2nd on HBO...So Brett Favre really is retired for good this time?...I think NFL players must hate playing in London. Playing football is tough enough without having to travel that far...Is it the NBA season already? Is Kobe back yet?...I can be reached at k9kim@yahoo.com and I tweet at www.twitter.com/stevemaxboxing. We also have a Facebook fan page at www.facebook.com/MaxBoxing, where you can discuss our content with Maxboxing readers as well as chime in via our fully interactive article comments sections.