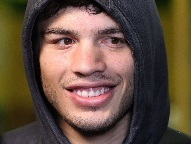 (Photo © Chris Farina / Top Rank)


This weekend, HBO gets back into the boxing business as it broadcasts the rematch between Julio Cesar Chavez Jr. and Bryan Vera from the Alamodome in San Antonio, Texas. The last time they fought on September 28th, 2013, Vera seemed to outwork and outhustle the son of "J.C. Superstar" over 10 rounds. Yet as the scorecards were read, the trio of Gwen Adair, Marty Denkin and Carla Caiz, rendered a "business" decision in favor of Chavez.

And because of the ensuing controversy and outrage (which capped off a rather farcical week in Los Angeles), what was supposed to be a tune-up bout for Chavez versus a career journeyman instead turned into a two-fight series. Coming into this contest, Chavez - the kid whose dog always eats his homework - has promised his adoring public that this time around things would be different. A press release sent out by Top Rank Promotions last week had Chavez stating these things:

- "I have been training for four months for this fight because I need to be at my best to win this fight and win it in an impressive fashion. I must eliminate all doubts about the outcome."

- "I know that I will be much better than the first fight. I believe that Bryan Vera will come very confident after what happened in our first fight, which will make this fight much better than the first one and one that the fans will remember for a long time."

- "I owe the fans a great performance and that is what they will get on March 1 at the Alamodome and on HBO. I have had a lot of success in San Antonio and I look forward to going there and putting on a good show for them."

- "I will make the 168-pound limit with no problem and I will be able to do the things I could not do in the first fight. I will have better movement; I will be more consistent and I will fight 12 hard rounds if that is what it takes to win this second fight. Vera is a tough guy with a good chin but I will do my best to send him home early.

"



- "I know that we are fighting in his home state but inside the ring is just the two of us and the fans can stay in the stands and enjoy a great battle between two guys that will not give an inch in the ring."

-

"I am looking forward to a great night of boxing and to getting back on the road to another world championship run."

Now I don't have to tell you that anything put out by a promotional entity has to be taken with a grain of salt and besides, what else is Chavez really going to say? Regardless, it's hard to look past the track record of Chavez, whose marketability is much more directly tied to his lineage than his actual ability or production in the ring. But being the son of the great "Lion of Culiacan" gives one a certain leeway. It means you are handled by matchmakers as if you were a Faberge egg, allowed to skip certain processes in your development. Your success is almost pre-determined or bequeathed to you. He's a Chavez, which makes him boxing royalty but at times, he seems more entitled than King Joffrey on "Game of Thrones."

The shenanigans of the last fight were unprecedented. Not only did he come nowhere near the original 168-pound weight limit but Top Rank founder Bob Arum announced early that week at the pre-fight press conference that a new weight limit would be announced later that week before the weigh-in. Yes, Chavez was allowed to literally work on a sliding scale and whatever poundage in which he could come in, well, that would be the new contracted weight. And eventually the "Chavez-weight" was created, 173 pounds.

Coming into this fight, as you see pictures of Chavez tweeting and his Instagram page, he seems to be in much better physical condition (and of course, this is a relative term) than he was five months ago. It's clear that at least for this camp, he isn't training near the Formica countertops in his kitchen. But as Robert Garcia was unable to make it to Mexico to work with him, you wonder if he still essentially trained himself.

On Tuesday afternoon in San Antonio, while Chavez - who's now supposedly refocused and rededicated to the game because of fatherhood - arrived late to the media workout, he dutifully fulfilled all his obligations including getting in some work with the heavy bag, double-end bag and a few floor drills. Eyewitnesses say he looks much more prepared to fight at this stage than he was back in September. As he hits the scales, the results of Friday afternoon might be more anticipated than the fight itself.

With a dominant win, Chavez moves on to bigger and better things that could include the likes of Carl Froch or even Gennady Golovkin. Both would be sizable events. Boxing is driven by high-profile fights and fighters who can move the needle. It's clear that boxing needs Chavez Jr. The question is: Does Chavez Jr. need boxing?

WEIGH-IN

So will Arum hold his breath to see if Chavez can tip the scales at 168-pounds (or less) on Friday afternoon?

"No, I really believe - now, do I know for sure? No - that the weight is not an issue. That he'll come in probably at 167," said the veteran promoter. It's obvious that Chavez Jr. is now a bona fide super middleweight. "He can't make 160; that's like me making 147," he cracked.

SOE

Here's my latest contribution to SportsOnEarth.com on Floyd Mayweather's long-awaited decision to face Marcos Maidana on May 3rd:



http://www.sportsonearth.com/article/68312174/floyd-mayweather-to-face-marcos-maidana-in-may-on-showtimecbs

According to Golden Boy Promotions CEO Richard Schaefer, tickets for this event will go on sale "probably within the next 10 to 14 days." As of now, an official venue still has not been announced for this pay-per-view card. Most likely, it will end up in the familiar setting of the MGM Grand but there are some rumblings about the Barclays Center in Brooklyn hosting this event.

MARTINEZ-COTTO

A press tour for the June 7th showdown between middleweight king Sergio Martinez and Miguel Cotto kicks off March 10th in Puerto Rico and will hit New York City, Los Angeles and then Buenos Aires. Tickets for this fight at Madison Square Garden will go on sale on March 12th. Here's the info:


Priced at $750, $500, $300, $200, $100 and $50, tickets can be purchased at

the Madison Square Garden Box Office, all Ticketmaster outlets, Ticketmaster charge by phone (866-858-0008), and online at www.ticketmaster.com and www.thegarden.com.

TNR

Here's the latest episode of "The Next Round" with Gabe Montoya and Yours Truly:

http://www.blogtalkradio.com/leaveitintheringradio/2014/02/25/maxboxing-live-the-next-round-episode-469

DROUGHT FLURRIES

The HBO broadcast begins at 9:45 p.m., ET this Saturday night...Mickey Bey has been scratched from this Friday night's "ShoBox" card due to illness...Mario Lozano is the new foe for Vanes Martirosyan March 21st on ESPN2's "Friday Night Fights"...So Aaron Hernandez won't get off early for good behavior in prison; I take it?....RIP Harold Ramis, who was truly a comedic genius
…I
can be reached at k9kim@yahoo.com and I tweet at www.twitter.com/stevemaxboxing. We also have a Facebook fan page at www.facebook.com/MaxBoxing, where you can discuss our content with Maxboxing readers as well as chime in via our fully interactive article comments sections.